News Analysis
Under gray spring skies, the Dean Classic Car Museum in northwestern Iowa was packed. Local politicos, the media, and everyday conservatives had swarmed the showroom to hear Florida Gov. Ron DeSantis speak at Rep. Randy Feenstra's (R-Iowa) May 13 family picnic.
In previous years, Feenstra has hosted former Vice President Mike Pence and former South Carolina Governor Nikki Haley in Sioux Center.
Like DeSantis, who could be just days from a formal announcement, they're top players in the GOP's 2024 presidential spectacle.
But the main character in Republican politics was expected later that night two hundred forty miles to the east in the state capital of Des Moines. An outdoor amphitheater there was hours away from hosting a rally for former President Donald Trump.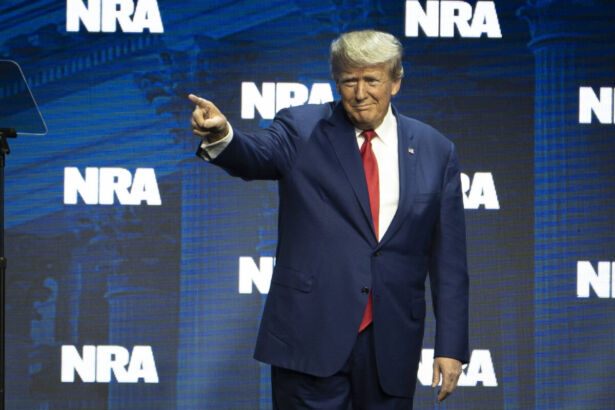 Trump, the highest-polling Republican, unexpectedly canceled the event, citing a tornado threat in central Iowa. Those in DeSantis' camp allege the weather was a cover story for poor attendance.
The sharp elbows from DeSantis surrogates are more understandable in context; there's speculation Trump timed his rally to draw attention from DeSantis' appearance with Feenstra and elsewhere in the Hawkeye State.
In any event, the windy Saturday in Iowa belonged to Ron, not Don.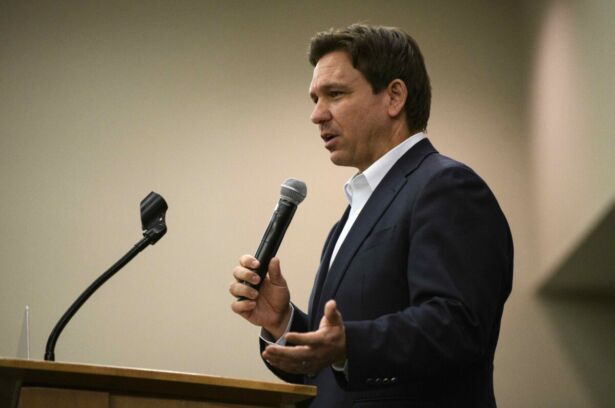 A Distinct Brand
"Some Republicans are like potted plants in office," DeSantis joked in Sioux Center.
The Florida governor has faced criticism from Trump loyalists and the legacy media for alleged awkwardness. On Saturday, though, he was fast but fluent before the audience.
The image was fitting. As the leader of Florida, a state that has attracted thousands of Americans while moving to the right, DeSantis embodies a new formula for American conservatism, distinct from country club Republicanism, western libertarianism, and Southern evangelicalism.
DeSantis won applause for comments on Disney, the border, and, in particular, Florida's COVID-19 response, which became among the least restrictive in the nation over the course of 2020.
"We chose freedom over Faucism," DeSantis declared, referring to the former director of the National Institute of Allergy and Infectious Diseases, Anthony Fauci.
"Faucism was wrong," he added.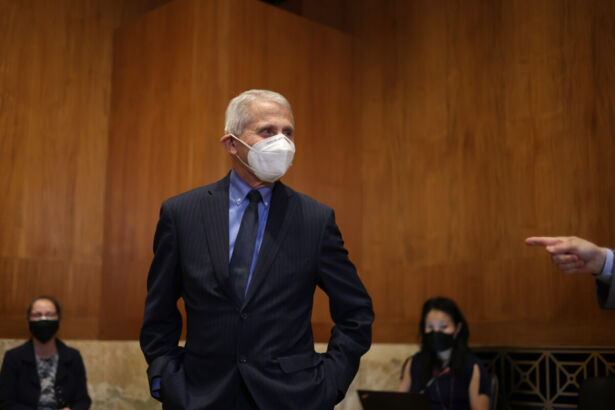 The much-touted politician sounded less credible when he said he was "not out for adulation or fanfare."
His occasional dips into wonkier territory could also present a vulnerability. For those drawn to Trump's rhetorical creativity and force, DeSantis' talk of rates and rankings can come across as plodding.
Yet, that workmanlike quality may actually be part of the package for Republicans sick of the former president's legal dramas. Whether at the National Conservatism Conference or on the not-quite-campaign trail, DeSantis's speeches offer a list of results and paths forward.
Unlike Trump, DeSantis has so far shied away from directly attacking his chief rival. In Sioux Center, he came closest to knocking Trump when he said the GOP needs to provide a positive alternative vision and avoid dwelling on "the past."
The Florida executive and military veteran conjured up the image of Arlington National Cemetery and telling his listeners to "put on the full armor of God."
"I liked that idea," said Norm Nieuwenhuis, a local Republican voter who came to hear DeSantis.
Like other attendees who spoke with The Epoch Times, he was quick to praise the main speaker.
Shannon Rodger said she'd pick DeSantis over Trump.
"DeSantis doesn't seem to have so much negativity surrounding him," she told The Epoch Times.
She was with her son Wyatt, who told The Epoch Times he thinks DeSantis has more appeal to the younger generation than Trump.
"Trump seems more argumentative, I think," he said.
Yet, some at DeSantis' Sioux Center speech were less certain.
"I'm still waiting for my Teddy Roosevelt," said Ty Rosburg, a county supervisor in Crawford County, Iowa.
Rosburg, who said he was a former cavalryman, was wearing a Rough Riders-style cowboy hat.
"I'm a livestock trucker. And we've got a lot of people that are out of touch with what goes on out here, and they're making regulations and rules. When he [DeSantis] started talking about our bureaucracy, he nailed it," Rosburg told The Epoch Times.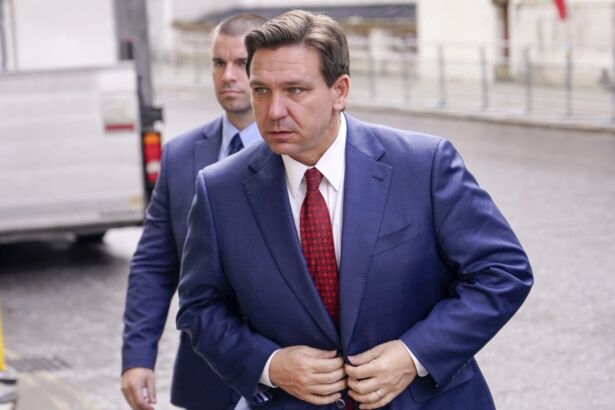 "I'm neither Republican nor Democrat. I just want to hear the truth," said Linda Hasche.
"Historically, politicians say x, y, z, 'Oh, my ears are tickled,' and [don't] follow through with what they say. But what I heard sounded good," she told The Epoch Times.
"The reception has been great. I think it shows a lot of momentum on the side of Governor DeSantis should he decide to get in the race," Erin Perrine, communications director for the pro-DeSantis "Never Back Down" political action committee, told The Epoch Times.
Asked about DeSantis's wavering on the edge of a declaration, she argued that DeSantis's gubernatorial duties have demanded his full attention.
Indeed, it was only at the end of this legislative session that Florida's lawmakers made it possible for DeSantis to run for president without having to resign his post.
Perrine also drew attention to a new round of endorsements for DeSantis from Iowa state lawmakers.
But Trump's campaign on March 13 announced that the former president has garnered over 150 endorsements from "elected and grassroots leaders" across all of Iowa.
Trump's evening rally would have coincided with DeSantis's next scheduled event in Iowa–a $100-per-person fundraiser for the Republican Party of Iowa in Cedar Rapids.
DeSantis supporters on social media touted the governor's unscheduled visit to a barbecue restaurant in Des Moines, the same city where Trump was scheduled to speak.
An Exile's View
One high-profile northwest Iowa Republican who didn't attend Feenstra's picnic is former Congressman Steve King.
Feenstra primaried King in 2020 after the longtime Iowa lawmaker had become toxic within the GOP. That's largely thanks to January 2019 coverage in the New York Times in which he allegedly defended white nationalism.
Rep. Kevin McCarthy (R-Calif.), who was at that time House Minority Leader, quickly moved to remove King's committee assignments.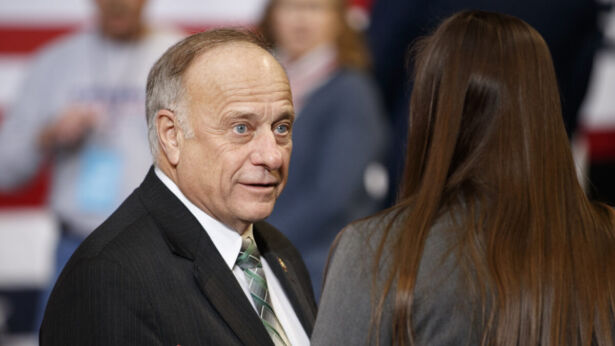 According to King, the national hostility doesn't translate to his everyday life on the ground.
In a May 12 interview with The Epoch Times, he said people all over his former district come up to him and thank him.
He said he's heard that his main mistake was "talking to the New York Times."
In addition, King's controversies may not put off the Republican candidates already vying to win the state's caucus, still more than half a year away.
He claimed three campaigns or candidates had already contacted him. In the middle of his interview with The Epoch Times, a fourth campaign reached out, according to King. He declined to share any names.
King thinks Trump would have defended him after the fracas over the New York Times' article if he'd been surrounded by a different circle.
The former president "put people in place because he believed they were patriots, but they turned out to be not so much patriots," King said.
"Here in Iowa, if you just look across the landscape, Trump is in a solid position for a nomination," he said.
King believes the ex-commander-in-chief needs to come clean about his administration's mistakes on COVID-19–in his words, "trusting Fauci and [Deborah] Birx too much."
Birx was Trump's White House Coronavirus Response Coordinator.
DeSantis also won praise from King.
"I think he's learned from Trump that you can't take any guff off of these people," King told The Epoch Times.
So did biotech entrepreneur Vivek Ramaswamy, who was also touring Iowa on May 13.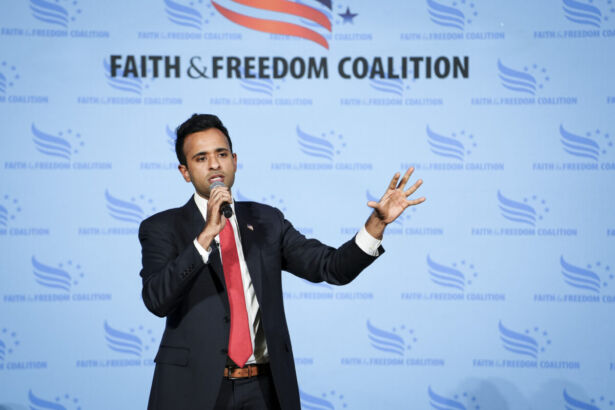 "He's blazing a clear and bold trail for conservatism," he said.
Ramaswamy, he added, is "not afraid to step out there."
But not every 2024 hopeful would hear encouraging words from King.
"I don't think Nikki Haley has a path to Iowa," he said.
From The Epoch Times