Florida lawmakers have passed a bill giving control of Disney's special tax district in central Florida to a Senate-approved board, handing a victory to Gov. Ron DeSantis who pushed for the measure to make the district more accountable to voters.
Legislators gave final approval on Feb. 10 to a bill authorizing DeSantis to appoint five supervisors to run the Reedy Creek Improvement District, a quasi-government entity that oversees the 25,000 acres surrounding the Walt Disney World resort.
"Florida is … beginning a new era of accountability and transparency," said DeSantis' spokesperson Bryan Griffin.
Griffin said that the prior arrangement—in which a legislative decision in the 1960s gave Disney sole control over the district—was insufficiently accountable to Florida voters.
The special status of the Reedy Creek Improvement District, located in Osceola and Orange counties, provided self-governance to the Disney World resort.
It gave Disney the power to create and enforce its own building codes and zoning laws, as well as to levy taxes and operate its own utility services.
DeSantis and Republican leaders have sought to change how Reedy Creek operates, arguing that it's not subject to sufficient accountability and public scrutiny.
Some supporters of changes to Reedy Creek have also argued that the district's tax collection and governmental immunity provisions are not in the best interest of Floridians.
Osceola County in January issued a notice of its plans to seek legislation that would address the operations of Reedy Creek, urging Florida lawmakers to take up a bill "increasing state oversight, accountability, and transparency."
With Friday's decision in the state legislature, that appeal is fast becoming a reality.
It also comes amid DeSantis' pushback against Disney's vocal backing of left-leaning political causes.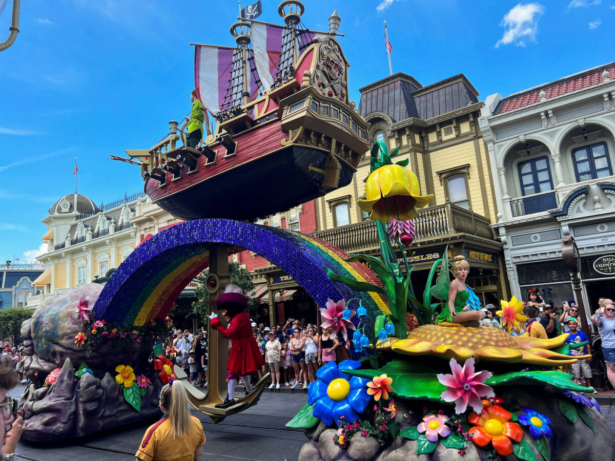 'New Sheriff in Town'
Speaking at a Feb. 8 press conference ahead of the bill's passage on Friday, DeSantis said a big change was coming in how the district would be run.
"This is obviously now going to be controlled by the state of Florida, which is no longer self-governing for them," DeSantis said. "So, there's a new sheriff in town, and that's just the way it's going to be."
Once DeSantis signs the bill into law, the Reedy Creek Improvement District will be renamed Central Florida Tourism Oversight District within two years.
The district is being left intact, however, and so will keep its tax benefits. This includes retaining tax-exempt status of the district's property.
Under the new legislation, the Florida Senate will confirm the district's five board members, who will play no role in the day-to-day operations of Disney's theme parks. The bill also bars anyone from serving on the board who has had ties to the theme parks over the past three years.
The district will have the power to collect revenue, settle financial obligations, and offer a variety of government services, though it will be prohibited from operating its own airport or building a stadium or nuclear power plants. It will also be subjected to additional reporting requirements.
Walt Disney World President Jeff Vahle issued a statement in response to the passage of the bill, praising the way Reedy Creek has operated over the past 50 or so years while accepting the new arrangement.
"For more than 50 years, the Reedy Creek Improvement District has operated at the highest standards, and we appreciate all that the District has done to help our destination grow and become one of the largest economic contributors and employers in the state," Vahle said.
"We are focused on the future and are ready to work within this new framework, and we will continue to innovate, inspire, and bring joy to the millions of guests who come to Florida to visit Walt Disney World each year," he added.
Some Democrats voiced opposition as the bill was debated in the Senate on Friday.
"This all seems a retaliation by the governor for Disney voicing its support for the LGBTQ community," said state Sen. Linda Stewart, a Democrat who represents Orange County.
Controversy Over Parental Rights Bill
Disney became embroiled in controversy when it pushed back against the introduction of Florida's Parental Rights In Education bill that bans discussing sexual orientation or gender identity in kindergarten through third grade.
In March 2022, then Disney CEO Bob Chapek said that the company's leaders were opposed to the bill "from the outset, but we chose not to take a public position on it because we thought we could be more effective working behind-the-scenes, engaging directly with lawmakers."
After Disney pushed to repeal the law, DeSantis said he would seek to end special privileges for the entertainment company.
"You're a corporation based in Burbank, California, and you're going to martial your economic might to attack the parents of my state? We view that as a provocation, and we're going to fight back against that," DeSantis said during an event at a local school in April 2022.
Some time after that, Florida lawmakers passed a bill calling for the elimination of Reedy Creek's special status by June 1, 2023.
But that bill left open questions about Disney's bond debt of nearly a billion dollars, with the possibility that taxpayers of Osceola and Orange counties, where the district is located, could be liable.
The new bill addresses that problem by retaining the district's special status while giving control of how it operates to a voter-accountable board.
The legislative change also means that Disney's bond debt will stay with the district and so will not encumber taxpayers.
Reuters contributed to this report.
From The Epoch Times