Critics have accused the Biden administration of downplaying the number of potential illegal immigrants that could enter the United States under two separate programs used to grant "humanitarian parole" to applicants who use a mobile phone app to book appointments at U.S. ports of entry.
U.S. Customs and Border Protection (CBP), under the direction of Department of Homeland Security (DHS) Secretary Alejandro Mayorkas, expanded the CBP One app in April 2022.
Erin Heeter, a DHS spokesperson, told the Epoch Times via email that as of June 1, DHS increased CBP One appointments from 1,000 to 1,250 a day, which amounts to nearly 40,000 appointments per month.
However, it's unclear how many people are included in such appointments, for example whole families, married couples, or single migrants, which means the actual number of people entering the U.S. on humanitarian grounds could be much higher.
Humanitarian parole allows people to temporarily enter the U.S. if there is a "compelling emergency and there is an urgent humanitarian reason or significant public benefit," according to U.S. Citizenship and Immigration Services.
In addition, 30,000 humanitarian parole cases a month are already allowed under a program specifically for Cubans, Haitians, Nicaraguans, and Venezuelans and their immediate family members known as CHNV announced in January.
"CHNV is separate, and anyone who is approved through CHNV would be screened, vetted, and if approved, receive an advanced travel authorization to then fly into the U.S., not arrive at a land Port of Entry," Heeter said. "CBP One for those in northern Mexico is a tool to request appointments. Each individual or family is assessed on a case-by-case basis once they arrive, not before."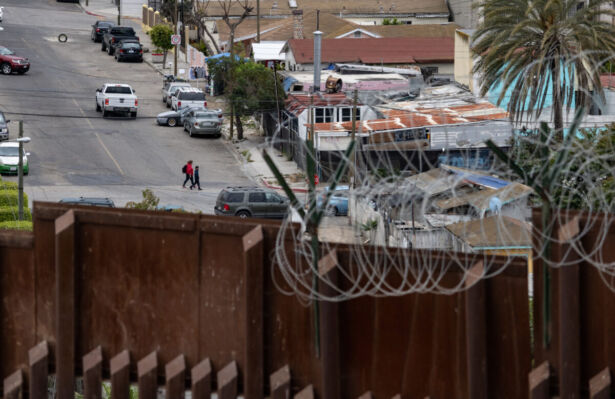 The recent increase in appointments is a continuation of the Biden administration's "expansion of lawful pathways and opportunities to access them, including CBP One appointments," Heeter said.
"The process cuts out smugglers while also providing a safe, orderly, and humane process for noncitizens to access ports of entry instead of attempting to enter the United States unlawfully. We are continuing to enforce consequences for migrants who cross unlawfully, and those who do not establish a legal basis to remain in the United States will be removed," she said.
FOIA Request Foiled
Todd Bensman, a senior fellow on national security at the Center for Immigration Studies (CIS) and author of the book "Overrun: How Joe Biden Unleashed the Greatest Border Crisis in U.S. History," told Epoch Times he has been stonewalled by DHS in his quest for more accurate figures on CBP One entries.
DHS did not comply with Bensman's Freedom of Information Act (FOIA) request and a subsequent demand letter seeking accurate numbers sent to Mayorkas on March 24 by a group of House Republicans led by U.S. Rep. Tom Tiffany of Wisconsin, said Bensman.
"Mayorkas just blew them off," he said. "They never got them."
CIS has since sued CBP demanding it comply with the law regarding the FOIA request and render information about the total number of foreign nationals who have applied for humanitarian parole using the online CBP One system since the program's inception as a pilot program in 2021, as well as the locations of all foreign airports from which CBP One migrants departed and U.S. airports that received foreign nationals approved through the program, among other details.
The American public has a right to know how many migrants are entering the country on humanitarian grounds using CBP One, Bensman said.
With the May 11 expiration of Title 42, which allowed Border Patrol agents to deny migrants entry into the U.S. during the Covid-19 pandemic for public health reasons, the Biden administration claimed the U.S. would return to tougher Title 8 policies and penalties for migrants who cross the border illegally.
But, that doesn't appear to be happening, Bensman said.
Clarity on whether a CBP One "appointment" means one individual or an entire of family of migrants is also key to understanding the scope of this massive new wave of migration, he said.
"It's important to know how many represent a single appointment. It used to be one person, one appointment as far as I know, and a family of four would have to do four applications," he said. "I think they have changed that."
Bensman said humanitarian parole applications via the CBP One app are not the same as asylum claims, which require a "credible fear" of returning to one's country of origin.
"It's not an asylum program of any sort. It never was, and it's never been envisioned as such," he said.
Bensman said at a recent speaking engagement and book signing in Orange County, California, that although there have been spikes in illegal migration in the past, the sheer magnitude of this wave that began a day after Biden's inauguration in January, 2021, is unlike any other.
"We have seen nothing like this in American history. This is the worst border crisis," he said. "This one is sustained for years now. This one is different."
If migration continues at current rates, Bensman expects more than 10 million immigrants will have entered illegally by the end of the President Joe Biden's four-year term.
According to an analysis by the Federation for American Immigration Reform, a record-breaking 5.5 million illegal immigrants crossed into the U.S. under the Biden administration as of October 2022.
'Smoke and Mirrors'
Manny Bayon, a National Border Patrol Council union leader in San Diego, told the Epoch Times that the Biden administration has orchestrated a "back door deal" for migrants who show up at a port of entry without a pre-arranged appointment on the CBP One app, so they are still able to apply for humanitarian parole.
An entire family of migrants can be processed at each "appointment" and granted humanitarian parole, he said.
DHS is "fudging" the numbers, he said, to make it appear as though the administration's immigration policies are working smoothly, and that far fewer migrants are entering the country.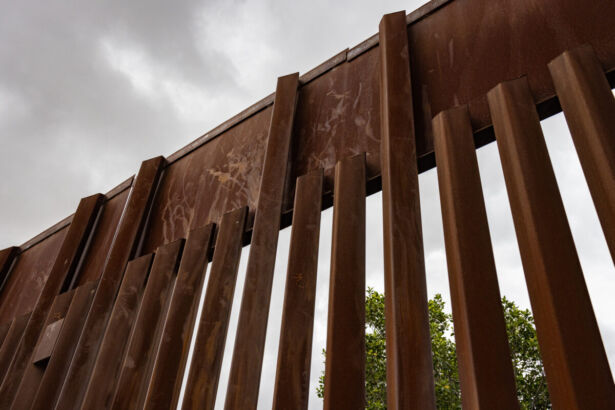 "It's all smoke and mirrors," Bayon said. "When they're actually going through a port of entry and being released, they're undocumented migrants but they're not illegal anymore."
In the week preceding the Title 42 expiration, Bayon said the Border Patrol was holding 26,000 to 28,000 migrants nationwide.
The once-steady flow of busloads of "illegal entrant aliens" that had been sent to inland Border Patrol stations in Indio, Murrieta and Blythe in California's Riverside County for more than two years "dried up," about a week after Title 42 expired, and would-be illegal border crossers now appear to be using the CBP One app to schedule appointments at ports of entry such as San Ysidro and Otay Mesa, Bayon said.
From these land ports of entry, and others, migrants from more than 160 countries are moved to processing facilities run by non-government organizations, or NGOs, such as one in Otay Mesa, before being released and transported to their chosen destinations in the U.S.
Deliberate Deceit?
Chris Harris, a retired Border Patrol agent and former union leader in San Diego, told The Epoch Times the Biden administration keeps changing immigration nomenclature and confusing the public about how many people are actually entering the U.S.
Harris dismissed the DHS narrative that the number of migrants entering the U.S. "illegally" has dropped dramatically since Title 42 expired, and accused the White House of going from "misfeasance" to "malfeasance" on the border crisis, he said.
"It's very difficult to figure out what the real numbers are. They keep changing the terms and what they mean," he said. "And now, they're playing games with the parole system."
Harris also suspects DHS deliberately uses the term "appointment" to mislead the media to believe one "appointment" means only person.
He contends humanitarian parole should not be granted to entire nations such as in the case of the CHNV program.
Under the law, humanitarian parole is supposed to be granted on a case-by-case individual basis, "not whole swaths of people," he said. "So, I don't know how you can say all Venezuelans or Cubans or Haitians can come in for parole. It's a misuse of the law."
Migrants who qualify for humanitarian parole are issued temporary visas—usually for one or two years, before they are supposed to apply for renewal—but according to Harris and Bayon that's not an accurate picture of what's really happening.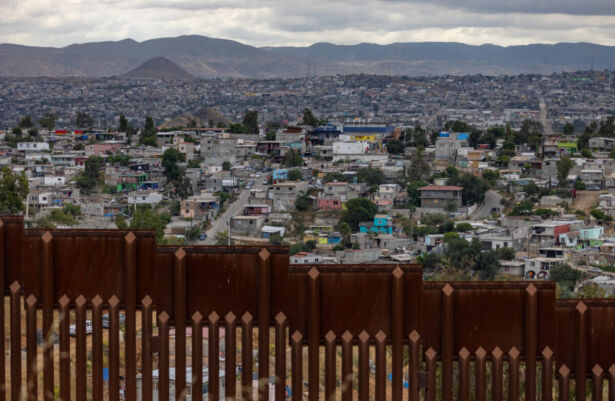 "They are the most opaque that we've ever seen," he said. "We do have an open border," he said. "De jure we don't, but de facto we do."
The administration refuses to answer questions and breaks up numbers into different categories that are difficult for the press and the public to find and understand.
"They had a very simple reporting system on numbers before, and now it is gibberish," he said.
Former President Donald Trump's policies were curbing illegal immigration, Harris said.
"It was working fantastically well—lowest numbers ever," he said. "He did fantastic stuff on the border."
Texas Suing
Meanwhile, Texas Attorney General Ken Paxton has filed a lawsuit against the Biden administration over the CBP One app, claiming it allows immigrants to unlawfully enter the U.S.
In a press release, Paxton said the app is the Biden administration's attempt to "circumvent" the law to "streamline" the process of illegal immigration. He said federal law is clear that "those entering the country illegally should be expelled from the United States, except in rare circumstances."
"However, the Biden border app does not and cannot verify that an illegal immigrant would qualify for an exception, which would prevent them from being deported," Paxton said in the release.
From The Epoch Times