A video of Sen. J.D. Vance (R-Ohio) placing a stick in a creek in East Palestine, Ohio, causing what appears to be synthetic chemicals to rise to the surface drew widespread attention.
Earlier this month, a train that was carrying hazardous chemicals, including vinyl chloride, derailed in East Palestine. Officials confirmed later that a controlled release and burn of the chemicals was initiated so as to prevent a potential explosion.
"Visited a local creek in East Palestine today. These waterways are still very polluted. It's time for Norfolk Southern to finish the cleanup," Vance wrote on Twitter.
Visited a local creek in East Palestine today. These waterways are still very polluted. It's time for Norfolk Southern to finish the cleanup. Check this video out: pic.twitter.com/4lsHBmrMJj

— J.D. Vance (@JDVance1) February 16, 2023
The post included a video of the Republican senator placing a stick in what his office said is the Leslie Run creek, located near the derailment site, and swirling it around. After removing the stick from the creek, a rainbow-colored sheen emerged.
"This is disgusting," Vance said. "The fact that these chemicals are still seeping in the ground is an insult to the people who live in East Palestine," he said, adding that "do not forget" those people.
Vance asserted that when you "scrape the creek bed," there appears to be "chemicals coming out of the ground." In the footage, the newly elected lawmaker said that there are "dead worms" and "dead fish" in the waters of Leslie Run.
Fox 19 reporter Tricia Macke also posted a video in which she tossed a rock into a creek, causing apparent chemicals to rise to the surface. "Would you stay here? Would you drink that water?" she asked. "Would you bathe your kids when it's bubbling up and looking like an oil slick?"
And a local Ohio woman was seen tossing a rock into another purported waterway in East Palestine, showing a rainbow-like sheen emerging on the surface of the water.
EPA Visit
Federal and state officials have said that municipal water in East Palestine is potable. Environmental Protection Agency (EPA) Administrator Michael Regan, who walked along a creek that still reeks of chemicals on Thursday, sought to reassure skeptical residents that the water is fit for drinking and the air safe to breathe around East Palestine, where just under 5,000 people live near the Pennsylvania state line.
"I'm asking they trust the government. I know that's hard. We know there's a lack of trust," Regan said. "We're testing for everything that was on that train."
According to a statement issued by Gov. Mike DeWine's office, tests conducted by the Ohio EPA revealed "no detection of contaminants in raw water from the five wells that feed into East Palestine's municipal water system," adding the agency is  "confident that the municipal water is safe to drink." It did not make reference to Leslie Run.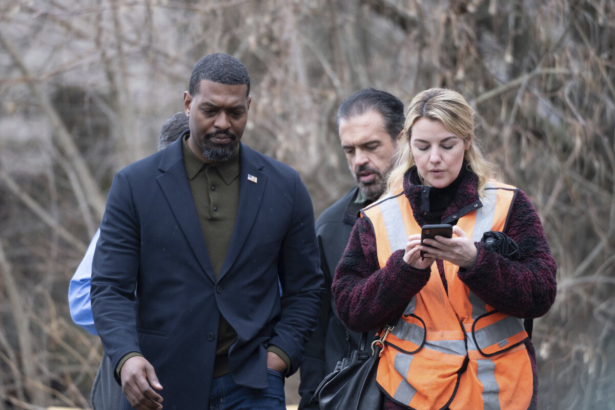 "East Palestine's municipal water system, which provides drinking water for most area residents, takes in water from five wells that are located approximately one mile from the derailment site," the statement said. "The municipal wells are at least 56 feet below the surface and are covered by a solid steel casing that protects the water from contamination. Before drinking water is made available to the public, water from these five wells is combined at the water treatment plant and treated."
In a news conference on Friday morning, DeWine told reporters that "there was very little chance there was contaminants in those wells" that are used for drinking water. "If you get tap water in East Palestine … you are free to drink the water," DeWine said, saying that testing results that were returned show the water is fine to drink.
DeWine then stressed "no one is trying to downplay" the train derailment and chemical spill.
Residents have expressed frustration with what they say is incomplete and vague information about the lasting effects of the disaster, which prompted evacuations. But Regan said Thursday that anyone who is fearful of being in their home should seek testing from the government.
"People have been unnerved. They've been asked to leave their homes," the EPA administrator said, adding that if he lived there, he would be willing to move his family back into the area as long as the testing shows it's safe.
But Vance called on Regan and other officials to drink the tap water in East Palestine. "I think that if the EPA administrator wants to stand here and tell people that the tap water is safe," Vance told reporters in East Palestine on Thursday. "By all means, they should be willing to drink it."
Norfolk Southern, the train operator, said that it won't "walk away" from residents of East Palestine, according to a letter (pdf) released this week. "We are here and will stay here for as long as it takes to ensure your safety and to help East Palestine recover and thrive," CEO Alan Shaw stated.
The Associated Press contributed to this report.
From The Epoch Times