The U.S. Department of Justice argued Thursday that it doesn't back former President Donald Trump's argument that he has absolute immunity from civil lawsuits in connection to the Jan. 6, 2021, Capitol breach.
In a court filing submitted (pdf) to the U.S. Court of Appeals for the District of Columbia Circuit, DOJ lawyers wrote that Trump's lawyers "advance only a single, categorical argument: A President is always immune from any civil suits based on his 'speech on matters of public concern' … even if that speech also constitutes incitement to imminent private violence."
"The United States respectfully submits that the Court should reject that categorical argument. And because that is the only argument the former President has pressed on appeal, the Court could affirm the district court's order on that narrow ground without attempting to comprehensively define the boundaries of the President's immunity for his speech on matters of public concern—including when and how to draw a line between the President's official and electoral speech," the DOJ wrote.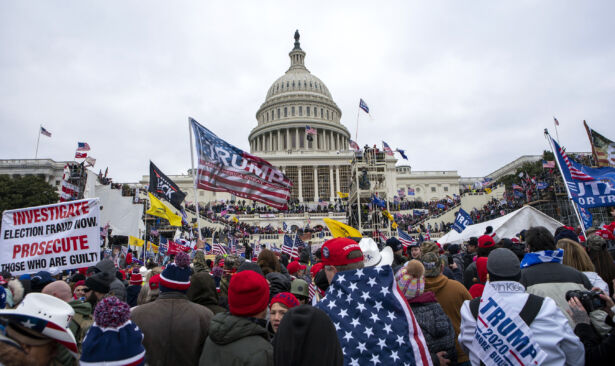 The DOJ issued the filing in response to consolidated cases including lawsuits launched by several members of Congress and U.S. Capitol Police officers, and they are attempting to hold Trump liable for what they say are psychological and physical injuries.
Thursday's filing from the DOJ does not back any claims that the dozen or so lawmakers made in alleging that Trump incited the U.S. Capitol breach. Instead, the filing notes that DOJ lawyers "plausibly allege" Trump's speech triggered the breach.
"The United States does not express any view regarding the potential criminal liability of any person for the events of January 6, 2021, or acts connected with those events," DOJ lawyers stipulated in a footnote.
A 1982 Supreme Court ruling argued presidents are absolutely immune from civil damages that come via their official acts as president.
Last year, Trump's lawyers asked the D.C. court to rule that he has absolute immunity from the Jan. 6-linked lawsuits. His attorneys said that "the actions of rioters do not strip President Trump of immunity," and they further wrote (pdf) that "in the run–up to January 6 and on the day itself, President Trump was acting well within the scope of ordinary presidential action when he engaged in open discussion and debate about the integrity of the 2020 election."
As for Trump, he has repeatedly pointed to a speech he made during a Jan. 6 "Stop the Steal" rally where he called on demonstrators "peacefully and patriotically make your voices heard." And Trump's last post on Facebook, which was reinstated last month, called on protesters to be peaceful.
"I am asking for everyone at the U.S. Capitol to remain peaceful. No violence! Remember, WE are the Party of Law & Order — respect the Law and our great men and women in Blue. Thank you!" his post said.
Trump has not responded to the DOJ's latest filing on Thursday. The Epoch Times has contacted a spokesperson for comment.
Reps. Bonnie Coleman Watson (D-N.J.), Pramila Jayapal (D-Wash.), Maxine Waters (D-Calif.), Jerrold Nadler (D-N.Y.), Henry Johnson (D-Ga.), Stephen Cohen (D-Tenn.), Barbara Lee (D-Calif.), Veronica Escobar (D-Texas), and Marcy Kaptur (D-Ohio), as well as former Rep. Karen Bass (D-Calif.) are among the lawmakers who filed lawsuits against Trump. Karen Bass (D-Calif.). Rep. Eric Swalwell (D-Calif.) filed a lawsuit in March 2021 against Trump, former New York City Mayor Rudy Giuliani, Donald Trump Jr., and former Rep. Mo Brooks (R-Ala.).
U.S. Capitol Police officers James Blassingame and Sidney Hemby have filed a suit against Trump, alleging his speech incited protesters to breach the Capitol.
Previously, U.S. District Judge Amit Mehta wrote he would drop (pdf) Trump Jr., Giuliani, and Brooks from the lawsuits and rule that their speeches at the Jan. 6 rally and related actions do not mean they're part of an alleged conspiracy, as was claimed.
Meanwhile, a DOJ special counsel, Jack Smith, is leading a federal criminal investigation into Trump and his allies following a Nov. 18 announcement from Attorney General Merrick Garland. It came just three days after Trump launched his third presidential bid.
From The Epoch Times