Both Donald Trump Jr. and Eric Trump took the witness stand on Nov. 2, testifying that they weren't involved in the Trump Organization statements of financial condition (SFC) at the center of a civil fraud case brought by the New York Attorney General's office.
The petition was filed in September against Trump Organization executives, including former President Donald Trump and his sons, accusing them of artificially inflating asset values in the SFCs from 2011 to 2021.
"I rely on [accounting firm] Mazars and our accounting team to tell me what is accurate; that's why we have accounting," Donald Trump Jr. said when asked about Trump Organization documents. He's an executive vice president at Trump Organization and a trustee of the trust that took over ownership of Trump Organization when his father took office as president.
State attorneys questioned him about several documents and properties, prompting similar responses. Donald Trump Jr. said that he didn't recall having conversations about any of the SFCs and didn't work on any of them, although he would have expected to be asked questions about properties that he worked on and their value. The numbers could have been updated based on his answers, although he wouldn't know if they had, he said.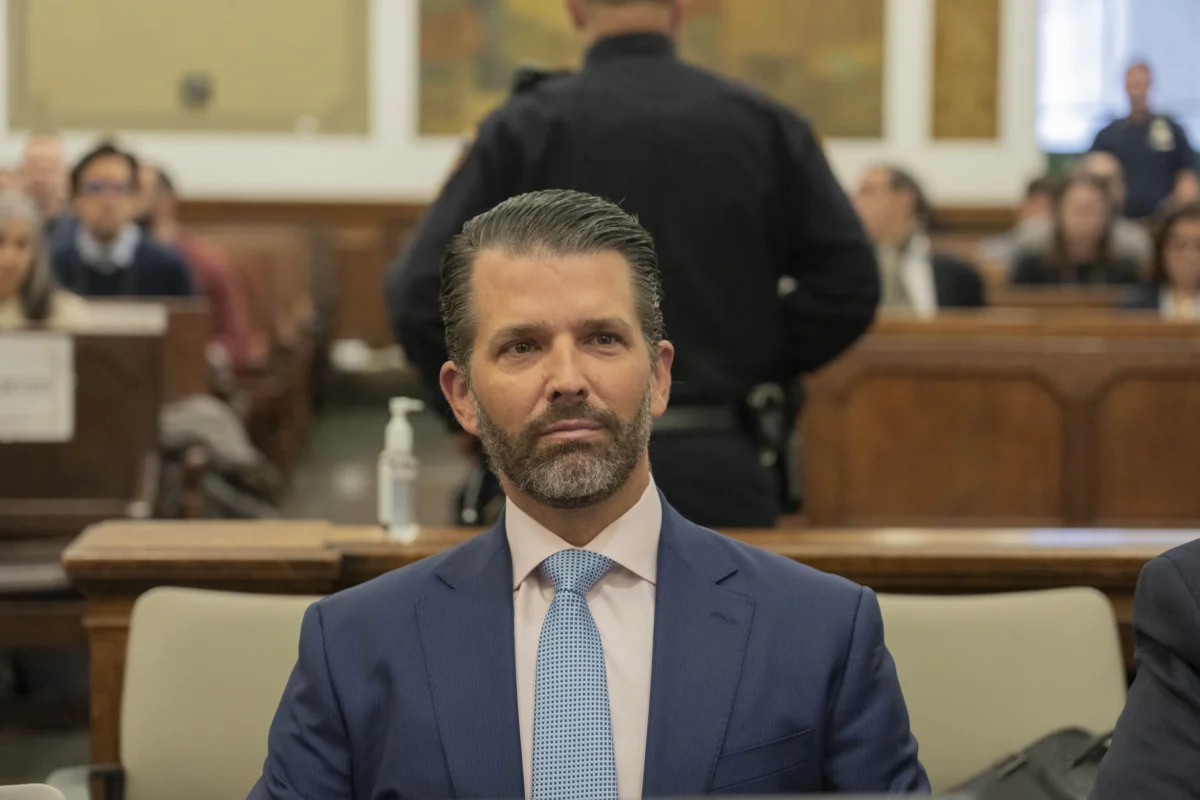 Eric Trump testified directly after his brother, similarly telling the state attorneys that he hadn't worked on the SFCs himself as they asked about the SFCs of various years.
"People ask me questions all the time," he said, noting that, as his brother did, his input could have ultimately informed the numbers showing up on the SFCs. However, he said, "I don't believe I ever saw or worked on a statement of financial condition."
Like his brother, Eric Trump is an executive vice president of Trump Organization and a trustee of the trust that owns the umbrella organization.
"I wouldn't sell Mar-a-Lago without asking my father, no," he said when state attorneys sought to establish that the trustees still would have ultimately answered to President Trump.
Eric Trump had worked on several golf course developments and testified that he had participated in the deals when shown various documents but couldn't comment on the financial statements related to the properties, as he said that they were prepared by CPAs and not by him.
Throughout the questioning, state attorneys asked him repeatedly about SFCs of various years, about his involvement in their preparation, and whether he knew that his father was using them to obtain loans.
"Not to the best of my knowledge, sitting here, I don't know what this document is," Eric Trump said. "Somebody from accounting would ask me details of a project, and I would respond."
One of the documents was an email from Trump Organization Comptroller Jeff McConney, who wrote to Eric Trump that they were working on the SFC and wanted to ask if he had any input.
"I think we can agree my father has financial statements," Eric Trump said. "Yes, I received the property descriptions that Jeff sent."
In 2014, Eric Trump had corresponded with an appraiser to ask him to look at the Seven Springs property north of New York City, which he confirmed that he had scheduled. State attorneys asked whether he disregarded the appraiser's input when he valued the property at $291 million in the SFC. The defense attorneys objected.
"I really hadn't been involved in the appraisal work," Eric Trump said, noting that he had participated in some of the phone calls that took place over the half-year process but wasn't the main person involved.
State attorneys pressed him on his involvement with the appraisal of the Seven Springs private estate in Bedford, New York.
"I'm an operator. I'm a construction guy. I don't focus on appraisals," Eric Trump said, noting that he couldn't even remember some of the names in the 2014 emails that he was being shown. "I'm on a thousand calls a day."
Case
New York Supreme Court Justice Arthur Engoron has already ruled President Trump liable for fraud in a summary judgment on one of the attorney general's seven claims, and the trial will deal with how much he owes in damages.
The attorney general's office is seeking $250 million in damages and to bar the defendants from holding executive business positions in New York State for five years. The judge has already canceled business certificates and ordered Trump Organization to be dissolved, although the process has been paused while President Trump appeals it.
State attorneys have sought to establish that Trump Organization executives were solely responsible for the numbers appearing on the SFCs, and third-party accountants testifying in the case have confirmed that they didn't do independent audits or analyses in preparing the SFCs.
When former Trump attorney and Trump Organization executive Michael Cohen testified previously, he claimed that President Trump would set his net value at an "arbitrarily" gotten number and task Mr. Cohen and Trump Organization CFO Allen Weisselberg with revising the SFCs until they added to the total figures that President Trump had wanted.
During Mr. Cohen's testimony, he backtracked, claiming that he lied to a congressional committee when he made this claim, and then reversing testimony to say that he hadn't lied, because President Trump never used those words. He claimed that Mr. McConney was sometimes also involved and that they would ask the Trump children about the properties that they were developing in order to add to their figures.
Defense attorneys asked the judge to dismiss the case after Mr. Cohen reversed course in his testimony, admitting that President Trump never asked him to "inflate" numbers after making the claims more than once on the witness stand. The judge rejected the motion, saying that he didn't consider Mr. Cohen a key witness and that there was other evidence to review.
From The Epoch Times