The U.S. Coast Guard has released video of service members jumping onto a moving submarine as part of a dramatic, high-seas cocaine bust worth $232 million.
In video released on Thursday, July 11, the U.S. Coast Guard Cutter Munro can be seen chasing down a drug-smuggling submersible as it moved alongside the cutter at the surface of the Eastern Pacific Ocean, according to a Coast Guard news release.
Multiple Coast Guard vessels can be seen chasing down the self-propelled semi-submersible suspected drug smuggling vessel (SPSS), as one guardsman calls out in Spanish "Stop your boat now!"
Crew members then jump onto the top of the mostly submerged "narco sub" as it cuts through the waves before prying open the hatch.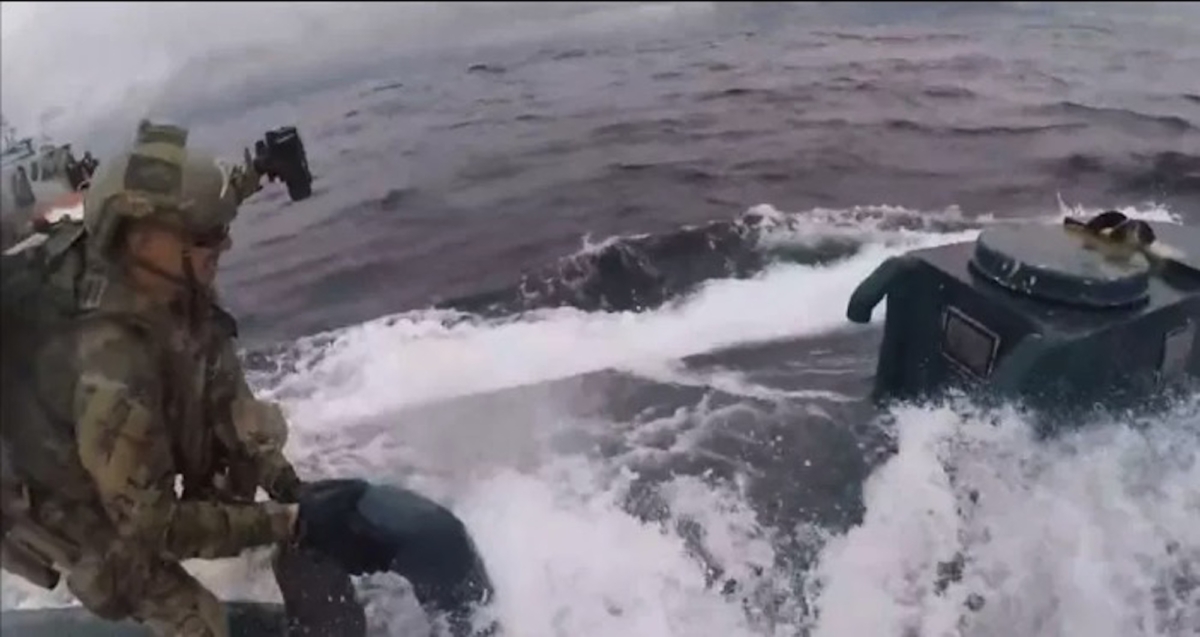 A suspect's raised hands are seen through the opening as the video cuts out.
.@VP is welcoming back the crew of CG Cutter Munro as they turn over 39K lbs of cocaine from drug seizures like this one from a semi-submersible off South America to federal agents. We will be live-streaming the offload on Facebook in a few hours. More: https://t.co/5eQRbQpxw5 pic.twitter.com/9bMRorDC4I

— U.S. Coast Guard (@USCG) July 11, 2019
Agents found the aquatic vehicle was carrying around 17,000 pounds of cocaine, the U.S. Coast Guard told NBC News on Thursday, with an estimated street value of $232 million. The bust took place on June 18 and was part of a monthslong operation targeting drug smugglers off the coasts of Mexico, Central America, and South America.
On Thursday the crew of the Coast Guard Cutter Munro offloaded more than 39,000 pounds of cocaine and 933 pounds of marijuana roughly worth a combined $569 million. The drugs, seized in international waters in the Eastern Pacific Ocean, represent 14 separate suspected drug smuggling vessel interdictions and disruptions by three Coast Guard cutters between May and July 2019, the Coast Guard said.
Fifty-five smuggling suspects were taken into custody, the Associated Press reported.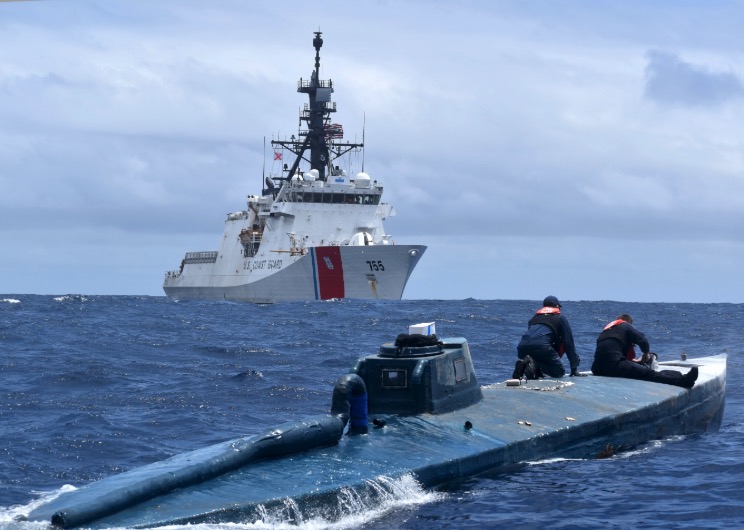 'Tip of the Spear'
Vice president Mike Pence oversaw the offloading of the seized drugs at a naval base in Coronado, California, on July 11, and hailed the counter-narcotics efforts of the Coast Guard members.
"Make no mistake about this, your courageous service is saving American lives," Pence said, Fox 5 reported. "I think there's no question, that as we continue to secure our border, we're going to see the drug cartels use the open ocean to move narcotics more than they do today."
Boarding the Cutter Munro. Awaiting Vice President Mike Pence @fox5sandiego pic.twitter.com/LmMCaKfah1

— Jeff McAdam (@JeffMcAdamTV) July 11, 2019
So far in fiscal year 2019, the U.S. Coast Guard said it has interdicted over 143 metric tons of cocaine, worth over $4.2 billion.
"Let me commend you especially for your new deployment to the Eastern Pacific corridor," Pence said, Coast Guard News reported. "Even though this is a new area of deployment for this cutter, you've already proven yourselves more than up to the task… fourteen operations went into this offload, and one of them was of a self-propelled, semi-submersible vessel (SPSS), which resulted in the largest Coast Guard removal in four years. The Coast Guard is seizing illegal drugs at a faster rate than ever before. And you all have been at the tip of the spear, making that happen."
Pence also vowed to provide the Coast Guard with new ships, as many of those now in operation are over 50 years old.
"Our Coast Guard deserves better," Pence said. "And that's why we are committed to fully funding our Coast Guard, including replacing old ships with new ones, just like the Cutter Munro."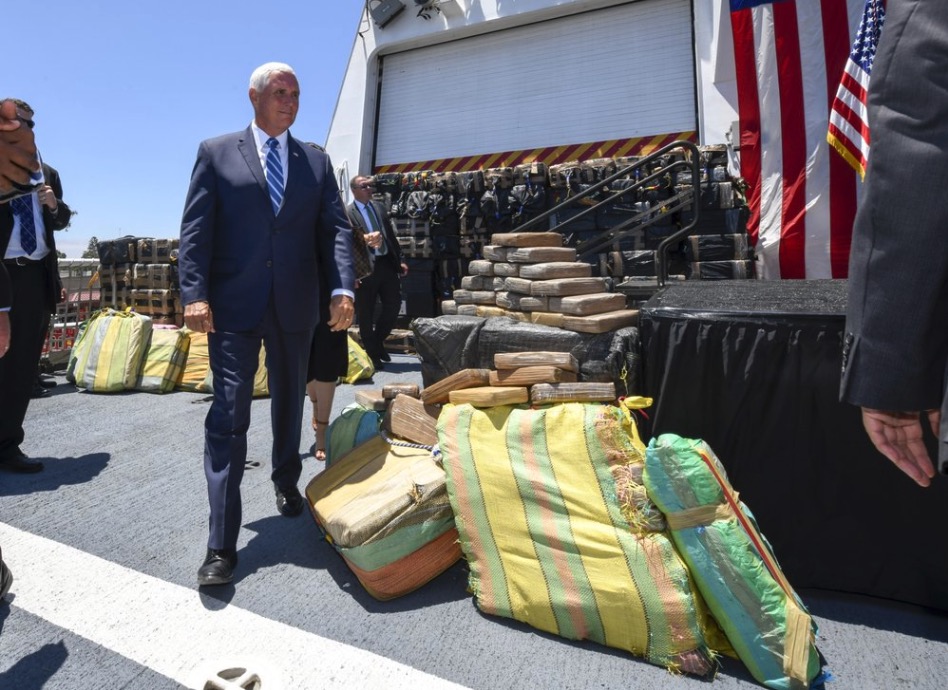 Linda Fagan, commander of Coast Guard Pacific Area, said the seized drugs are smuggled by international cartels, whose actions, if "left unchecked, fuels violence and instability that corrodes our Hemisphere's social and economic fabric, and directly contributes to historically high drug-related deaths in neighborhoods across North America."
The Coast Guard said it has increased its U.S. and allied presence in the Eastern Pacific Ocean and Caribbean Basin, which are known drug transit zones off of Central and South America, as part of its Western Hemisphere Strategy to stem the flow of illicit drugs to American communities.
From The Epoch Times