Authorities in Massachusetts have charged the driver of an SUV who crashed his vehicle through the front window of an Apple store with reckless homicide.
Bradley Rein, 53, was taken into custody Monday night after an arrest warrant was obtained following an "extensive" investigation by Massachusetts State Police and Hingham Police, Plymouth County District Attorney Tim Cruz said in a statement on Tuesday.
Rein is scheduled to be arraigned in Hingham District Court, the district attorney added, without providing a date and time. In addition to the charge of felony reckless homicide by motor vehicle, the driver is also facing a reckless operation of a motor vehicle charge.
Police received multiple 911 calls at approximately 10:45 a.m. on Monday to report that a 2019 Toyota 4Runner plowed through the storefront window at an Apple store located in Hingham's Derby Street Shops, an outdoor mall featuring shops, restaurants, and open space for events.
One person, identified as 65-year-old Kevin Bradley of New Jersey, was pronounced deceased at the scene. According to Apple, he was a "professional who was onsite supporting recent construction at the store."
First responders also discovered 16 male and female victims with "varying levels of traumatic injuries," Cruz said in a separate statement to address the mass casualty incident. The victims were taken to South Shore Hospital, Brigham and Women's Hospital, and Boston Medical Center for treatment.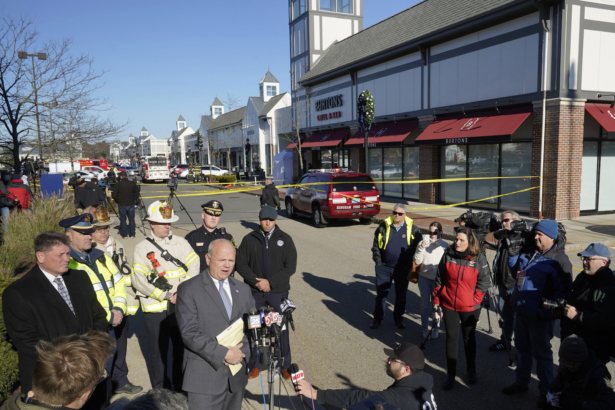 Dr. Jason Tracy, the chair of emergency medicine at South Shore Hospital, described the injuries as "life and limb-threatening" during a news conference, MassLive reported.
Tracy said the hospital had to call in additional surgeons and support staff to treat the patients. The facility is now well-staffed and able to take care of the number of patients brought in.
The storefront window showed a large hole as first responders worked at the scene of the crash around 11 a.m. on Monday. The store had been scheduled to open about an hour before the crash.
In a statement to Fox News, Apple said it was "devastated by the shocking events at Apple Derby Street today and the tragic loss of a professional who was onsite supporting recent construction at the store."
"Our hearts go out to our team members and customers who were injured and all of those who were affected by this terrible incident," the company said. "We are doing everything we can to support our team members and customers at this very difficult time."
State Sen. Patrick O'Connor also offered his sympathies in a statement on Twitter for all the victims involved in Monday's crash.
"My thoughts are with those who have been injured and impacted by the incident at the Hingham Derby Street Shops this morning," O'Connor wrote. "Sadly, there are reports of at least one individual having passed due to injuries on the scene and my prayers are with their family."
"I'd also like to express my thanks to our first responders and to the medical staff at South Shore Hospital for their efforts," the senator who represents the Plymouth and Norfolk District added. "This is a developing situation and authorities will be working to find out what exactly transpired over the coming days."