Drone images of the collapsed Kakhovka Dam in Ukraine and surrounding villages under Russian occupation show hundreds of homes and buildings along the Dnieper River inundated by floodwater.
The hydroelectric dam's reservoir was breached in the early hours of June 6 and sent millions of liters of water bursting through a gaping hole causing widespread flooding in the Kherson region and prompting tens of thousands of people to flee.
In the newly released images, most of the dam—which holds a similar amount of water as the Great Salt Lake in Utah—was submerged by the rushing water. Two nearby villages under Russian occupation—Dnipryany and Korsunka—were also underwater up to the rooftops of homes.
The nearby town of Nova Kakhovka, also under occupation, was less touched by the flooding but devoid of people and animals. Its Ferris wheel was stopped and water lapped up a main street.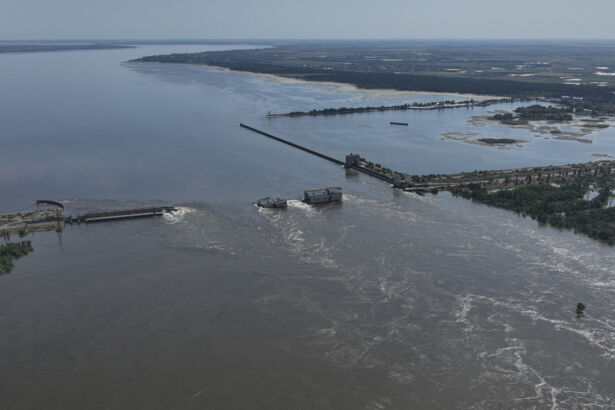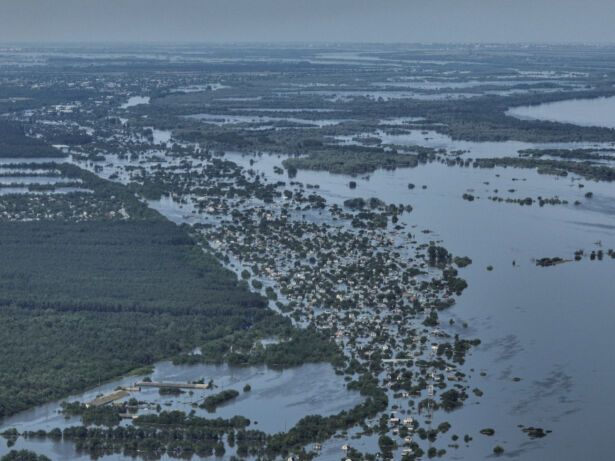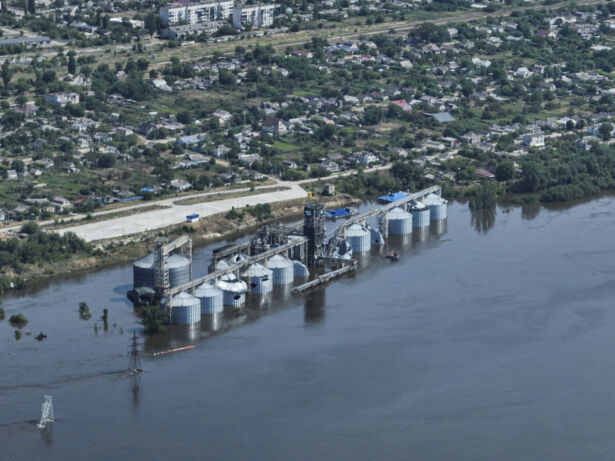 The Dnieper River forms part of the front line in the war, and many people had already fled the area because of the fighting. Ukraine holds the western bank, while Russia controls the low-lying eastern side, which is more vulnerable to flooding.
Before and After Images
Satellite imagery released by U.S. space technology company Maxar Technologies on June 7 shows before and after the disaster of the giant hydroelectric dam.
Maxar said the images of more than 965 square miles between Nova Kakhovka and the Dniprovska Gulf southwest of Kherson city on the Black Sea, showed numerous towns and villages flooded.
"The Nova Kakhovka dam and hydroelectric plant have been largely destroyed and few structures remain," Maxar said in a statement.
The images show houses and buildings submerged in water, with many having only their roofs showing, and water taking over parks, land, and infrastructure.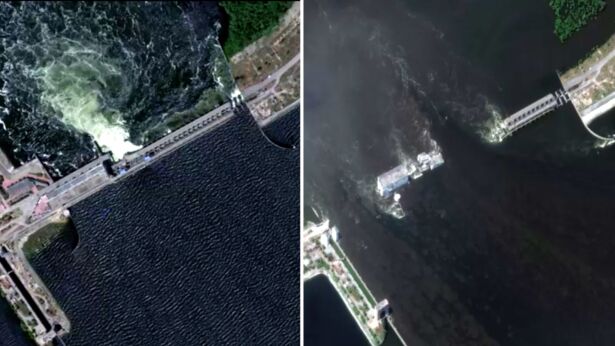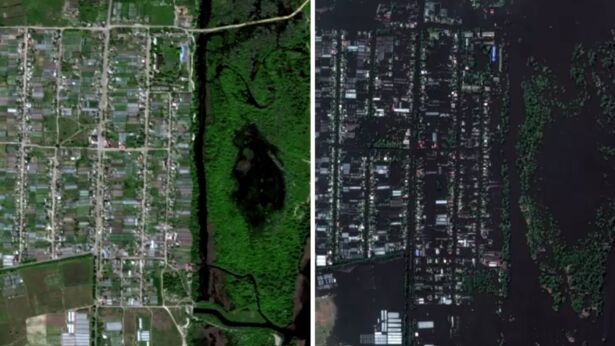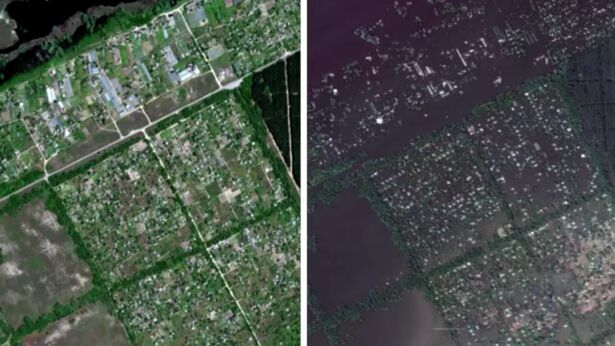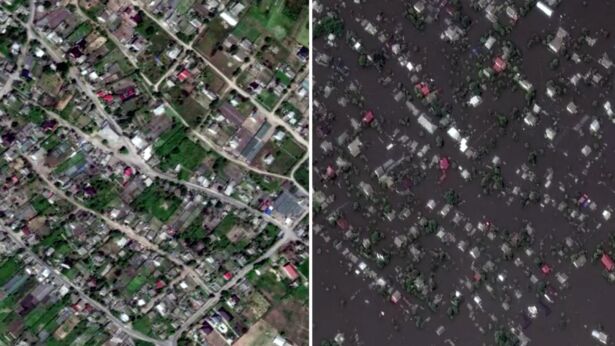 Russia and Ukraine have traded blame over bombarding the structure that had been under Moscow's control for over a year. Some experts, meanwhile, indicated that the structure was in disrepair due to war damage and poor management by Russian-backed authorities, which may have led to its collapse.
David Helms, a retired U.S. scientist who has monitored the reservoir, said in an email to The Associated Press that it wasn't clear if the damage was deliberate or simply due to neglect by occupying Russian forces.
Ukrainian President Volodymyr Zelenskyy and a formation of the country's ground forces blamed Russian forces for destroying the Soviet-era dam. Russian officials quickly countered the allegations and blamed the incident on Ukrainian military strikes in the contested area.
Neither side has presented public evidence demonstrating who, if any, was responsible.
The Associated Press and Reuters contributed to this report.