Rolando Salinas, Jr., the mayor of Eagle Pass, Texas, has issued an emergency declaration due to a "severe" surge in illegal immigration.
Mr. Salinas signed the order on Sept. 19, officially declaring a state of disaster for the city of Eagle Pass that will last for at least seven days and may be renewed if the crisis persists.
Eagle Pass's 30,000 or so residents have been overwhelmed by an influx of thousands of illegal immigrants in recent days, which comes amid a broader surge of people seeking to cross the U.S.–Mexico border without authorization.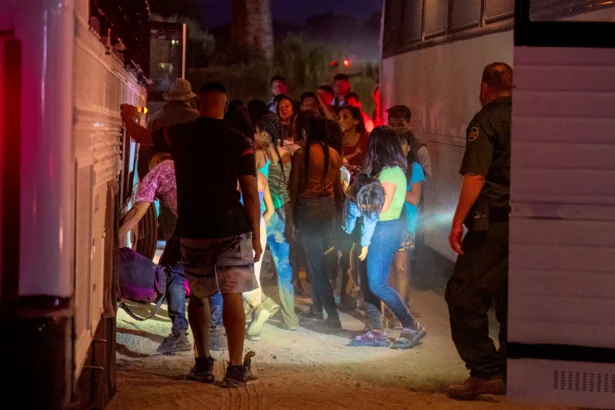 At a Sept. 19 press conference, Mr. Salinas estimated that over Sunday and into early Monday, around 2,500 people crossed into Eagle Pass illegally, though he cautioned that this was not an "official, exact number."
According to Maverick County Sheriff Tom Schmerber, another 2,700 migrants crossed at Eagle Pass on Tuesday and 3,000 more on Wednesday.
The Epoch Times has reached out to the Texas Department of Public Safety for the latest estimates of the human flows into Eagle Pass from across the border, but did not receive a response by publication time.
But the latest numbers are likely to be in the thousands—and the influx is clearly overwhelming the city and stretching its resources.
"The City of Eagle Pass is committed to the safety and well being of our local citizens," Mr. Salinas said in the declaration, which allows the city to seek federal and state resources to help alleviate some of the pressure.
"The emergency declaration grants us the ability to request financial resources to provide the additional services caused by the influx of the undocumented immigrants," he added.
Because the only shelter in Eagle Pass has been unable to accommodate all of the asylum seekers, large numbers of illegal immigrants were seen out in the streets on Wednesday, Texas Public Radio reported.
'Invasion at Our Border'
U.S. Customs and Border Protection (CBP) issued a statement saying that it was temporarily halting vehicle processing operations at a bridge and railway crossing at Eagle Pass and redirecting those resources to help apprehend people crossing the border illegally.
"In response to this influx in encounters, we will continue to surge all available resources to expeditiously and safely process migrants," the agency said in a statement.
"We will maximize consequences against those without a legal basis to remain in the United States. CBP will continue to prioritize our border security mission as necessary in response to this evolving situation."
Texas governor Greg Abbott said in a post on X that he had "officially declared an invasion at our border," while blaming President Joe Biden's policies for the influx.
Mr. Abbott said he had ordered more troops from the Texas National Guard, the Texas Department of Public Safety, and local law enforcement to repel illegal crossings and install additional razor wire.
"We are building a border wall, razor wire & marine barriers," he said.
"We are also repelling migrants," he added.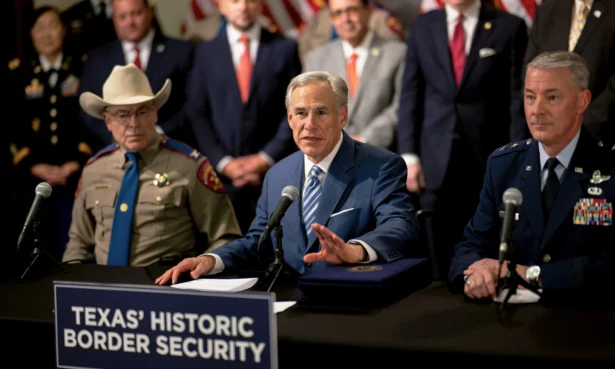 In his post, Mr. Abbott shared a letter he had sent to President Biden in November 2022, accusing him of inaction in the face of what was then already a border crisis in full swing.
"Your inaction has led to catastrophic consequences," Mr. Abbott wrote in the letter.
"Under your watch, America is suffering the highest volume of illegal immigration in the history of our country," Mr. Abbott continued.
Republicans have blamed President Biden's messaging and policies for helping fuel a border crisis of historic proportions.
The Department of Defense (DOD) is ramping up resources at the U.S.–Mexico border amid a surge in illegal border crossings—not just at Eagle Pass.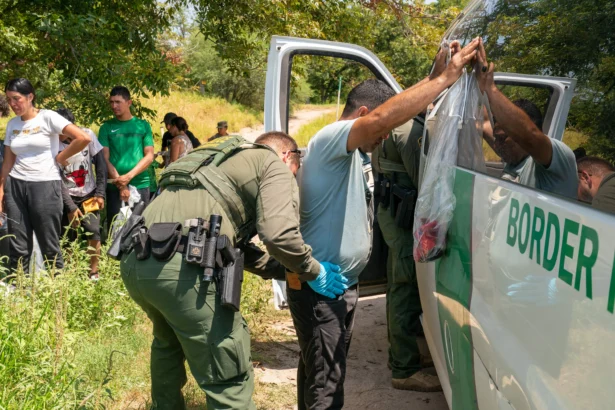 More Military Resources Deployed
Department of Homeland Security (DHS) officials told reporters in a call Wednesday night that around 800 new active-duty personnel were being sent to the border.
A DHS official said on the call that there were over 8,000 apprehensions along the southern border on Monday.
The official gave no explanation for what was causing the latest surge.
Meanwhile, law enforcement officials told The New York Post this week that Mexican drug and human trafficking cartels have been purposefully directing masses of illegal immigrants to inundate CBP operations at the U.S. border.
The aim of such actions would be to help the cartels carry out their illegal operations with less oversight.
While Texas has borne the brunt of the wave of illegal immigration, other regions have faced increased pressure.
Southern California has also seen an influx of migrants in recent days.
El Cajon Mayor Bill Wells, a Republican, said the situation is "a disaster."
"Every emergency room is at capacity in SD County. Our homeless shelters are full. Resources are stretched thin," he
said
in a post on X.
"The Biden Administration allowed this to happen. People must pay attention and vote to fix this problem!"
Kos Temenes contributed to this report.
From The Epoch Times