Residents in East Palestine, Ohio, are raising environmental concerns after a train carrying hazardous materials including vinyl chloride was derailed last week.
The train, carrying about 50 freight cars, was traveling from Madison, Illinois, to Conway, Pennsylvania, on Feb. 3 when it derailed in East Palestine.
Crews burned the chemicals in a controlled release on Feb. 6, creating a pillar of dark smoke that spread over the town.
Officials have since declared that it is safe for residents to return to the area after monitoring the air and water in surrounding communities and claiming they were not affected.
However, since returning home, many residents have raised concerns about just how safe it is, with some claiming to have seen dead animals in streams nearby the site of the accident.
One resident, Russell Murphy, told CBS Pittsburgh on Feb. 7 that he discovered hundreds of dead fish in Leslie Run stream about 5 miles away from the derailment site just 48 hours after the incident.
"This is huge, huge environmental effects," Murphy said, adding that he and his family use well water for everything including bathing, drinking, and caring for their livestock.
"Is this stuff safe to drink?" Murphy added. "The health effects, the long-term environmental effects, the waterways—I mean, this is bad."
Headaches, Nausea After Residents Return Home
Another resident, Maura Todd, told The Washington Post that her family experienced headaches and nausea after returning to their home and that a strong odor—which she likened to nail polish remover and burning tires—lingers.
"I've watched every news conference and I haven't heard anything that makes me think that this is a data-driven decision," Todd said of the evacuation order being lifted. "We don't feel like we have a whole lot of information."
The owner of a dairy farm just outside of the evacuation zone in East Palestine told WKBN that several foxes he keeps on his property have been sick and acting differently since the incident.
In North Lima, Ohio, which is about 10 miles away from East Palestine, one woman told WHTM that all of her chickens had suddenly died, which she believes is connected to the derailment and hazardous materials.
After the crash, state officials ordered the evacuation of a 1-mile radius surrounding the crash site.
Those evacuation orders were dropped on Feb. 8 after crews completed the controlled burn of the chemicals.
"The controlled breach of several rail cars has been completed successfully under the supervision of experts and first responders," train operator Norfolk Southern said in an update at the time.
According to the Environmental Protection Agency (EPA), the main chemicals involved in the derailment incident were vinyl chloride, ethylhexyl acrylate, ethylene glycol monobutyl ether, and butyl acrylate (pdf).
Vinyl chloride is a toxic, colorless, and flammable gas primarily used to make the polyvinyl chloride hard plastic resin in plastic products such as pipes, wire and cable coatings, and packaging materials.
Vinyl chloride is associated with an increased risk of liver cancer and other cancers, such as brain and lung cancers, according to the federal government's National Cancer Institute.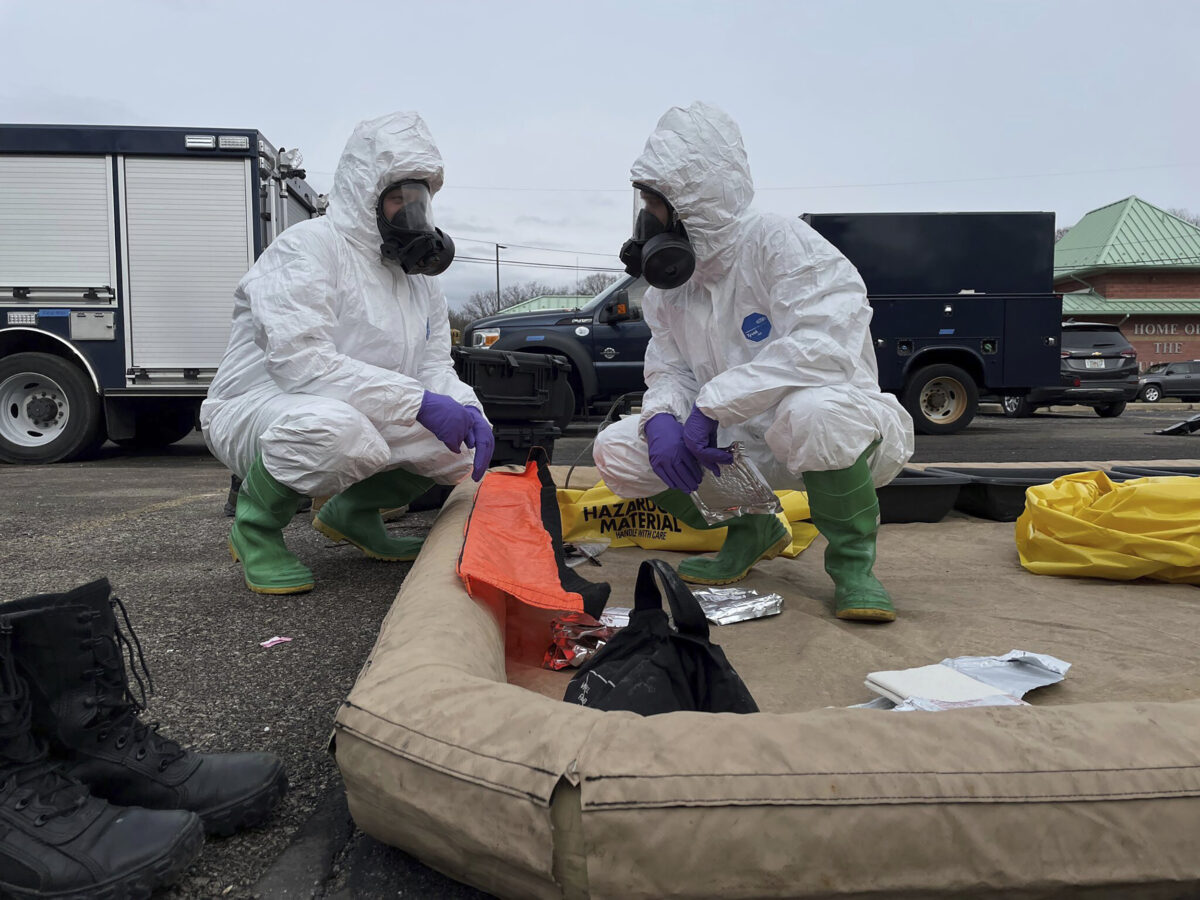 Phosgene is a highly toxic, colorless gas with a strong odor that can cause irritation to the eyes, a dry, burning throat, vomiting, foamy sputum, and breathing trouble, according to the Centers for Disease Control and Prevention (CDC).
Hydrogen chloride is a colorless to slightly yellow gas with a strong odor. Exposure to the gas can cause irritation to the skin, nose, eyes, and throat, according to the CDC. Hydrogen chloride gas forms a strong acid (hydrochloric acid) on contact with water, such as condensation due to atmospheric moisture.
Government Insists Area Is Safe
Despite growing concerns over possible environmental and human risks, the EPA has said it is monitoring the air quality throughout the affected area and that no levels of any concern have been detected.
"Residents may still smell odors from the site," the EPA noted. "As of yesterday evening, 210 homes have been screened. To date, no detections of vinyl chloride or hydrogen chloride were identified for the completed screened homes. There are 218 homes that still remain to be screened."
However, the Pennsylvania Department of Environmental Protection has advised residents returning home to open their windows and doors, turn on fans to air out their property, and use diluted bleach to wipe down all surfaces that could have been exposed to chemicals.
Two Pennsylvania residents filed a lawsuit against Norfolk Southern on Thursday, calling for the rail operator to pay for medical screenings and related care for anyone living within a 30-mile radius of the derailment to determine who was affected by toxic substances released after the derailment. The lawsuit also is seeking undetermined damages.
"The biggest question remaining is what, if anything, is still being released from the site, first and foremost," Peter DeCarlo, an environmental health professor at Johns Hopkins University, told The Washington Post. "If there are still residual chemical emissions, then that still presents a danger for people in the area."
The Associated Press contributed to this report.