Former national security adviser John Bolton said that it would be problematic if alleged Chinese spy balloons transited over the United States under the Trump administration without federal officials being notified at the time.
There were a flurry of reports over the weekend, citing allegedly anonymous U.S. officials, that claimed Chinese balloons flew over the United States when former President Donald Trump was in office. However, Trump, Bolton, and other administration officials refuted those claims and said they were never alerted about such matters.
Later, anonymous officials told Fox News on Monday that those balloons weren't detected until President Joe Biden took office. The Epoch Times has contacted several Department of Defense spokespeople for comment, while the Pentagon has not publicly commented on the recent allegations.
A so-called senior official told Fox that "U.S. intelligence, not the Biden administration," assessed that Chinese military "surveillance balloons transited the continental U.S. briefly at least three times during the prior administration and once that we know of at the beginning of this administration, but never for this duration of time." There were also claims of an alleged spy balloon crashing in the Pacific Ocean off the coast of Hawaii about four months ago.
But on Monday, Bolton questioned those reports. "Well, if it wasn't detected when it happened, how did we detect it more recently? Did the Biden administration invent a time machine?" he asked during a CNN interview on Monday.
"What is the basis of this new detection? Now, I understand the administration has offered to brief former national security officials from the Trump administration," Bolton said.
If U.S. military officials did not alert staff in the Trump administration, it would be significant, he said.
"I will say this, if there was any actual knowledge that these balloons were over the United States and higher authority wasn't told, that's a serious problem," he told CNN, also saying, "As far as I know, every Trump administration official who has been asked, has said they didn't know anything about it."
Trump Mounts Defense
On Sunday, the former president and other former senior officials, including John Ratcliffe and Richard Grennell, pushed back against claims made on Sunday.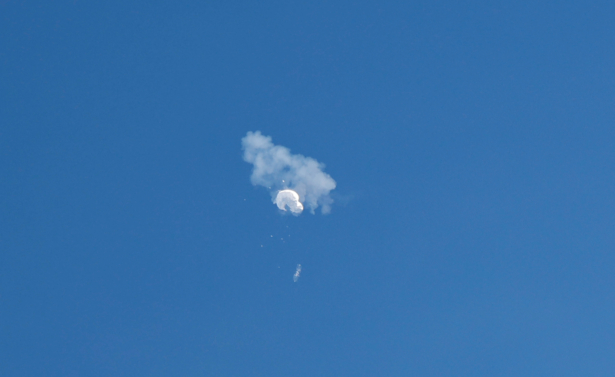 "This never happened. It would have never happened," Trump told Fox News, adding that the Chinese regime "respected us greatly" when he was in office. "It never happened with us under the Trump administration and if it did, we would have shot it down immediately," added Trump. "It's disinformation."
Mark Esper, who served under Trump as secretary of defense for several years, similarly refuted claims about balloons flying over the United States under the previous administration during a Sunday interview.
"I don't ever recall somebody coming into my office or reading anything that the Chinese had a surveillance balloon above the United States," he told CNN. "I would remember that for sure."
"It's not true. I can refute it," ex-Director of National Intelligence John Ratcliffe told Fox News. "The American people can refute it for themselves. Do you remember during the Trump administration, when photographers on the ground and commercial airline pilots were talking about a spy balloon over the United States that people could look up and see, even with the naked eye, and that a media that hated Donald Trump wasn't reporting?"
It comes after a U.S. military F-22 jet shot down the balloon off the Carolina coast after it traversed sensitive military sites across North America. The Chinese Communist Party (CCP) has insisted flyover was an accident involving a civilian aircraft.
The presence of the balloon in the skies above the United States dealt a severe blow to already strained U.S.–Chinese relations that have been in a downward spiral for years. It prompted Secretary of State Antony Blinken to cancel a Beijing trip that was scheduled for this month.
U.S. President Joe Biden issued the shootdown order after he was advised that the best time for the operation would be when it was over water, U.S. officials said. Military officials determined that bringing down the balloon over land from an altitude of 60,000 feet would pose an undue risk to people on the ground.
The Associated Press contributed to this report.
From The Epoch Times