The father of a 27-year-old man who was shot dead in Philadelphia after he charged at officers while holding a knife appealed for calm as the second night of protests in the Pennsylvanian city turned violent.
Rallies over the death of Walter Wallace Jr. started peacefully on Monday evening but sparked overnight with demonstrators clashing with police and up to 1,000 people being involved in looting inside the area of Castor and Aramingo, Philadelphia police said.
Walter Wallace Sr. spoke publicly with reporters on Tuesday, urging agitators who refuse to keep the protests peaceful to stop using violence out of respect for his son and family.
"People have businesses and we all got to eat … So, why would we hurt the resources that we have in our community instead of binding together?" Wallace Jr. his father said. "It's an SOS to help not to hurt and cause no chaos—violence, looting, fires—because I wasn't brought up like that."
"I don't condone no violence—tearing up the city, looting in the stores—and all this chaos," he said. "I need everybody to have respect for my family and my son to stop this violence and chaos."
Wallace Jr.'s confrontation with police was captured on video. He approached officers who had their weapons drawn and they warned him multiple times to put down the knife he was holding, which has been confirmed by witnesses because it is unclear from the video if he is holding a knife.
According to Sergeant Eric Gripp, Wallace Jr. was "brandishing" with the knife and "waving it erratically," towards the officers responding to reports about a man with a weapon, CBS Philly reported.
The officers were seen backing up as Wallace Jr. started stepping towards them and shortly afterward gunfire erupted and he collapsed to the ground. Wallace Jr. was reportedly shot multiple times and died in a local hospital.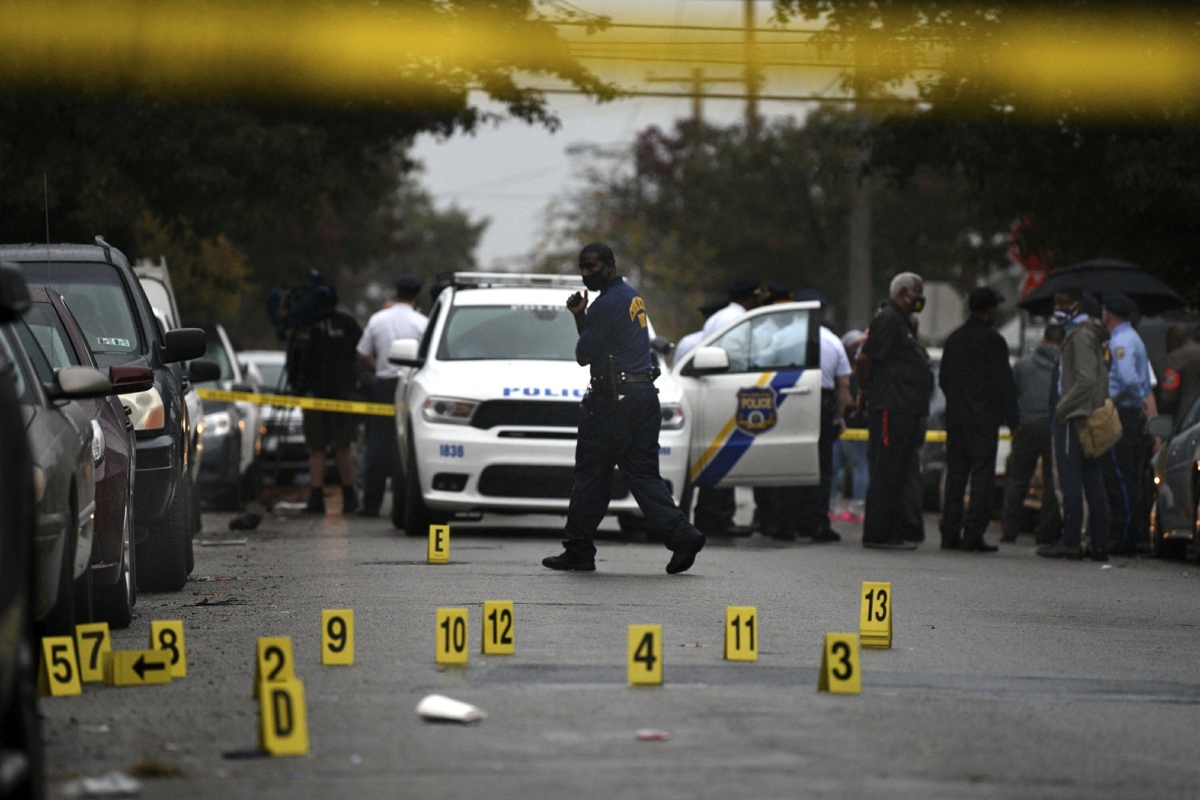 A lawyer representing the family of Wallace Jr. said he was suffering from a mental breakdown and had bipolar disorder, also known as manic depression, a disorder that is associated with periods of depression and periods of abnormally elevated mood.
Wallace Jr's father criticized the response from the officers and claimed authorities could have handled the situation differently as his son was going through a difficult time psychologically and would not have hurt the officers. The psychological difficulties were relayed by his wife to the officers who encountered him before the shooting.
John McNesby, president of the Fraternal Order of Police Lodge No. 5, defended the officers.
"These officers were aggressively approached by a man wielding a knife," he said in a statement.
Philadelphia District Attorney Larry Krasner said in a statement that an investigation into Wallace's shooting is underway.
"We intend to go where the facts and law lead us and to do so carefully, without rushing to judgment and without bias of any kind," he said, adding, "In the hours and days following this shooting, we ask Philadelphians to come together to uphold people's freedom to express themselves peacefully and to reject violence of any kind."
Tom Ozimek and Reuters contributed to this report.