The father of a Kentucky high school student who was smeared by a slew of journalists, activists, analysts, and celebrities slammed the media coverage of his son while backing a new bill to address "doxxing," or the revealing of someone's private information on the Internet.
Nick Sandmann, a student at Covington Catholic High School, was targeted after he was filmed standing in front of a Native American activist, while the activist, Nathan Phillips, chanted and drummed in Sandmann's face.
On camera, Sandmann stood still, smiled, and motioned to his friends not to do anything, while a member of Phillips' entourage shouted at them to "go back to Europe" since "white people stole our land." After a short clip of the interaction went viral, he was called a racist, "punchable," and other names.
In the early hours of reporting on the incident, several students were misidentified as Sandmann. When he was later identified, he and other Covington students faced death threats.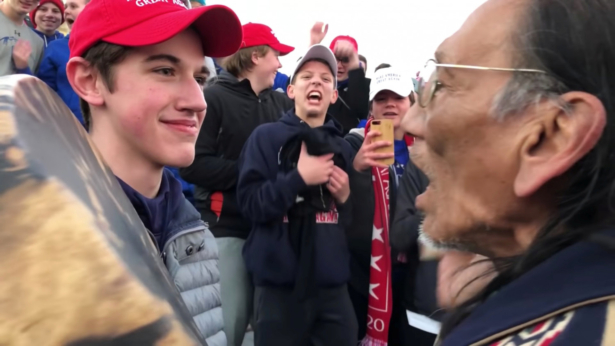 Ted Sandmann, Nick Sandmann's father, appeared on March 6 before the state Senate's State and Local Government Committee to speak out in support of the proposed anti-doxxing bill.
"My son, Nicholas Sandmann, was the victim of the most sensational Twitter attack in the history of the internet," Ted Sandmann told the committee, reported the Louisville Courier-Journal.
He took issue with one comment in particular, made by Reza Aslan, a liberal CNN commentator, who posted a picture of Sandmann with the caption: "Have you ever seen a more punchable face?"
To this day, the missive is still up on Twitter, and Aslan is among those who have refused to apologize for their slander. CNN has not addressed the missive.
Honest question. Have you ever seen a more punchable face than this kid's? pic.twitter.com/jolQ7BZQPD

— Reza Aslan (@rezaaslan) January 20, 2019
CovCath dad supports Kentucky doxing bill after 'sensational Twitter attack' https://t.co/H6IBKLOCQs via @courierjournal

— Deborah Yetter (@d_yetter) March 6, 2019
While the comment was offensive, others "threatened much more violence," Ted Sandmann noted. Among those was a Hollywood producer sharing a video showing youth wearing "Make America Great Again" hats going into a woodchipper.
"It shows how far out of control social media has become," Sandmann said.
Nick Sandmann noted after a flurry of news reports relying on edited video and the word of Phillips, who lied about serving in Vietnam, that his family was receiving death threats.
The legislation, Senate Bill 240, would make it a crime to doxx a minor on the Internet, with information including first and last names, birth dates, school locations, and email addresses.
The crime would be a misdemeanor, but could be elevated to a felony if physical harm or monetary loss resulted.
Sen. Morgan McGarvey, a Democrat who voted no, said the bill is too broad. "I believe doxing is bad," he said. "But when we start creating new crimes and new fines, this is something we need to get right."
The bill passed the committee 8-3 and heads to the full state senate.
Lawyer Says Editor's Note Not Enough
The lawyer representing Sandmann in a lawsuit against the Amazon-owned, openly liberal Washington Post for its alleged smears against his client said the editor's note the outlet posted about its reporting on the incident wasn't enough.
Sandmann is suing the Post for $250 million.
The Post issued the note that it deleted a tweet wrongly calling Phillips a Vietnam veteran and saying its initial story about the incident was not correct.
"Subsequent reporting, a student's statement, and additional video allow for a more complete assessment of what occurred, either contradicting or failing to confirm accounts provided in that story," the Post said. The publication admitted no wrongdoing even though the full video footage was available at the time of the first report.
In a statement, Lin Wood said: "The Friday night efforts by the Post to whitewash its wrongdoing were untimely, grossly insufficient and did little more than perpetuate the lies it published—lies that will haunt and adversely impact Nicholas for the rest of his life."
"The Post made no effort to retract and correct the lies it published," he added. "The Post did not have the character to apologize to Nicholas and seek his forgiveness."