The FBI and U.S. Attorney's Office in Baltimore said they arrested two people who were allegedly attempting to attack a Maryland power grid.
In a news conference on Monday, FBI and Department of Justice officials said that Sarah Clendaniel of Catonsville, Maryland, and Brandon Russell of Orlando, Florida, allegedly plotted to shoot "multiple electrical substations in the Baltimore area" and wanted to "completely destroy this whole city."
"These plans were stopped thanks to the swift action and collaboration of our federal, state, and local enforcement partners," U.S. Attorney of Maryland Erek Barron said in the press conference.
An FBI official told reporters that the agency views the suspects as "racially or ethnically motivated extremists."
"The accused were not just talking, but taking steps to fulfill their threats and further their extremist goals," said Thomas Sobocinski, special agent in charge of the FBI Baltimore field office, according to multiple news outlets.
"Russell provided instructions and location information. He described attacking the power transformers as the greatest thing somebody can do," Sobocinski added. "Their actions threatened the electricity and heat of our homes, hospitals, and businesses."
According to court documents (pdf), officials claimed Russell said he had "National Socialist" beliefs and that he and his roommates were "members of Atomwaffen." A footnote in the paper said that Atomwaffen is described by law enforcement as a "racially or ethnically motivated violent extremist group."
The charging documents also said that Clendaniel allegedly told an undercover agent that shots targeting five substations "would completely destroy this whole city," adding that a "good four or five shots through the center of them … should make that happen." According to the documents, she said that such efforts "would probably permanently completely lay this city to waste if we could do that successfully."
Following the announced indictments, utility companies Exelon and BGE released a statement, saying that "the Federal Bureau of Investigation has notified Exelon and BGE that it has disrupted a plot to target several BGE electric substations with gunfire." There were no disruptions to service or damage to substations, the statement said.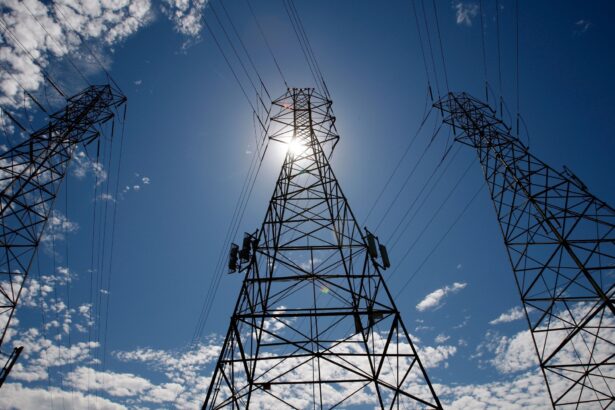 "We are working closely with the FBI and state and local law enforcement as they continue their investigation, and we are thankful for their vigilance and the precautions taken to protect the electric grid for our customers and employees," the firms said.
"Law enforcement acted before the perpetrators were able to carry out their plan, and there was no damage to any of the substations, nor was any service disrupted. The substations are not believed to have been targeted out of any connection to BGE or Exelon, or because of any particular vulnerability," the companies said.
Other Incidents
About a month ago, a Colorado dentist was arrested after he set fire to a vehicle, causing damage to a Las Vegas-area power station, officials said. The suspect was identified as 34-year-old Mohammed Mesmarian, who faces terrorism-related charges over the incident.
Several days ago, a Las Vegas judge ruled that Mesmarian was not competent to stand trial because he could not understand the charges against him.
In a separate incident, two Washington state men were arrested for several alleged attacks on power substations near Tacoma, although the two weren't charged with terrorism-related counts. Authorities said the two men wanted to knock out power to the area to commit a burglary targeting a local business, according to charging documents.
"While the power was out, after the Graham and South Hill attacks, the two went to a local business, Crahan drilled out a lock, and Greenwood entered to steal from the cash register," agents wrote in charging documents filed in the Western Washington U.S. District Court.
Emily Langlie, a spokeswoman for the U.S. Attorney's Office, told USA Today that their motive appeared to be for monetary gain but didn't rule out terror-related charges.
Late last year, a utility in North Carolina reported outages from what local authorities said were orchestrated shootings that are now being investigated by federal law enforcement. The FBI also investigated shots fired near a power facility in South Carolina days later.
No arrests have been made in connection to the incidents in North and South Carolina. It's also not clear if those attacks were related to the charges filed against Clendaniel and Russell on Monday.
Reuters contributed to this report.
From The Epoch Times