The FBI verified that a laptop computer later widely reported as belonging to the son of President Joe Biden did indeed belong to him, a whistleblower says.
Gary Shapley, an IRS criminal special agent, was assigned to work on an investigation into Hunter Biden's taxes. He says he was removed by the U.S. Department of Justice in May after raising concerns about deviations from normal procedures.
Shapley said that the probe of Hunter Biden was opened in November 2018. About a year later, FBI officials became aware of a laptop computer allegedly belonging to Hunter Biden being at a repair shop and learned the computer might contain evidence of a crime.
"The FBI verified its authenticity in November of 2019 by matching the device number against Hunter Biden's Apple iCloud ID," Shapley told Congress in a May 26 interview, a transcript of which was released on June 22.
"When the FBI took possession of the device in December 2019, they notified the IRS that it likely contained evidence of tax crimes," he added.
A lawyer for Hunter Biden didn't respond to an inquiry.
The FBI declined to dispute Shapley's account or otherwise comment.
John Paul Mac Isaac, who owned a computer store in Delaware, has said that Hunter Biden dropped off a laptop at his store on April 12, 2019. He has presented an invoice that lists the person to bill as Hunter Biden, with an iCloud ID.
Hunter Biden two days later gave Mac Isaac a hard drive to which he asked Mac Isaac to transfer information from the computer. But after Mac Isaac contacted  Hunter Biden to let him know the work was complete, Hunter Biden didn't respond, according to court filings.
Mac Isaac has said that he eventually gave the Apple MacBook Pro computer to the FBI. A subpoena signed by an FBI agent instructed Mac Isaac to appear before a grand jury and bring the computer and an external hard drive with him. Mac Isaac says he kept a copy of the drive "in case he was ever thrown under the bus" and later passed the contents to Rudy Giuliani, who conveyed it to the New York Post.
Shapley said that an FBI agent asked for and received the computer's device number from Mac Isaac and confirmed the computer belonged to Hunter Biden.
The Post published an article in October 2020 about some of the contents, but the article was suppressed by Big Tech companies such as Twitter, which claimed the story was based on hacked materials.
Other people claimed, without evidence, that the story was the result of Russian disinformation.
FBI officials had warned the companies that Russia would be creating propaganda regarding the election.
The FBI has confirmed it issued a warning but also said that it "cannot ask, or direct, companies to take action on information received."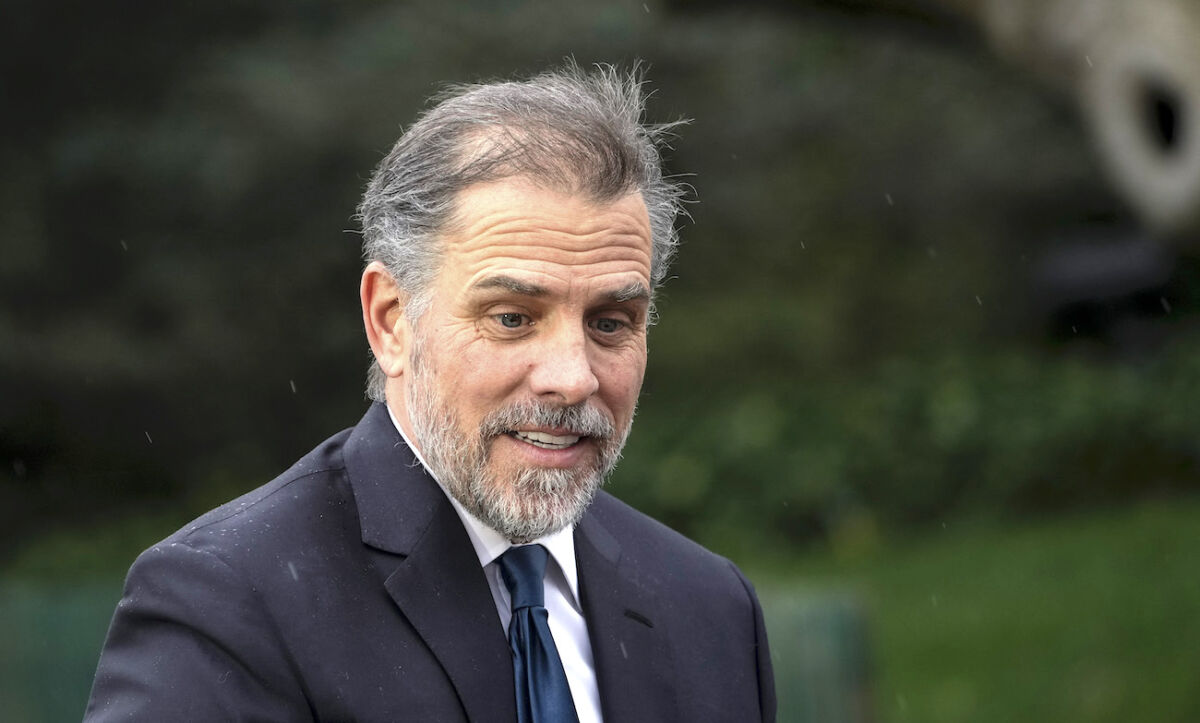 DOJ Official Blocked Investigators: Shapley
Shapley said that he emailed a top Department of Justice official around the same time raising concerns about the FBI "making certain representations about the device." Shapley said his team still hadn't been allowed to access the computer or its contents.
During a subsequent meeting on Oct. 22, 2020, assistant U.S. Attorney Lesley Wolf said prosecutors decided to keep the data from investigators.
"This decision is unprecedented in my experience," Shapley said. "Investigators assigned to this investigation were obstructed from seeing all the available evidence. It is unknown if all the evidence was reviewed by agents or by prosecutors."
The Department of Justice declined to comment.
Shapley also quoted Wolf as saying, "We have no reason to believe there is anything fabricated nefariously on the computer and/or the hard drive."
Another whistleblower, whose name wasn't released, told Congress that investigators obtained electronic search warrants, including for email accounts, Microsoft QuickBooks accounts, an Apple iCloud account, and "the laptop."
Hunter Biden has admitted to violating federal tax law, according to court documents made public on June 20. He also was charged with a gun crime, but has entered pretrial diversion and may end up having the charge dropped.
Hunter Biden has in the past declined to say whether the computer belonged to him.
"I really don't know what the answer is," he told CBS in 2021 when asked whether the computer was his. "There could be a laptop that was out there that was stolen from me, it could be that I was hacked, it could be that it was Russian intelligence, it could be that it was stolen from me."
Lawyers for Hunter Biden said in February that the data Mac Isaac shared was from Hunter Biden but also said they weren't confirming that it came from a computer belonging to the president's son.
"There has never been, to my knowledge, an acknowledgment that this so-called laptop—he continuously calls it Hunter Biden's abandoned laptop," Brett Langdon, another lawyer representing Hunter Biden, said during a recent court hearing.
When a judge asked whether it was Hunter Biden's computer, Langdon said he couldn't answer that question.
From The Epoch Times