A Food and Drug Administration (FDA) advisory panel on June 15 voted to recommend the FDA give emergency authorization to the Moderna and Pfizer COVID-19 vaccines for children as young as 6 months of age.
The panel unanimously voted during a virtual meeting after presentations from the companies and the FDA.
The FDA has yet to choose whether to accept the recommendations, but it is expected to do so. An agency spokeswoman told The Epoch Times via email she could shed no light in terms of timing.
No COVID-19 vaccines are currently available to children under five in the United States.
Panel members heard that a two-dose primary series of Moderna's vaccine was just 50.6 percent effective against symptomatic infection in children aged 6 months to 23 months, and just 36.8 percent for children aged 2 to 5.
A three-dose primary series of Pfizer's vaccine was estimated to be 80.3 percent effective against infection.
"I do believe that the benefits far outweigh the risks involved," Dr. Michael Nelson, one of the panel members, said. "Families will now have choice that they did not have before and I fully believe in the intelligence of families to make the right choice for their families and children."
Not all experts agree.
"From an efficacy standpoint, it makes absolutely no sense to approve these products," Brian Hooker, chief scientific officer for Children's Health Defense, who is not a panel member, told The Epoch Times after reviewing the data presented to the panel.
Neither Moderna nor Pfizer was able to estimate the efficacy against severe illness because few or zero cases of severe illness occurred in vaccinated or unvaccinated participants. There were signs Pfizer's shot did poorly against severe disease, but regulators and the companies projected the shots will help protect against severe illness based on the performance in older children and adults.
The vaccines met the primary endpoints in trials of certain levels of neutralizing antibodies. Efficacy was measured secondarily.
"We do feel very confident that the evidentiary standard for benefit for EUA has been met here," Dr. Dorian Fink, an FDA official, said during the hearing. EUA stands for emergency use authorization, which has a lower bar than approval but is possible because U.S. health officials have maintained the COVID-19 emergency designation.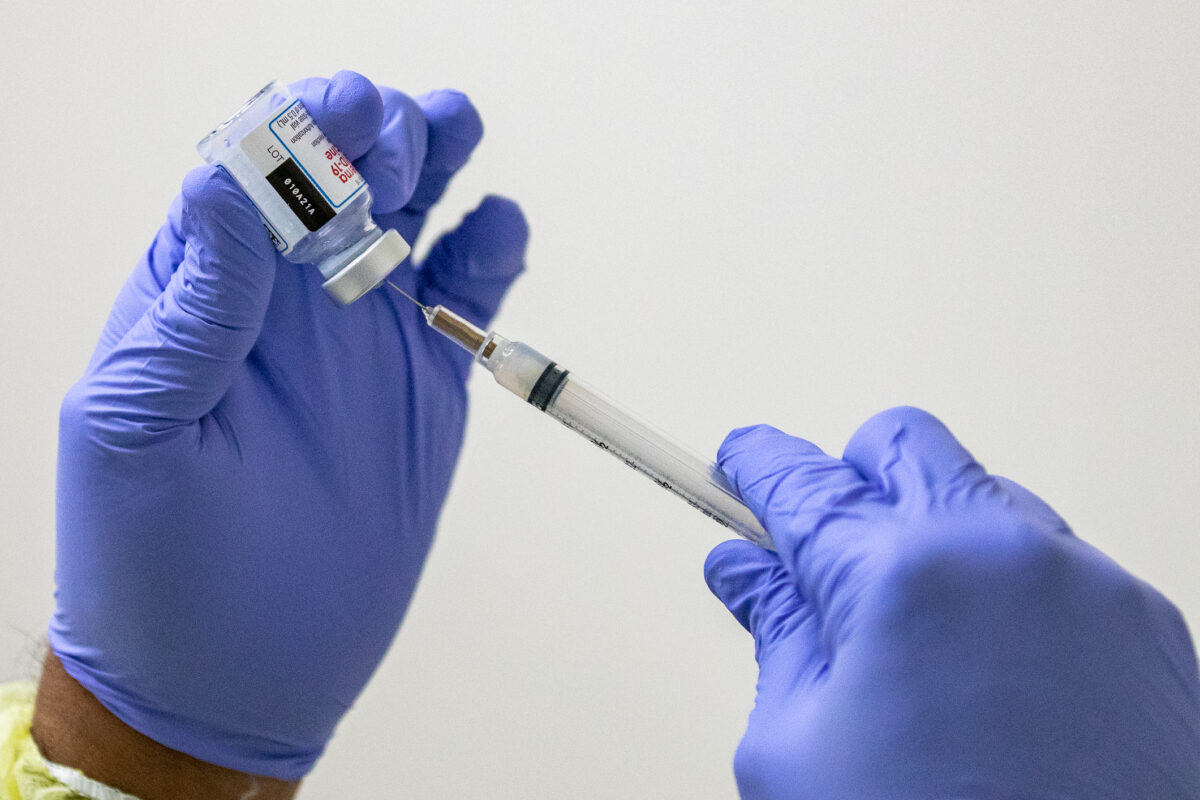 At Little Risk
Small children are at little risk from COVID-19, statistics show.
Out of approximately 2.5 million cases in children under 5, just about 4,000 needed hospital care, and there are indications around half of those were admitted for reasons other than COVID-19, officials have said. Just 215 deaths of children aged 6 months to 4 have involved COVID-19, according to a preliminary count. That is 0.02 percent of the U.S. deaths linked to COVID-19.
"If you look at the number of people struck by lightning in the United States in a year, it's 270. So we're talking about a very rare event," said Dr. Cody Meissner, one of the panel members.
Some experts say young children, particularly healthy ones, don't need a vaccine. And some say even if they did need one, the currently available vaccines—which are performing much worse than initially—aren't effective enough.
Other experts disagree.
"I know that the death rate from COVID in young children may not be extremely high, but it is absolutely terrifying to parents to have their child be sick, have to go to the hospital or even have to go to the emergency room or their primary care doctor because they're having trouble breathing," said. Dr. Jay Portnoy, a panel member.
"Each child that's lost essentially fractures a family," Dr. Peter Marks, director of the FDA's Center for Biologics Evaluation and Research, told the panel.
Jacqueline Miller, a senior vice president at Moderna, said that company officials feel it is "critically important to start vaccinating babies so they can start benefiting from the same protection as other cohorts."
Some members said that they were pleased to recommend authorization of the vaccines but hoped parents were aware of the small risk COVID-19 poses to children.
Dr. James Hildreth, a member, said that authorities "need to make parents aware of what the real risks are and let them make decisions."
"But for those parents who choose to do so, especially those parents of kids with underlying conditions, this is a choice they should have, and I'm pleased that they'll have it," he said.
The panel was asked whether, based on the scientific evidence available, the benefits of the vaccines outweigh the risks.
Several members expressed concerns about the safety data from the trials, as some health issues were more prevalent in the vaccinated children in the trials compared to the unvaccinated children. But they ultimately said the benefits outweighed those concerns.
There were more respiratory tract-related infections and more lymph node swelling events in the vaccinated groups in the trials.
Among Moderna recipients, 15 children aged 6 months to 23 months, or 0.9 percent of that group, suffered severe adverse events, approximately 65 percent suffered an adverse reaction—including a 17-month-old who suffered two seizures; 9 Moderna volunteers aged 2 to 5 who got the vaccine suffering severe adverse events, and 83.5 percent suffered an adverse reaction. All rates were higher than in the placebo groups.
Among Pfizer recipients, 5 aged 6 months to under 2 suffered a severe reaction, and 355 (30 percent), suffered any adverse event; 4 participants aged 2 to 4 experienced a severe adverse event, and 344 (19 percent), suffered any adverse event. Three out of the four rates were higher than in the placebo groups; the percentage was equal among children aged 2 to 4 regarding any adverse reaction.
The safety data for Moderna's vaccine was based on 6,762 participants, about three-quarters of whom received the shot. The immunogenicity data was based on 167 children who received the vaccine.
Both trials became unblinded after a period of time, or lost the placebo group because many participants who received a placebo went on to get a vaccine.
Companies and the FDA said few of the severe reactions were related to the vaccines and regulators said the projected benefits from the vaccines outweigh any potential risks.
Regulators said more would be known about how effective the vaccines truly are after they are administered to young children.
In a nod to the waning efficacy of the vaccines, boosters, or additional doses, of the shots are expected in the future.
The Moderna vaccine is two doses of 25 micrograms each. The second would be administered one month after the first.
The Pfizer-BioNTech vaccine is three doses of three micrograms each, with the second dose given three weeks after the first and the third dose administered at least eight weeks after the second.
Two doses of Pfizer's shot do not give any protection against infection to young children, the trials showed.
The dosage amounts for both vaccines is lower than that given to adults.
If the FDA accepts the panel's recommendation, then the Centers for Disease Control and Prevention (CDC) will take up the matter with its advisory panel. That panel will choose whether to recommend the vaccine for young children. CDC Director Rochelle Walensky can then accept the recommendation, or ignore it.
From The Epoch Times