The U.S. Food and Drug Administration (FDA) has issued a warning to online vendors Semaspace and Gorilla Healing over consumer safety concerns, requesting them to suspend the unlawful sale of off-brand versions of a drug that is growing in popularity due to its use for weight loss.
In letters sent to both vendors on Oct. 2 before being published on Oct. 10, the agency said that there are currently only three FDA-approved semaglutide drugs available in the United States—Ozempic, Rybelsus, and Wegovy. It noted that although there are FDA-approved tirzepatide products, the active ingredient in Eli Lilly's Mounjaro, these are only available with a prescription from a licensed practitioner.
The notice comes as a growing number of overweight Americans clamor for the drug touted by celebrities to shed pounds. The product is actually a prescription Type 2 diabetes treatment, however, the drug's weight loss effect has boosted its popularity, sparking concern in the health industry.
In its latest update, the FDA stressed that it was critical both vendors cease selling unapproved semaglutide and tirzepatide products because they're harmful to the public.
"There are inherent risks to consumers who purchase unapproved new drugs and misbranded drugs," the agency wrote. "Unapproved new drugs do not carry the same assurances of safety and effectiveness as those drugs subject to FDA oversight. Drugs that have circumvented regulatory safeguards may be contaminated, counterfeit, contain varying amounts of active ingredients, or contain different ingredients altogether."
According to the FDA, the vendors had also violated the law by selling semaglutide and tirzepatide without ensuring customers had prescriptions from licensed healthcare practitioners.
The agency said it has offered both vendors 15 working days to report how they plan to address the violation, noting the report must include an explanation of specific steps they're taking to "remedy and prevent the recurrence of any violations."
"Failure to adequately address this matter may result in legal action, including, without limitation, seizure and injunction," the agency wrote.
Semaspace has since shut down its website, telling those who recently purchased a product to check their email—including the spam folder—for updates on their order. The vendor also said that the return and refund policy remains in place.
"As we part ways, we want to remind you of the importance of prioritizing your health and well-being," the website reads. "Before initiating any new supplement or medication regimen, we strongly urge you to consult an appropriately qualified medical practitioner."
Gorilla Healing, which sells products other than obesity medications, is still operating and listing semaglutide 5mg and tirzepatide 10mg for sale at the time of publication.
The vendor told Reuters that it had not seen the FDA's letter.
Semaglutide for Weight Loss
Sales of semaglutide products such as Ozempic and Wegovy—launched by the Danish pharmaceutical company Novo Nordisk—have soared in the past few years and received much praise from celebrities and people on social media as "magic weight loss drugs." The drug can help suppress appetite and promote a feeling of fullness, leading to reduced calorie intake and, consequently, weight reduction.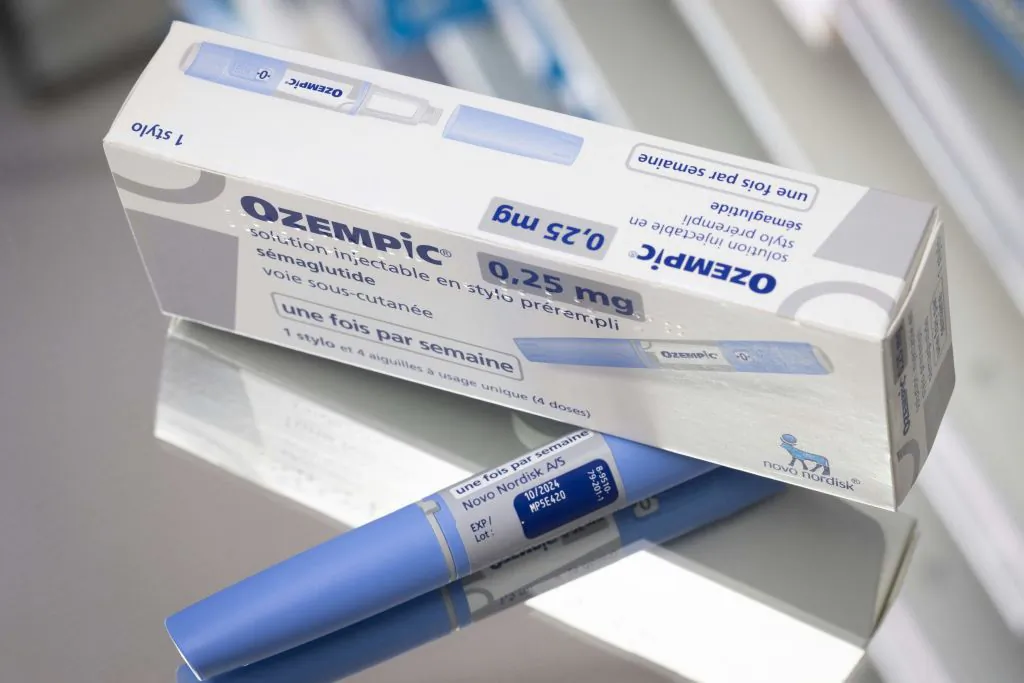 Semaglutide is a relatively new drug that belongs to the glucagon-like peptide-1 (GLP-1) receptor agonists. In 2014, the FDA approved semaglutide for weight loss for obese or overweight people aged 12 and older if they have at least one weight-related condition, such as high blood pressure, Type 2 diabetes, or high cholesterol.
In an emailed statement to The Epoch Times earlier this year, Novo Nordisk's Associate Director for Communications Kate Hanna said that "GLP-1 receptor agonists as a drug class have been used to treat type 2 diabetes for more than 15 years, and for the treatment of obesity for eight years, including Novo Nordisk products such as semaglutide and liraglutide that have been on the market for more than 10 years."
"Serious adverse events (pancreatitis, gall bladder disorders, serious allergic reactions, or kidney failure) are rare (<= 2.0% of patients studied in the clinical development program for Ozempic)," Ms. Hanna added. "It should be noted that semaglutide does not increase the risk of hypoglycemia, unless combined with other medications such as sulfonylureas or basal insulin. Additionally, safety data from large clinical trial programs and post-marketing surveillance have not demonstrated a causal association between use of semaglutide and either thyroid or pancreatic cancer. Ozempic had a well-tolerated profile across the SUSTAIN clinical trial program, with the most common adverse events being generally mild to moderate gastrointestinal disorders, which diminished over time."
Dangers
According to the Mayo Clinic, one of the more common side effects of semaglutide is diarrhea. Other common symptoms can include gastrointestinal discomfort such as vomiting and stomach pain.
Some of the drug's side effects do not need medical attention and only occur at the beginning of treatment. The symptoms may improve over time as the body adjusts to the medication.
Negative effects of such weight loss drugs have also been identified in a new study published in JAMA Network on Oct. 5, which suggests that people taking the injected medications for weight loss may be at higher risk for serious digestive problems such as pancreatitis and bowel obstructions.
"Given the wide use of these drugs, these adverse events, although rare, must be considered by patients who are contemplating using the drugs for weight loss because the risk-benefit calculus for this group might differ from that of those who use them for diabetes," according to the study.