The Federal Aviation Administration (FAA) issued a ground stop at New York City's LaGuardia Airport due to Canadian wildfire smoke.
"The FAA has slowed traffic to and from the New York City area airports due to reduced visibility from wildfire smoke," the FAA said in a statement to news outlets. "The agency will adjust the volume of traffic to account for the rapidly changing conditions."
The FAA also is taking "steps to manage the flow of traffic into the New York City area due to reduced visibility from wildfire smoke," a spokesperson told outlets Wednesday. "Flights from the Upper Midwest and East Coast bound for LaGuardia International Airport have been paused. "Flights to Newark Liberty International Airport have been slowed," it added.
The agency told CNN that it lifted the ground stop later Wednesday.
According to tracking website FlightAware, about 124 flights have been canceled across the United States as of Wednesday. Another 2,000 or so flights have been delayed.
Airports in New York and New Jersey issued statements about the impacts caused by wildfire smoke.
Weather conditions have caused LGA Airport flight disruptions. Check with your airline to determine the status of your flight.

— LaGuardia Airport (@LGAairport) June 7, 2023
"Weather conditions have caused LGA Airport flight disruptions. Check with your airline to determine the status of your flight," LaGuardia Airport wrote on Twitter at around 2 p.m. ET. "The current smoke condition may impact your travel, please check with your airline to determine the status of your flight," wrote Newark Liberty International Airport in a post.
Alerts
New York City's air quality is currently the worst in the world among major cities. The IQAir World Air Quality Index rated the city at 342, which is hazardous for people of all ages, including visibility for planes.
The federal National Weather Service has issued a range of air quality advisories and warnings for New York state, Vermont, New Hampshire, Pennsylvania, New Jersey, Delaware, Maryland, Virginia, North Carolina, South Carolina, Ohio, Michigan, Massachusetts, Connecticut, Wisconsin, Illinois, Indiana, Minnesota, and Rhode Island.
Officials in Washington D.C. issued a "Code RED Air Quality Alert" because of the smoke and haze, while New York City (NYC) Public Schools canceled outdoor activities.
"We urge everyone to reduce prolonged or heavy exertion outdoors," NYC Public Schools wrote on Twitter on June 7.
The air quality in New York City worsened by June 6 and will "deteriorate further" on the afternoon and evening of June 7, New York City Mayor Eric Adams said in a statement.
"At this point, the New York State Department of Environmental Conservation has issued an Air Quality Health Advisory for all five boroughs. While conditions are anticipated to temporarily improve later tonight through tomorrow morning, they are expected to deteriorate further tomorrow afternoon and evening," Adams said.
The U.S. Environmental Protection Agency stated that hazy skies, reduced visibility, and the odor of burning wood are likely and that the smoke will linger for a few days in northern states.
"It's not unusual for us to get fire smoke in our area. It's very typical in terms of northwest Canada," said Darren Austin, a meteorologist and senior air quality specialist with the Rhode Island Department of Environmental Management. But, usually, the smoke has been aloft and hasn't affected people's health, he said.
There are blazes in nearly all of Canada's 10 provinces and territories, with Quebec being the worst impacted because of multiple fires caused by lightning.
Wildfires are common in Canada's western provinces, but this year, flames have been mushrooming rapidly in eastern Canada, forcing home evacuations and the federal government to send in the military.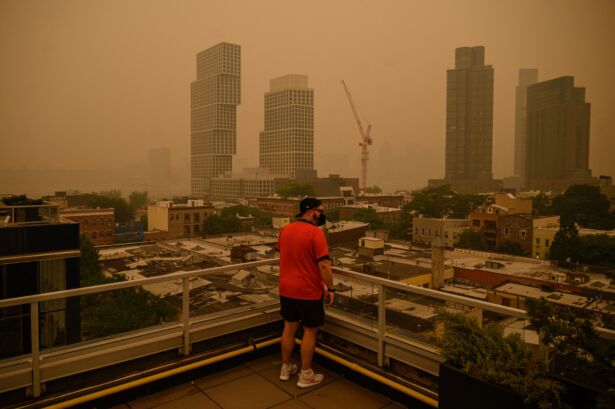 About 3.3 million hectares have already burned—some 13 times the 10-year average—and more than 120,000 people have been at least temporarily forced out of their homes.
"I want to highlight that people need to continue to listen to local authorities on how to stay safe, including in places like Ottawa that are affected by smoke from wildfires," Prime Minister Justin Trudeau told reporters in Ottawa.
Canadian Foreign Minister Mélanie Joly thanked the United States, Mexico, South Africa, and France on June 6 for sending in firefighters to help.
The Canadian capital of Ottawa, which neighbors Quebec, was covered in haze on the morning of June 6, with air quality in category 10, the worst level on Environment Canada's Air Quality Health Index, indicating "very high risk."
"Smoke plumes from local forest fires as well as forest fires in Quebec have resulted in deteriorated air quality," Environment Canada stated in an air quality alert for Ottawa.
The Associated Press and Reuters contributed to this report.