The smoky haze from Canadian wildfires that's blanketing the Northeast and New York City could persist until this weekend, predicted the U.S. National Weather Service on Thursday.
The low-pressure system that is driving the apocalyptic-looking smoke over the East Coast is lingering over Nova Scotia, Canada, and Maine, said a meteorologist in a new report. That system will "probably be hanging around at least for the next few days," National Weather Service meteorologist Bryan Ramsey said.
"Conditions are likely to remain unhealthy, at least until the wind direction changes or the fires get put out," Ramsey told The Associated Press. "Since the fires are raging—they're really large—they're probably going to continue for weeks. But it's really just going to be all about the wind shift."
As of Thursday morning, NWS air quality alerts were in effect more much of the northeastern United States and parts of some Midwestern states, according to a map from the agency.
"Wildfire smoke moving southward out of Canada and over the northern part of the country has triggered Air Quality Alerts over parts of the Great Lakes/Ohio Valley to the Northeast and Mid-Atlantic. The air quality will be decreasing over Alabama and Georgia on Thursday," said the NWS in a bulletin.
Across the eastern U.S., officials warned residents to stay inside and limit or avoid outdoor activities again Thursday, extending "Code Red" air quality alerts in some places for a third day straight as forecasts showed winds continuing to push smoke-filled air south.
Masks made a return to New York City en masse as New York Gov. Kathy Hochul announced on Wednesday that her administration would be making N95 masks available at public facilities. She also said residents should stay inside until the smoke passes.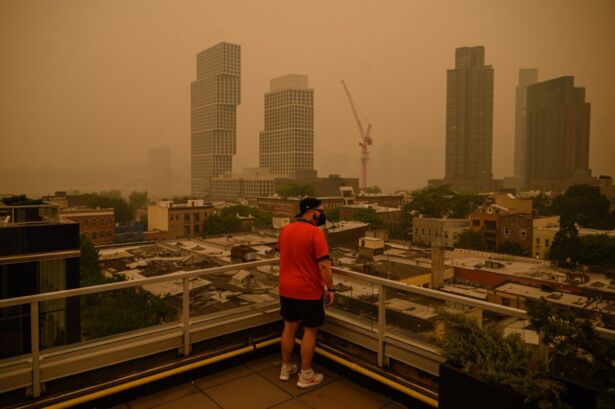 "You don't need to go out and take a walk. You don't need to push the baby in the stroller," Hochul said Wednesday night. "This is not a safe time to do that."
The message may be getting through. So far, officials said Wednesday, New York City has yet to see an uptick in 911 calls related to respiratory issues and cardiac arrests.
In Washington, D.C., Mayor Muriel Bowser ordered schools to cancel outdoor recess, sports, and field trips Thursday. In suburban Philadelphia, officials set up an emergency shelter so people living outside can take refuge from the haze.
The smoke has moved over Greenland and Iceland since June 1, and was expected to reach Norway on Thursday, the Norwegian Climate and Environmental Research Institute said, but wasn't expected to be a health concern.
More than 400 blazes burning across Canada have left 20,000 people displaced. The United States has sent more than 600 firefighters and equipment to Canada. Other countries are also helping.
In the United States, federal officials paused some flights bound Wednesday for New York's LaGuardia Airport and slowed planes to Newark and Philadelphia because smoke was limiting visibility.
Rob Schweitzer, executive director of BC Wildfire, said lightning strikes could spark more blazes in tinder-dry forests and the outcome would depend on how much precipitation comes with the storms.
"When you get 150 or 200 strikes in one day from lightning coming through the province, it's impossible to have enough resources to suppress them all," he said. Wildfires have eased in Alberta, the center of Canada's oil and gas industry, but more than 3,000 people remain under evacuation orders and heat warnings are in effect in the south of the province.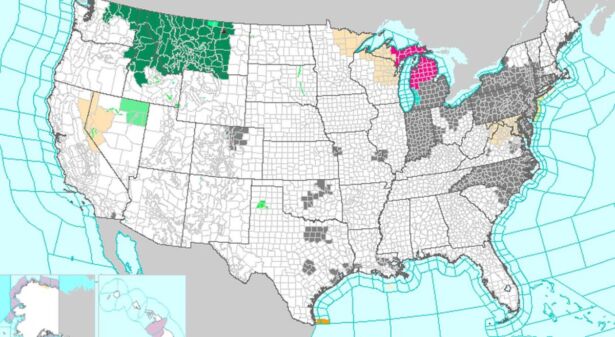 Although wildfires are common in Canada, it is unusual for blazes to be burning simultaneously in the east and west, stretching firefighting resources and forcing the Canadian government to send in the military to help.
About 3.8 million hectares, or 9.4 million acres, have already burned, roughly 15 times the 10-year average, according to Canadian federal Minister of Emergency Preparedness Bill Blair. Warm and dry conditions were expected to persist in the months ahead, officials have said.
The Associated Press and Reuters contributed to this report.
From The Epoch Times