The "state of war" that was dropped by the Hamas terror group in Israel this weekend has disrupted flight operations in and out of Israeli airports, with several major U.S. airlines either halting or re-routing flights.
According to the flight tracking website Flightradar24, flights to and from Tel Aviv's Ben Gurion Airport by airlines like Delta Air Lines and United Airlines have been canceled, amongst many other airlines flying to and from Israel.
The State Department said in a travel update on Sunday, "While Ben Gurion International Airport remains open, we are aware that several major airlines have announced that they have suspended flights."
Following Hamas's surprise attack, which saw 3,500 rockets reign down on Israeli citizens on Saturday morning, major disruptions to air travel were reported at Ben Gurion Airport and beyond.
Delta Air Lines, United Airlines, American Airlines, as well as Emirates, Lufthansa, and Ryanair were among carriers with canceled flights at Ben Gurion Airport.
United Airlines' flight UA954, which departed from San Francisco International Airport for Tel Aviv, was forced to turn back to San Francisco when it was over Greenland after 13-hours of  flying.
The Epoch Times has reached out to the major U.S. airlines for more details on the disruptions.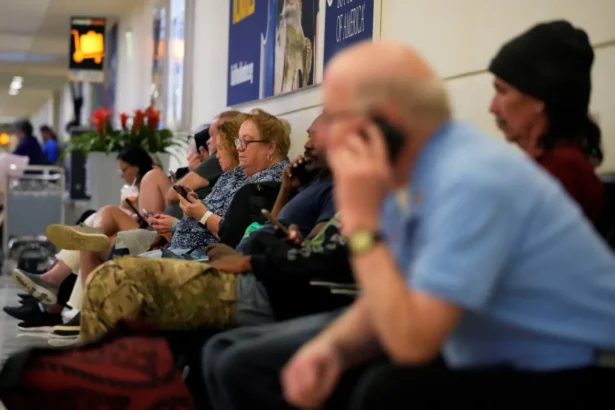 The development comes as the U.S. Federal Aviation Administration (FAA) issued a notice for the airlines and air missions to use "caution" while flying at any altitude within Israeli airspace.
An Notice to Air Missions (NOTAM) caution notice issued by the agency said that the current conditions are "potentially hazardous" and that flight crews should keep in "uninterrupted contact" with air traffic control all the time when flying in the affected region.
It also cautioned that it could potentially issue an announcement on the closure of Israeli airspace.
In an official statement, the FAA said that the NOTAM, which mirrors alerts issued by the Israeli government, applies to all altitudes due to events within the last 24 hours.
On Monday, Hong Kong's Cathy Pacific and Hungary's Wizz Air joined in the precautions, announcing that their flights to and from Tel Aviv have been canceled until further notice.
US Embassy Assistance
Meanwhile, the U.S. Embassy in Israel has released a security alert advising U.S. citizens in the country to seek assistance by contacting the nearest U.S. embassy or consulate through a designated crisis intake form, which can be accessed via U.S. embassy website. Additionally, family members have the option to submit information on behalf of their U.S. citizen relatives.
"The situation in Israel continues to be unpredictable," read the security alert. "Individuals should follow local government advice to increase their security awareness and remain safe. Mortar and rocket fire may take place without warning."
According to the U.S. State Department, American travelers in Israel and the West Bank are urged to "exercise increased caution" due to terrorism and civil unrest. A "Do not travel" warning for Gaza remains in place.
"U.S. citizens in Gaza who wish to leave and can do so safely are advised to check the status of the Rafah Crossing into Egypt," the department said Sunday.
'We Are at War'
Following Israeli Prime Minister Benjamin Netanyahu's statement on Saturday saying, "We are at war," the Israeli Security Cabinet formally declared war on Hamas on Sunday.
Mr. Netanyahu's office described the move as the first such declaration since the 1973 Yom Kippur War. According to a statement posted on social media, the Security Cabinet approved the war situation, authorizing significant military actions as per Article 40 of Basic Law.
Of Israel's planned military efforts to neutralize terrorist cells in Gaza, IDF spokesperson RAdm. Daniel Hagari said in a statement on Sunday: "We follow international law, while exercising our right and responsibility to protect our civilians. We will restore security to the people of Israel."
"Israeli intelligence indicates that Hamas are hiding among Gazan civilians, inside Gazan homes and schools, hospitals, and mosques—Hamas behaves like ISIS. It's the same strategy, to maximize civilian casualties in Gaza and Israel, to make you all forget that massacre of hundreds of Israelis that started this war in the first place.
"We will not forget," he said. "Hamas terrorists target Israeli civilians, Israel will target Hamas and Islamic Jihad terrorists wherever they will be in Gaza."
From The Epoch Times