The Federal Aviation Authority (FAA) briefly issued a ground stop for arriving flights at New York's LaGuardia Airport on Friday morning, Jan. 25, as the government dealt with staffing shortages at two air traffic control facilities in New York and Florida.
The FAA said earlier that staffing shortages among air traffic controllers were delaying flights at Newark Liberty International Airport and Philadelphia International airport.
Air traffic controllers have been working without pay during the government shutdown.
BREAKING: Flights delayed at New York and Florida airports due to air traffic controller absences, Federal Aviation Administration confirms.

由 ABC News 发布于 2019年1月25日周五
The FAA issued a notice that it was halting flights into LaGuardia due to staffing issues, but lifted it around 10:45 a.m. The FAA said it was instituting a program to manage traffic that would result in significant delays for arriving flights of nearly 90 minutes.
"We have experienced a slight increase in sick leave at two air traffic control facilities affecting New York and Florida. As with severe storms, we will adjust operations to a safe rate to match available controller resources," FAA spokesman Gregory Martin told ABC News.
"We've mitigated the impact by augmenting staffing, rerouting traffic, and increasing spacing between aircraft as needed. The results have been minimal impacts to efficiency while maintaining consistent levels of safety in the national airspace system. The public can monitor air traffic at fly.faa.gov and they should check with airline carriers for more information," Martin added.
#FAA Statement: Staffing Update pic.twitter.com/CMVcyTNSz5

— The FAA (@FAANews) January 25, 2019
Controllers and airport screeners are not being paid during the ongoing government shutdown that has reached 35 days.
On Thursday, three major U.S. airlines—American Airlines Group Inc., Southwest Airlines Co., and JetBlue Airways Corp.—said the impact of the shutdown on their business had so far been limited but was nearing a tipping point.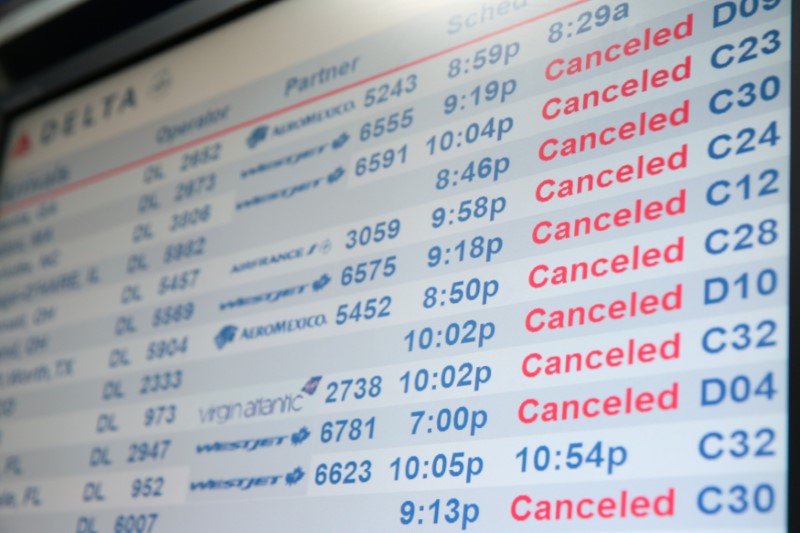 "No one can predict what impact it will have as it continues," Southwest Chief Executive Gary Kelly said of the shutdown on Thursday.
The financial fortunes of airlines are closely tied to the health of the economy. In addition, airlines with hubs in Washington have said they are losing government business as a result of the shutdown.
"The president has been briefed and we are monitoring the ongoing delays at some airports. We are in regular contact with officials at the Department of Transportation and the FAA," White House press secretary Sarah Sanders told NBC News.
The move comes as the government shutdown enters day 35.
Sanders said that a three-week continuing resolution "would only work if there is a large down payment on the wall."
A Republican-backed measure to fund Trump's border wall and other legal protections on certain immigrants failed a 50-57 vote.
Democrat Joe Manchin of West Virginia and Republicans Tom Cotton of Arkansas, as well as Mike Lee of Utah, broke with their respective parties on the vote.
Sen. Lindsey Graham (R-S.C.) stated that he spoke to Trump and told him senators were discussing a three-week resolution to fund the government, saying "we could find a way forward to produce a bill that he would sign that would be good for everybody in the country."
Reuters contributed to this report.
From The Epoch Times