ANDOVER, Vt.—Floodwaters receded in Vermont cities and towns pummeled by a storm that delivered two months of rain in two days, enabling people to focus on recovering from a disaster that trapped residents in homes, closed roadways, and choked streets and businesses with mud and debris.
The water drained off in the capital city of Montpelier, where streets were flooded Tuesday by the swollen Winooski River, and lingering concerns about a dam just upstream eased as water levels there appeared to stabilize.
"It looks like it won't breach. That is good. That is one less thing we have to have on our front burner," Montpelier Town Manager Bill Fraser said.
Mr. Fraser said the city of 8,000 has shifted into recovery mode, with public works employees removing mud and debris downtown and building inspections to come as businesses begin cleaning up their properties. Brown water from the Winooski reached the tops of parking meters downtown, inundating basements and ruining the contents of lower floors. Similar scenes played out in neighboring Barre and in Bridgewater, where the Ottauquechee River spilled its banks.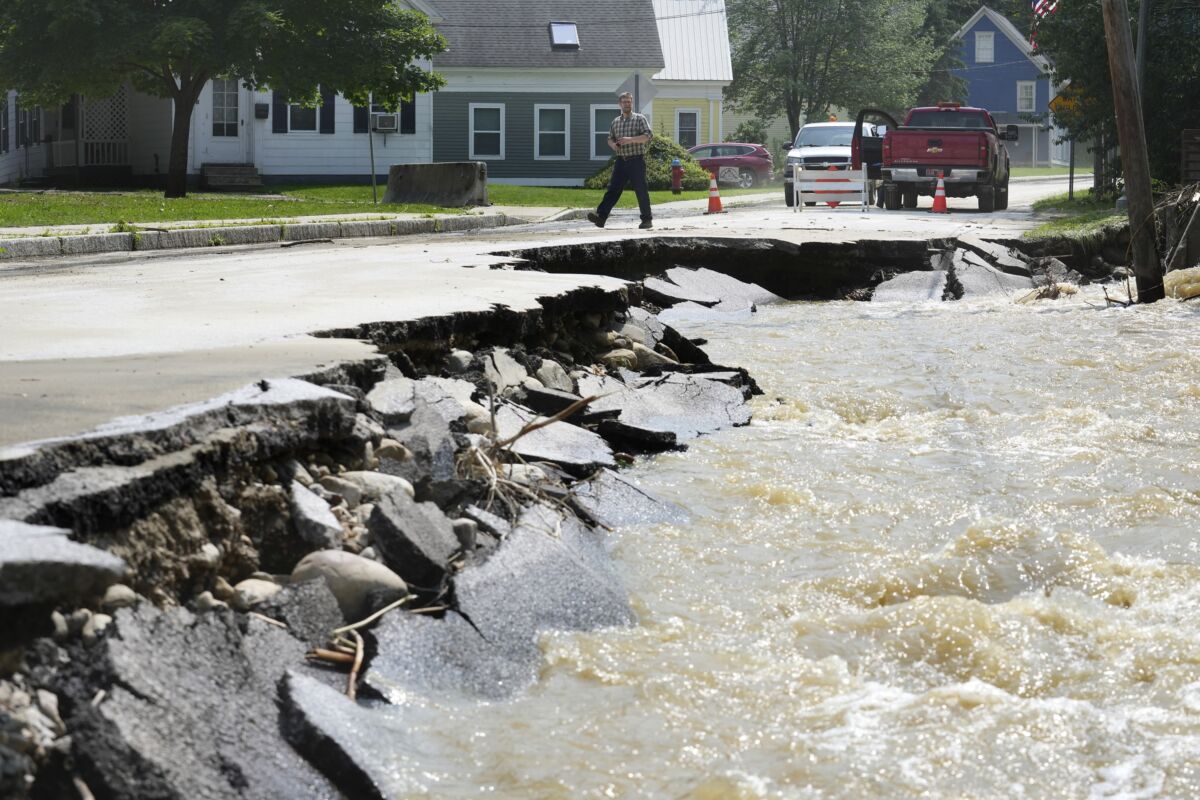 Gov. Phil Scott planned to tour areas impacted by the flooding with Deanne Criswell, administrator of the Federal Emergency Management Agency, on Wednesday, a day after President Joe Biden declared an emergency for Vermont and authorized federal disaster relief assistance.
The slow-moving storm dumped between 7 and 9 inches of rain on parts of New England, New York and Connecticut. New York's Hudson River Valley was hit hard, and towns in southwest New Hampshire and western Massachusetts also had heavy flooding and road washouts.
Much of that water was flowing through Connecticut, carrying debris including entire trees on its way south to Long Island Sound. Major waterways including Connecticut River overflowed their banks, and were expected to crest Wednesday at up to 6 feet above flood stage, closing roads and riverside parks in multiple cities.
More rain was forecast Thursday and Friday, but Peter Banacos, a meteorologist with the National Weather Service, said the area will be spared any more torrential downpours.
There have been no reports of injuries or deaths related to the flooding in Vermont, where swift-water rescue teams aided by National Guard helicopter crews performed more than 175 rescues, Vermont Emergency Management said Tuesday. One woman died in Fort Montgomery, New York, as she tried to escape her flooded home with her dog.
About 12 Vermont communities, including the state capital, were under a boil water alert due to the floods. The American Red Cross of Northern New England succeeded in getting food and water to its shelters in Barre, Rutland, and White River Junction. Attendance was down at the Barre Municipal Auditorium shelter, 58 as of Wednesday morning, compared to more than 200 on Tuesday.
Many people were passing through to recharge their phones and get something to eat, said John Montes, regional disaster officer. Red Cross volunteers from across the Northeast were arriving to help with everything from disaster assessment to handing out clean-up kits to homeowners, he said.
"There's more rain coming tomorrow, so it's best for us to be leaning forward and be ready," Mr. Montes said. "We can handle any additional impacts we get from the weather this week."
Mr. Scott said floodwaters surpassed levels seen during Tropical Storm Irene. Irene killed six people in Vermont in August 2011, washing homes off their foundations and damaging or destroying more than 200 bridges and 500 miles of highway.
Atmospheric scientists say destructive flooding events happen more frequently as storms form in a warmer atmosphere, and the planet's rising temperatures will only make it worse.
In Ludlow, a central Vermont town of 1,500, residents focused Wednesday on reopening roadways, checking on isolated homeowners and cleaning out mud and debris from water-logged businesses.
"We sustained catastrophic damage. We just really took the brunt of the storm," Ludlow Municipal Manager Brendan McNamara said.
The town's water treatment plant was out of commission, the main supermarket and roadway through town remained closed, and Mr. McNamara couldn't begin to estimate how many houses had been damaged. Scores of businesses were damaged, and the town's Little League field and a new skate park were destroyed.
"Thankfully we got through it with no loss of life," Mr. McNamara said. "Ludlow will be fine. People are coming together and taking care of each other."
Colleen Dooley, a retired teacher, returned to her condominium complex in Ludlow to find the grounds covered in silt and mud and the pool filled with muddy river water.
"I don't know when we'll move back, but it will certainly be awhile," she said.
By Lisa Rathke