A Florida woman is facing charges for allegedly leaving her two children in a car that caught fire while she was shoplifting, according to the Oviedo Police Department.
Alicia Moore, 24, parked her car outside the Oviedo Mall near Orlando on May 26, before going inside and leaving her children in the car, according to a police arrest report obtained by The Epoch Times.
While inside the mall, Moore and an unidentified male associate were observed for about an hour by security while they were allegedly shoplifting.
The police report indicates that when Moore was exiting the mall, she dropped the shoplifted items when she saw that her vehicle was engulfed in flames.
Several people who witnessed the fire and saw Moore's children trying to exit the vehicle rushed to help them escape the inferno.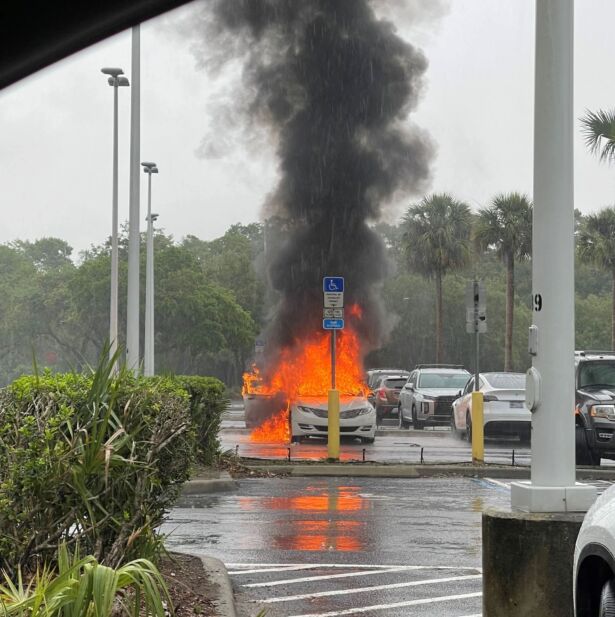 'Completely Totaled'
Several 911 calls obtained and cited by a local news outlet reveal the tense moments as the car burned.
"There was a car—I don't know, somehow is on fire outside at the parking lot at Dillard's," a caller said in the recording, per the report. "And there was two kids and a mom, and I think she realized there was a child still in the car, and the car is completely engulfed in flames."
Thanks to bystanders' assistance, the children survived, per the police report.
They were rushed to an area hospital with first-degree burns from the fire. One of the children suffered burns to her face and ears.
"The vehicle was completely totaled, leaving no identifying marks," police said in the report.
Moore was arrested by police on an unrelated warrant and faces multiple charges.
She has been charged with aggravated child neglect for leaving her children, who could not care for themselves, alone in the vehicle.
While police said it's not clear what caused the fire to ignite, the children would likely not have been injured if Moore hadn't been neglectful.
"Since the fire occurred during the commission of a felony by Moore, she is being charged accordingly with Arson," police said in the report.
Moore faces a $15,000 bond for the charge of child neglect.
Further, jail records show that Moore faces separate charges of petty theft, battery, and assault stemming from prior incidents.
Moore has a court appearance scheduled on Aug. 8 for the charges of neglect and arson, per Seminole County court records.
Her attorney was not immediately available for comment.
From The Epoch Times