Ford Motor Company said Monday it's halting construction of a $3.5 billion electric vehicle (EV) battery plant project in Michigan that has drawn criticism over its links to China.
"We're pausing work, and we're going to limit spending on construction at Marshall until we're confident about our ability to competitively run the plant," Ford spokesman T.R. Reid told The Epoch Times via email on Sept. 25.
Asked what prompted the decision to hit pause on the project—and specifically whether it had anything to do with the ongoing strike by the United Auto Workers (UAW) union and if the stoppage might be permanent—the spokesperson said only that, "there are a number of considerations" and that "we haven't made any final decision about the planned investment there."
Republicans in Congress have been probing Ford's battery plant plan in Marshall over the project's ties to a China-based company that is the world's biggest EV battery maker—Contemporary Amperex Technology Co. Ltd. (CATL).
As part of a licensing agreement, CATL will provide the EV battery technology, some equipment, and workers, while a U.S.-based subsidiary wholly controlled by Ford will own the factory and employ the workers.
Earlier, Ford said it expected production at the Marshall battery plant—to be named Blue Oval—to begin in 2026.
After completion, the plant was estimated to produce enough batteries for 400,000 EVs each year.
The auto industry is watching how new rules around future EV tax credits will be implemented as they make investment decisions on battery production.
The Inflation Reduction Act, passed in 2022, will prohibit future $7,500 consumer EV tax credits if any battery components are manufactured or assembled by a "foreign entity of concern."
Ford has been waiting for guidance to determine if batteries operated by the Marshall plant run counter to the requirements.
UAW Strike In Background
Halting of construction at the Marshall facility also comes amid an ongoing labor action by the United Auto Workers (UAW) union, which has targeted Detroit's Big Three—Ford, General Motors, and Stellantis—in a historically unprecedented simultaneous strike.
Last Friday, the union escalated its strike against General Motors and Stellantis but spared Ford more walkout pain.
"The union is continuing to strike Ford's Michigan Assembly Plant in Wayne, Mich., but is not expanding its strike against the Dearborn-based automaker," the union said in a statement. "The UAW and Ford did make substantial progress in bargaining over the last week."
But while the union cited "real progress" in talks with Ford, the company said on Sunday that, despite things moving forward, there are still "significant gaps to close" before a new labor deal is reached.
While it spared Ford, the UAW expanded its strike for GM and Stellantis to include 38 parts and distribution facilities across 20 states for the two automakers.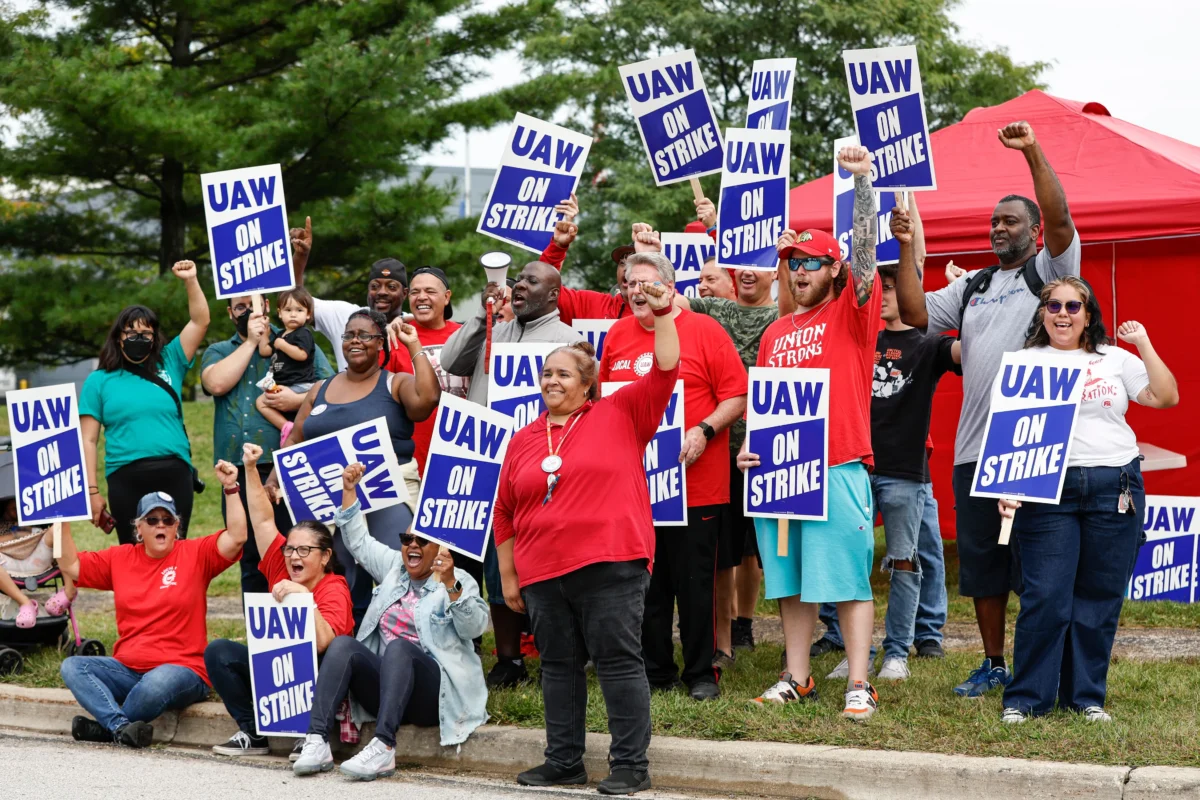 Marshall Plant Controversy
In February 2023, Ford announced it was planning to build a new $3.5 billion plant in Marshall, located roughly 100 miles west of Detroit.
The plant would produce lithium-iron-phosphate batteries, better known as LFP. This is a type of battery that's cheaper but less energy-dense than the nickel-cobalt-manganese batteries that currently dominate the market.
Under the licensing agreement, a Ford subsidiary will own the plant, while China-based CATL will provide some equipment, technology, and workers.
But the plant has faced criticism, with some locals expressing concern about CATL's backing by the Chinese Communist Party (CCP) and the associated national security risk.
They have also expressed concern about what they say is a lack of transparency around the process, loss of prime farmland, and the impact of a massive industrial park on a small town.
One issue is that The Battle Creek Air National Guard Base is located about 15 miles from the intended battery park site. The base hosts a ground control station that supports U.S. missions of the MQ-9—an armed, remotely-piloted plane—providing intelligence to federal and state entities.
"I feel that the placement of this site is no accident; it is an effort by the CCP to gain access to our base. Our national security is at risk. Apparently, it's OK with Ford, the local government, and the state government," Rick Sadler, a Marshall resident who lives half a mile from the battery plant site, told The Epoch Times in an earlier interview.
On its official website's "myths and facts" section, Marshall Area Economic Development Alliance (MAEDA) says the EV plant doesn't involve any national security issues because there's no technology transfer in the deal.
Meanwhile, Congressional lawmakers have been seeking to review the licensing agreement.
They're concerned that the deal will facilitate China's global dominance in EV battery technology—and that U.S. taxpayer dollars will be used to subsidize it.
In a July 20 letter addressed to Ford CEO James Farley, Reps. Mike Gallagher (R-Wis.) and Jason Smith (R-Mo.), the respective chairmen of the House Select Committee on China and the House Ways and Means Committee, expressed concern about the plant.
"Rather than developing American technology, we are concerned that the deal could simply facilitate the partial onshoring of PRC-controlled battery technology, raw materials, and employees while collecting tax credits and flowing funds back to CATL through the licensing agreement," the lawmakers wrote.
Ford defended the deal in an earlier statement to The Epoch Times.
"On the subject more broadly, there has been a lot of misinformation about Ford's new battery plant in Marshall, Michigan. Here are the facts: Ford alone is investing $3.5 billion and will own and run this plant in the United States instead of building a battery plant elsewhere or exclusively importing LFP batteries from China, like our competitors do," a Ford spokesperson told The Epoch Times via email when asked to comment on the letter.
"We're creating 2,500 new American jobs while helping to strengthen domestic manufacturing and supply chains and reduce carbon emissions. This is good for our country, good for the planet, and good for Ford's business," the spokesperson added.
Terry Wu contributed to this report.
From The Epoch Times