A former FBI agent strongly objected to Democrats' suggestion that America take in refugees from Gaza on Fox News's Tuesday episode of "Jesse Watters Primetime."
"There is a very huge target on our backs," former FBI agent Nicole Parker told host Mr. Watters. "Many on the left are sympathizing with those that they believe are oppressed—AOC believes that we should take in anyone.
"That is extremely dangerous to our national security," Ms. Parker said, arguing that the U.S. currently has enough security issues to deal with, including the southern border crisis.
"We have a Southern border that is completely wide open, we have no idea who is here. We cannot tolerate anyone else who has not been vetted."
Ms. Parker referred to a recent terrorist attack in Belgium, where a gunman who claimed to be inspired by the ISIS terrorist group shot three Swedish men on their way to a football match. Two of the victims died. The Swedish national football team cancelled the game.
The perpetrator, who was a terror suspect in his Tunisian fatherland, had applied for asylum in several European countries, but his claims were denied. The man had been flagged by Belgian authorities for potential extremism for years.
"The FBI right now should be focusing on who was that individual who committed that act and seeing what ties that individual has to anyone that might be in the United States," Ms. Parker said.
Mr. Watters asked how it would be possible to accurately vet a Palestinian refugee's real sentiments towards the United States, given that many within the Palestinian territories applauded the 9/11 attacks.
"It's disgusting," she said. "I myself was a witness to the terrorist attacks of September 11 here in New York city."
Ms. Parker worked for Merrill Lynch at the World Financial Center at the time, and was one of the people who were evacuated. She said the event left a deep impression on her, and was instrumental in her decision to become an FBI special agent.
"We cannot have another attack on our U.S. soil," she added.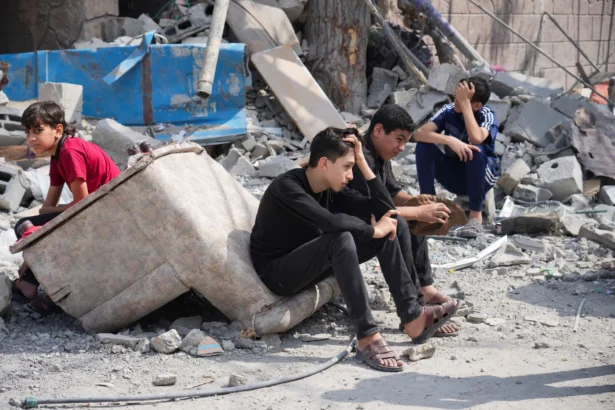 Ms. Parker said she worries that apparently "vetted" immigrants might use the Israel–Hamas war as an "opportunity to act up in violence."
In addition, the former FBI agent warned that there are "dormant terrorist groups" that have been laying low for years. Spurred by the Israel–Hamas conflict, she fears that such groups might not hesitate to seize an opportunity to inflict violence on the United States.
"The FBI and everyone's got to be 'all hands on deck' right now."
In November last year, Ms. Parker decided to leave the FBI after 12 years of service over her concerns regarding the politicization of the bureau.
"Every day, I woke up and embraced being an FBI special agent. Until things changed," she wrote in an op-ed published on Fox News. "The FBI became politically weaponized, starting from the top in Washington and trickling down to the field offices."
She further alleged that the FBI has lowered eligibility requirements, and that the changing climate within the bureau has led to "low morale."
Besides Democrats, GOP presidential candidate Nikki Haley has also said the United States should take in refugees from Gaza, a statement that she retracted on Monday. A spokesperson for Ms. Haley told Real Clear News that she now believes "Hamas-supporting countries like Iran, Qatar, and Turkey should take any refugees."