Former First Lady Rosalynn Carter, a humanitarian and close political policy adviser to her husband, former President Jimmy Carter, died at age 96, the Carter Center said in a statement Sunday.
"Rosalynn was my equal partner in everything I ever accomplished," President Carter said. "She gave me wise guidance and encouragement when I needed it. As long as Rosalynn was in the world, I always knew somebody loved and supported me."
Mrs. Carter was married to the former president, who is 99 years old, for 77 years.
"Besides being a loving mother and extraordinary first lady, my mother was a great humanitarian in her own right," said their son, Chip Carter. "Her life of service and compassion was an example for all Americans. She will be sorely missed not only by our family but by the many people who have better mental health care and access to resources for caregiving today."
The Carter Center last week announced that she entered hospice care, having been diagnosed with dementia in May. The former president, meanwhile, started home hospice care in February.
President Carter, who was defeated in a landslide by former President Ronald Reagan, served a single term that ended in 1980. His tenure in office included helping foster a peace agreement between Egypt and Israel, although his administration was marred by high inflation and the Iran hostage crisis
But unlike a number of first ladies, Rosalynn sat in on her husband's Cabinet meetings, spoke out on controversial issues, and represented her husband on foreign trips. Aides to President Carter sometimes referred to her as "co-president."
When her role in a highly publicized Cabinet shakeup became known, she was forced to declare publicly, "I am not running the government."
Many presidential aides insisted that her political instincts were better than her husband's—they often enlisted her support for a project before they discussed it with the president.
In a later interview, the former first lady said she routinely asked her husband regarding policy decisions and meetings.
"The first year Jimmy was in office, I became so frustrated. Every night, Jimmy would get off the elevator at the White House, and I would say, 'Why did you do this?' or 'Why did you do something?'" she recalled to PBS' "American Experience."
"And one day, he finally said, 'Why don't you come to Cabinet meetings? Then you'll know why we do these things.' So I started going. It was always on my calendar. And I just listened. I didn't participate. But I listened. And then I knew why the decisions were made," Mrs. Carter also said.
Both Carters said in their later years that Rosalynn had always been the more political of the two. After President Carter's defeat to President Reagan in 1980, it was she, not the former president, who contemplated an implausible comeback, and years later, she confessed to missing their life in Washington.
Throughout her husband's political career, she chose mental health and the problems of the elderly as her signature policy emphasis. As honorary chairwoman of the President's Commission on Mental Health, she once testified before a Senate subcommittee, becoming the first lady since Eleanor Roosevelt to address a congressional panel.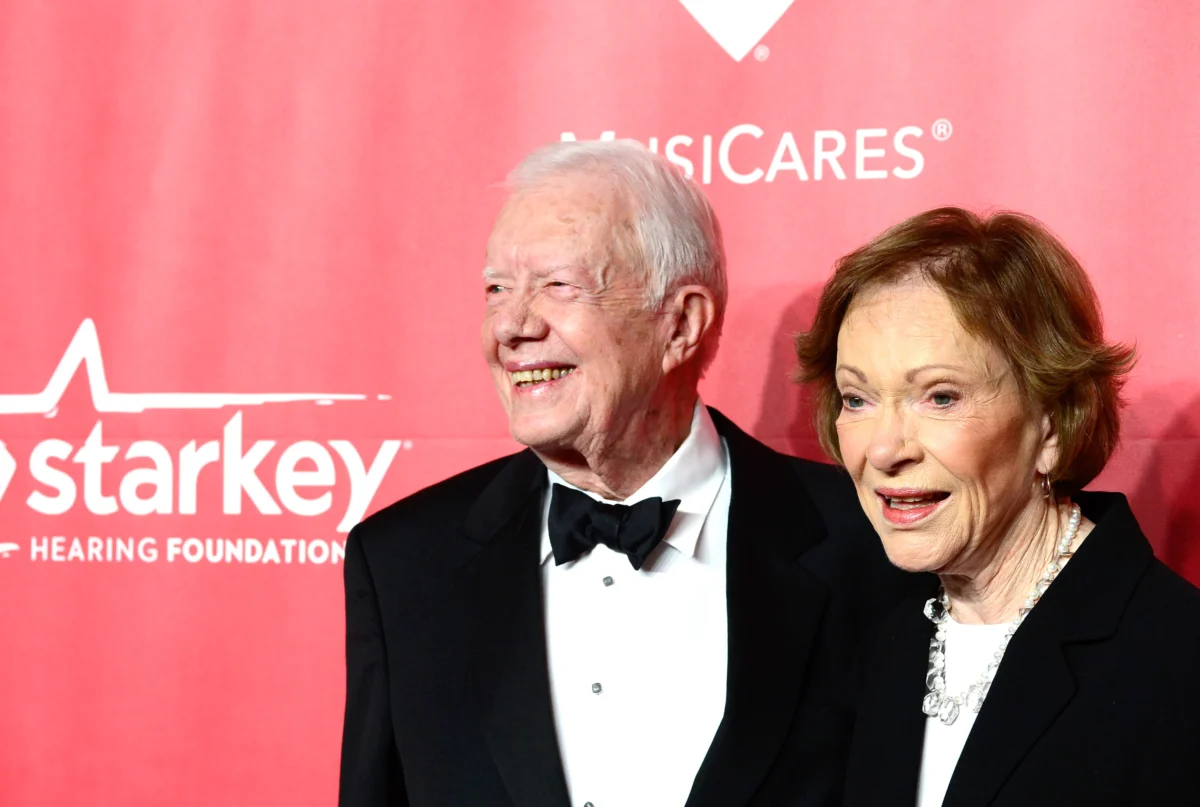 She returned in 2007 to push Congress for improved mental health coverage, saying, "We've been working on this for so long, it finally seems to be in reach."
She said she developed her interest in mental health during her husband's campaigns for Georgia governor. "I used to come home and say to Jimmy, 'Why are people telling me their problems?' And he said, 'Because you may be the only person they'll ever see who may be close to someone who can help them,'" she explained.
After leaving Washington, Jimmy and Rosalynn co-founded The Carter Center in Atlanta to continue their work. She chaired the center's annual symposium on mental health issues and raised funds for efforts to aid the mentally ill and homeless. She also wrote "Helping Yourself Help Others," about the challenges of caring for elderly or ailing relatives, and a sequel, "Helping Someone With Mental Illness."
Frequently, the Carters left home on humanitarian missions, building houses with Habitat for Humanity and promoting public health and democracy across the developing world.
"I get tired," she said of her travels. "But something so wonderful always happens. To go to a village where they have Guinea worm and go back a year or two later and there's no Guinea worm, I mean the people dance and sing—it's so wonderful."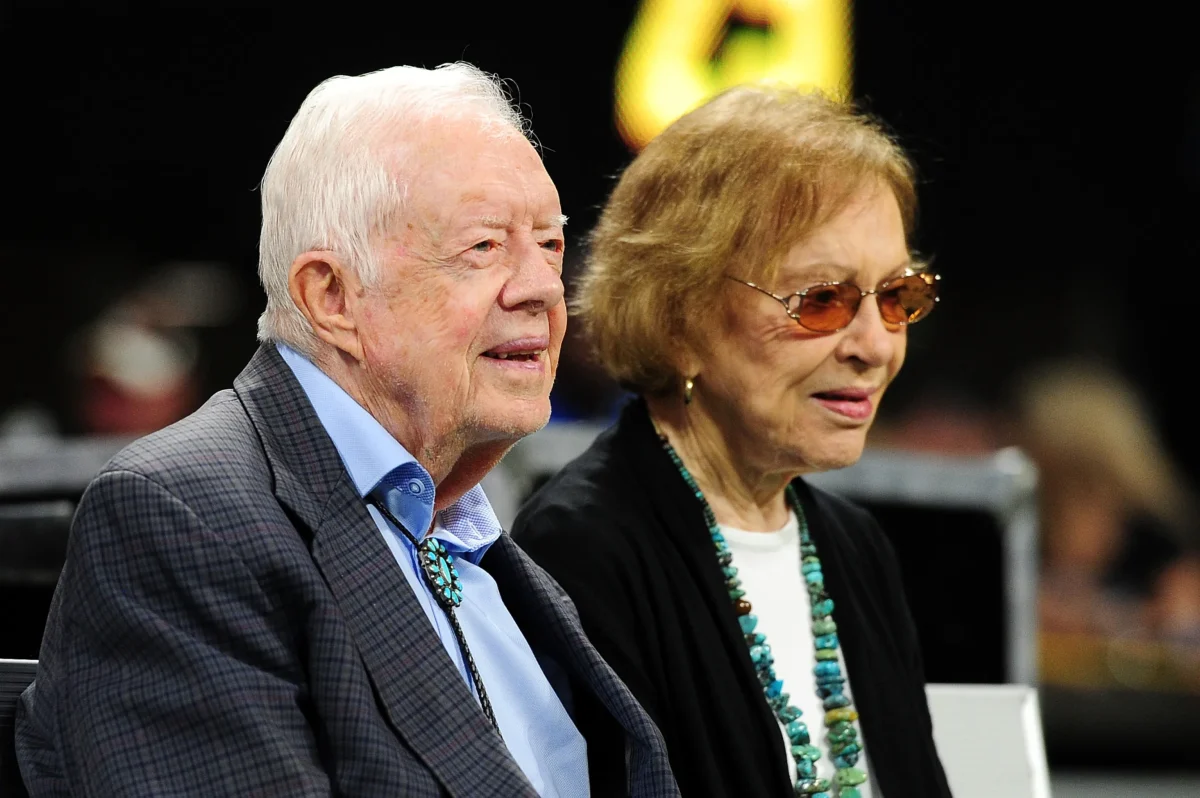 Tributes
After news of her passing was confirmed Sunday, she was remembered fondly by both Democrats and Republicans.
"Rosalynn Carter leaves behind a meaningful legacy not only as First Lady but as a wife and mother. We will always remember her servant's heart and devotion to her husband, family, and country. May she rest in peace," wrote former First Lady Melania Trump on social media.
Sen. Chuck Schumer (D-N.Y.), meanwhile, wrote that the United States "lost a passionate humanitarian and champion for people all over the world" after her death, adding: "My heart goes out to her entire family."
"All her life Rosalynn Carter dedicated herself to serving others," wrote Sen. Cory Booker (D-N.J.). "As first lady, she served our country with grace and kindness. My heart is with her love of over 75 years, President Carter and their family today."
The Associated Press contributed to this report.
From The Epoch Times