Former Florida Gov. Jeb Bush has joined other Republicans in criticizing Manhattan District Attorney Alvin Bragg over his indictment against former President Donald Trump.
"Bragg's predecessor didn't take up the case. The Justice Department didn't take up the case. Bragg first said he would not take up the case," Bush wrote on Twitter on April 1.
"This is very political, not a matter of justice," he added. "In this case, let the jury be the voters."
Bush challenged Trump for the Republican presidential nomination in 2016. He dropped out of the race after the South Carolina primary in which he finished fourth behind Trump, Sen. Marco Rubio (R-Fla.), and Sen. Ted Cruz (R-Texas). Bush subsequently endorsed Cruz for the GOP nomination.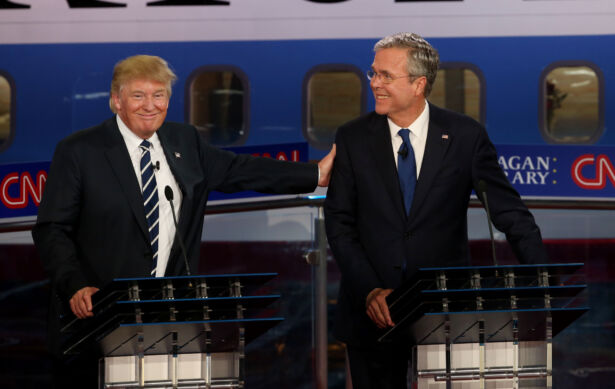 Bragg's predecessor, Cyrus Vance Jr., took office as Manhattan district attorney in 2010, a position he held until December 2021, after deciding not to seek re-election.
In 2021, Vance secured a legal victory after the Supreme Court rejected an effort by Trump's lawyers to prevent the then-district attorney from obtaining the former president's financial information, including years of tax returns.
Vance eventually left the office without making a decision on whether or not to charge Trump with a crime, passing the investigation on to Bragg.
Case
Trump is scheduled to appear before New York Supreme Court Justice Juan Merchan on April 4, after having been indicted by a grand jury, empaneled by Bragg, for his involvement in providing $130,000 in hush money to adult film actress Stormy Daniels.
The specific charges against Trump remain under seal, but it is believed that the case against Trump relies mainly on testimony from Trump's former lawyer Michael Cohen.
Cohen pleaded guilty in 2018 to several charges, including tax evasion and campaign finance violations. In his plea deal, Cohen claimed he made the payment under Trump's direction and was reimbursed by Trump's company, the Trump Organization.
On March 31, Trump took to his Truth Social platform saying that he is a "totally innocent man" and described the indictment as "blatant election interference" in the 2024 presidential race.
In a separate post on Truth Social on April 1, Trump thanked people for their support.
"Our once beautiful USA is now a Nation in Decline. Radical Left Thugs & Insurrectionists have taken over our Country, & are rapidly destroying it," he added. "We will Come Back & MAKE AMERICA GREAT AGAIN!"
Daniels has said she is "willing to go on the stand" if needed in the prosecution of the former president.
Response
Trump's political action committee, Make America Great Again Inc., announced on March 31 that the former president's 2024 campaign had raised over $4 million in the 24-hour span after the indictment.
Trump has improved his lead over Florida Gov. Ron DeSantis in the 2024 race. According to a poll by McLaughlin and Associates, which surveyed 1,000 likely general election voters over two days ending on April 1, Trump defeated DeSantis 51 percent to 21 percent, increasing his lead from January when the former president was at 43 percent and the governor at 31 percent.
In a hypothetical one-on-one primary ballet, Trump beat DeSantis 63 percent to 30 percent, up from 52 percent to 40 percent in January.
Fifty-seven percent of those polled agreed that "Joe Biden and the Democrats are spending too much time and resources going after Donald Trump with phony political attacks that are a waste of time and taxpayer dollars instead of trying to solve the country's real problems on issues like the economy, inflation, crime, immigration, and national security." Only 35 percent disagreed with the assessment.
DeSantis has said that Florida will not help extradite Trump to New York. On Saturday, while speaking at the Pennsylvania Leadership Conference, the Florida governor criticized Bragg.
"His whole platform when he got elected was that he was going to downgrade as many felonies as possible to misdemeanors," DeSantis said. "Now he turns around, purely for political purposes, and indicts a former president on misdemeanor offenses that they're straining to convert into felonies."
"That's when you know that the law has been weaponized for political purposes," DeSantis said. "That's when you know that the left is using that to target their political opponents."
From The Epoch Times