Uche Nwaneri, a former offensive guard for the NFL's Jacksonville Jaguars, was found dead at his home over the weekend, his wife and the team announced on Monday. He was 38.
Nwaneri's wife reportedly found him unresponsive on Dec. 30 inside a bedroom of their West Lafayette house located on Willow Drive and called 911, according to the Lafayette Journal and Courier, which cited local police and the Tippecanoe County Coroner's Office.
Preliminary autopsy results indicate the 38-year-old may have suffered a heart attack, said Tippecanoe County Coroner Carrie Costello, who also noted that there are no signs of foul play.
Tony Khan, the Jacksonville Jaguars' chief football strategy officer, offered condolences to Nwaneri's friends and family after news broke of his sudden death.
"Rest In Peace, Uche Nwaneri," Khan said on Twitter. "[Nwaneri] played 7 seasons with the [Jaguars] … and forged a strong bond with the Jags fans that's remained to this day."
"On behalf of the Jaguars organization and my family, our thoughts are with Uche's family [and] friends at this terrible time," Khan added.
We are saddened to learn of the passing of Uche Nwaneri. pic.twitter.com/UstPAT1i6U

— Jacksonville Jaguars (@Jaguars) January 2, 2023
The Jacksonville Jaguars also confirmed Nwaneri's passing in a statement on Twitter along with a picture of the professional footballer.
Nwaneri was selected by the Jacksonville Jaguars in the fifth round of the 2007 NFL Draft. He played 104 games for the team during his seven-year career, which lasted from 2007 until 2013.
In June 2014, Nwaneri signed with the Dallas Cowboys, but he was released from the team during its final roster cuts in August of that same year.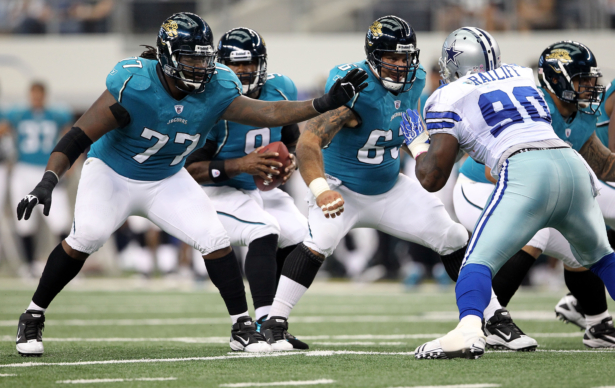 After retiring, Nwaneri began his own YouTube channel dubbed "The Observant Lineman." The former offensive guard mainly commented on the happenings of the NFL on the channel.
In his latest video, which was posted just two weeks ago, Nwaneri appeared very healthy as he enthusiastically did a breakdown of the offensive linemen of the Philadelphia Eagles.
"Crème de le Crème," Nwaneri headlined the video. "Top tier work from experienced Eagles unit."
Buffalo Bills Player Collapses on Field
Meanwhile, Buffalo Bills safety Damar Hamlin collapsed on the field on Monday after making a tackle during the first quarter of "Monday Night Football" against the Cincinnati Bengals.
Hamlin collapsed around 8:55 p.m. EST. CPR was administered before he was removed from the field and transported to the University of Cincinnati Medical Center, where he is in critical condition, according to an NFL press release and reports from multiple Cincinnati media outlets.
The Bills later said on Twitter that Hamlin suffered a cardiac arrest following an impact during the game.
Damar Hamlin suffered a cardiac arrest following a hit in our game versus the Bengals. His heartbeat was restored on the field and he was transferred to the UC Medical Center for further testing and treatment. He is currently sedated and listed in critical condition.

— Buffalo Bills (@BuffaloBills) January 3, 2023
The team noted that Hamlin was "listed in critical condition" and undergoing further testing and treatment.
"His vitals are back to normal and they have put him to sleep to put a breathing tube down his throat. They are currently running tests," Hamlin's marketing representative Jordan Rooney said Monday night.
Epoch Times reporter Jeff Louderback contributed to this report.