Fox News on Monday announced more details for this month's debate between Florida Gov. Ron DeSantis and California Gov. Gavin Newsom.
The debate, first announced in September, is billed by the network as "DeSantis vs. Newsom: The Great Red vs. Blue State Debate," according to a Nov. 20 press release.
"Focusing on the major issues impacting the country, the debate will examine the vastly different approaches the two governors have and offer insights into their political philosophies as well as ambitions for the nation," the network said.
The 90-minute debate, to be moderated by Sean Hannity, will be aired live on Nov. 30 in Alpharetta, Georgia, without an audience in attendance.
"Throughout the debate, Hannity will highlight a variety of issues in each state, including the economy, the border, immigration, crime, and inflation," the network added, before adding that the lack of audience will allow the two governors "equal opportunity to respond and address each issue."
Following the debate, Mr. Hannity will provide a live reaction with a panel of guests.
2024 Race
Mr. Newsom has been touted as a possible alternative to President Joe Biden if the latter chooses not to seek reelection in 2024, owing to questions about the commander-in-chief's age, who turned 81 on Monday. The California governor has been accused of running a "shadow campaign" for president, such as his high-profile trip to China in October.
President Biden fueled speculation of Mr. Newsom's presidential ambition last week, when he said the governor "could have the job I'm looking for" at the Asia-Pacific Economic Conference (APEC) in San Francisco.
A new poll published earlier this month found that 49 percent of California voters disapproved of Mr. Newsom's job performance, up from a 39 percent disapproval rating when the last poll was conducted in February.
A separate poll published last week found that Mr. Newsom would carry California by a wider margin than President Biden, in a hypothetical matchup against President Donald Trump in 2024. The poll, which was conducted by Emerson College Polling, showed President Biden with 50 percent support in California, with President Trump picking up 37 percent. Meanwhile, Mr. Newsom led President Trump 53 percent to 35 percent.
In September, when asked by Fox 11 LA whether he would like to run against Mr. Newsom, President Trump said, "I'd love to see him." The former president added: "Californians are doing very badly and we'll turn it around. The whole country is going to be turned around."
Meanwhile, Mr. DeSantis continues to lag behind President Trump in polls. According to the latest Harvard/Harris survey, 67 percent of the respondents said that the former president would be their choice for president in 2024, compared to just 9 present who said they would select Mr. DeSantis.
On Monday, the Florida governor reiterated his suggestion for a one-on-one debate with the former president during a town hall with Newsmax. Mr. DeSantis told the outlet, "We get the former president, me, let's just have it for an hour."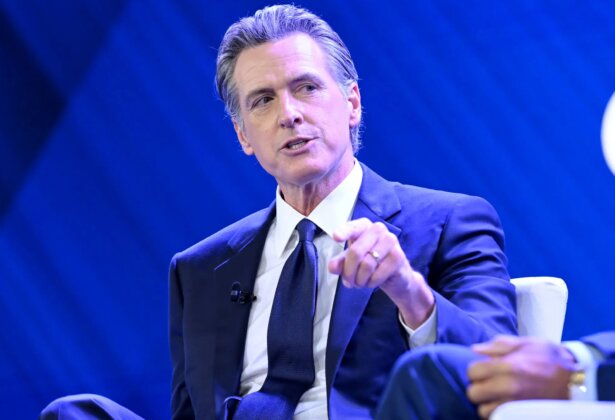 Debate
During the DeSantis–Newsom debate on Nov. 30, China is expected to be one of the topics for discussion.
The Florida governor was critical of Mr. Newsom's China trip. In an interview with Daily Mail last month, Mr. DeSantis said the trip made it look like the United States was willing to "grovel"  before the Chinese Communist Party (CCP) leader Xi Jinping.
"When I saw the photos, the thing that came to my mind was—you know, these are guys that are two peas in the pod with respect to COVID, draconian COVID policies," Mr. DeSantis said, referring to Mr. Xi and Mr. Newsom.
The two governors also had different views about last week's meeting between President Biden and Mr. Xi on the sidelines of the APEC summit. Following the meeting, the two leaders agreed to cooperate on halting the flow of fentanyl precursors from China. Some experts have cast doubt on the effectiveness of the agreement, saying it would not stop fentanyl overdose deaths in the United States.
"This agreement has the potential to save countless lives—including right here in California. This bilateral effort is an unmistakable warning to fentanyl traffickers everywhere," Mr. Newsom said in a statement on Nov. 15.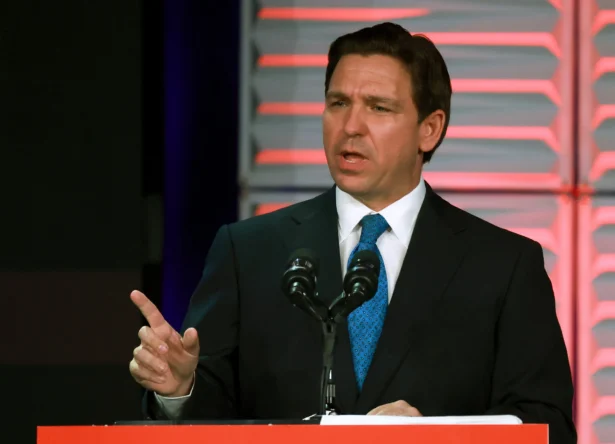 Mr. DeSantis said the Biden–Xi meeting was a "big win" for Mr. Xi in terms of propaganda, in an interview with CNN on Sunday.
"They talk about cooperating for fentanyl, as if China doesn't know the fentanyl is being sent to Mexico and into the United States," Mr. DeSantis said. "Of course, they know. This is part of their national strategy to hurt this country."
The two governors are also expected to discuss abortion. On Sunday, Mr. Newsom and his Campaign for Democracy PAC released a new TV ad attacking Mr. DeSantis over his state's law banning abortions after six weeks. The ad shows pictures of women and doctors under a "Wanted" sign, with a narrator explaining that their "punishment" is a "felony mandating up to five years in prison."
"Abortion after six weeks will be punishable by up to five years in prison," the narrator added. "Even though many women don't even know they're pregnant at six weeks. That's not freedom. That's Ron DeSantis's Florida."
DeSantis War Room, the rapid response team for Mr. DeSantis, responded to the TV ad saying it was "sheer desperation" from Mr. Newsom.
"If this ad is any indication, Newsom will spend the debate lying about @RonDeSantis' record to deflect from his own failures," DeSantis War Room wrote on X, formerly known as Twitter.
It added: "Speaking of freedom: If you can't walk down the street without fear of being accosted, or stepping on a used needle or human feces, you aren't very 'free.' For this reason and much more, people are fleeing California at a rate never before seen in history. And they are moving to the free state of Florida."
From The Epoch Times