Riots erupted for another night across France over a police-involved shooting of a 17-year-old last week, leading to 1,300 arrests, as top police unions issued a warning that the country is "at war." In another incident, the mayor of a Parisian suburb alleged that rioters tried to assassinate him and his family members.
Top French police unions, Alliance Police Nationale and UNSA Police, over the weekend said that officers are "at war with vermin" and threatened revolt over how the country is handling the riots. "Today the police are in combat because we are at war. Tomorrow we will enter resistance and the government should be aware of this," the unions in a statement to The Telegraph.
"Now is not the time for industrial action but for fighting against these 'vermin,'" the union statement also said, responding to French President Emmanuel Macron's reluctance to declare a state of emergency.
"Restoring the republican order and putting the apprehended beyond the capacity to harm should be the only political signals to give. In the face of such exactions, the police family must stand together. Our colleagues, like the majority of citizens, can no longer bear the tyranny of these violent minorities," the union's statement also said, according to a translation.
At the same time, Vincent Jeanbrun, mayor of the southern Paris suburb of L'Hay-les-Roses, alleged that rioters tried to assassinate him and his family, including two young children. Jeanbrun said he was at home when it was set on fire while his wife and kids were there sleeping, describing the incident as an "assassination attempt."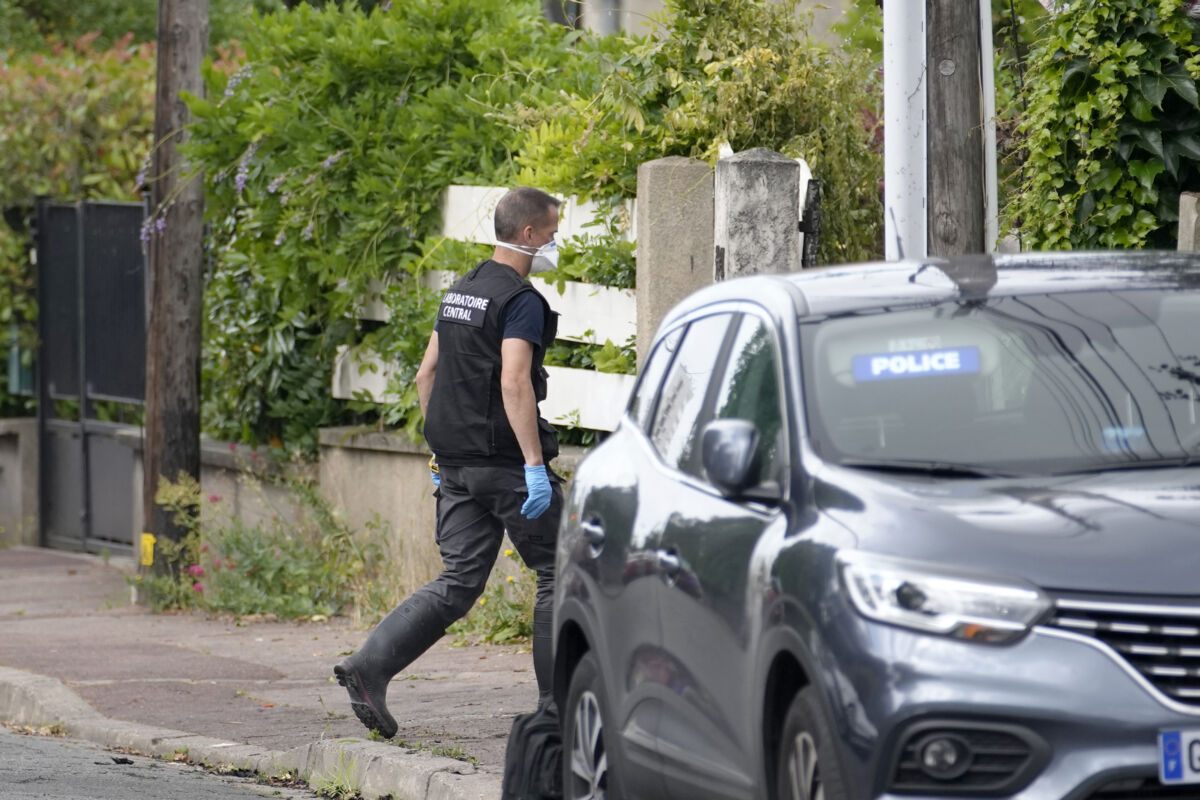 "Last night, a milestone was reached in horror and ignominy. My home was attacked and my family was the victim of an assassination attempt," he wrote on social media. Meanwhile, French Minister of the Interior Gérald Darmani confirmed over the weekend that an investigation was opened, reported The Independent.
It came as riots continued for a fifth night in France overnight on Saturday and Sunday, as officials confirmed that 45,000 police officers were deployed across several cities.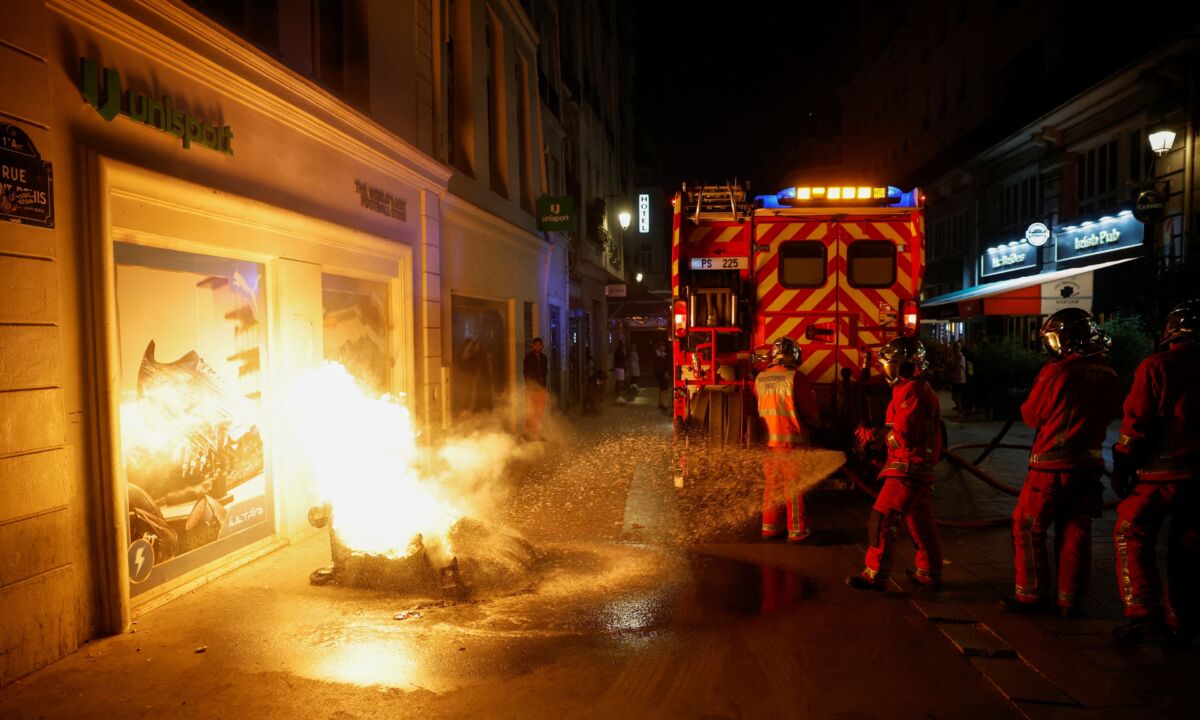 There have been widespread reports and video footage of rioters burning buildings, looting, attacking officers, attacking bystanders, and stealing vehicles, while there has been unconfirmed footage of what appear to be rioters armed with rifles. It's not clear how they obtained the firearms, as France has strict gun-control laws.
Arrests
Police made 719 arrests nationwide by early Sunday following a mass security deployment aimed at quelling France's worst social upheaval in years.
The 17-year-old whose death Tuesday sparked the violence was laid to rest Saturday in a Muslim ceremony in Nanterre, a Paris suburb. He has been identified publicly only by his first name, Nahel.
As night fell Saturday, a small crowd gathered on the Champs-Elysees to protest his death and police violence but met hundreds of officers with batons and shields guarding the avenue and its boutiques. In a less chic Paris neighborhood, protesters set off firecrackers and lit barricades on fire as police shot back with tear gas and stun grenades.
A burning car hit the home of the mayor of the Paris suburb of L'Hay-les-Roses. Several schools, police stations, town halls, and stores have been targeted by fires or vandalism in recent days but such a personal attack on a mayor's home is unusual.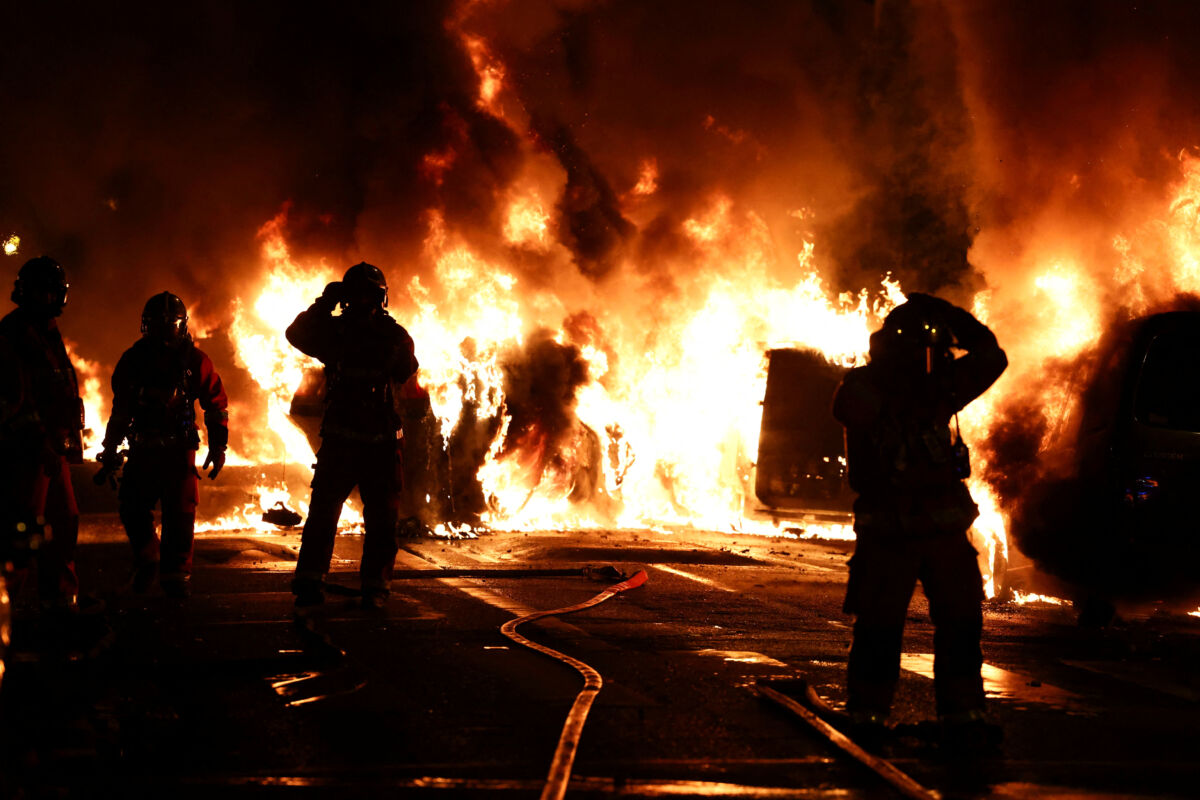 Macron planned to hold a special security meeting Sunday evening with Borne, Darmanin, and the justice minister. Macron has blamed social media and video games for fueling violence. France's justice minister has warned that young people who share calls for violence on Snapchat or other apps could face prosecution.
Skirmishes erupted in the Mediterranean city of Marseille but appeared less intense than the night before, according to the Interior Ministry. A bolstered police contingent arrested 55 people there.
Nationwide arrests were lower than the night before. Darmanin attributed that to "the resolute action of security forces."
A World War II monument in Nanterre commemorating Holocaust victims and members of the French resistance that was vandalized on the sidelines of a silent march Thursday to pay tribute to Nahel was still defaced Sunday with slogans including "Police scum," "Don't forgive or forget," and "Police, rapists, assassins."
The European Jewish Congress denounced the vandalism as a "shameful act of disrespect for the memory of the victims of the Holocaust."
The Associated Press contributed to this report.
From The Epoch Times