Allergic to milk products? You may want to check your pantry.
Frito-Lay is recalling its Lay's Lightly Salted Barbecue Flavored Potato Chips because they may contain an undeclared milk allergen.
Consumers with a "severe sensitivity to milk" risk a potentially fatal allergic reaction if they eat the chips, Frito-Lay said in a statement to the Food and Drug Administration.
The company said flavoring of another chip was mistakenly inserted in some bags of the lightly salted barbecue variety, which isn't made with milk products.
The chips are sold in 7.75-ounce bags with a "Guaranteed Fresh" date of Aug. 27, 2019, and a manufacturing code that includes the numbers 2 and 9.
They were distributed to stores in the following 24 states: Arkansas, Arizona, California, Colorado, Idaho, Iowa, Kansas, Louisiana, Minnesota, Missouri, Mississippi, Montana, North Dakota, Nebraska, New Mexico, Nevada, Oklahoma, Oregon, South Dakota, Tennessee, Texas, Utah, Washington and Wyoming.
No other Lay's products were affected by the recall, the company said.
The last Frito-Lay recall occured in 2017, when the company recalled two jalapeno-flavored chip varieties that may have been contaminated by salmonella.
Makeup Kit Recalled Over Asbestos Contamination
Two makeup kits were recalled after asbestos was found in it, according to the FDA.
The agency issued the recall on June 6 for the Beauty Plus Global Contour Effects Palette 2 and Claire's JoJo Siwa Makeup Set. Beauty Plus Global is a Chinese-based company while Claire's is based in Chicago.
"Today the FDA has updated its Safety Alert to warn consumers not to use [these] two additional products," it said in a statement.
Today, the FDA is releasing new results from its continued testing of cosmetic products for asbestos & is warning consumers to not use 2 additional products that have tested positive for asbestos & have been recalled https://t.co/p4AACHd9y8 pic.twitter.com/DYtSelENEj

— U.S. FDA (@US_FDA) June 6, 2019
"Beauty Plus Global Contour Effects Palette 2, Batch No. S1603002/PD-C1179; Claire's JoJo Siwa Makeup Set, SKU #888711136337, Batch/Lot No. S180109 because they tested positive for asbestos. Last week both Beauty Plus and Claire's recalled their respective products, and consumers who have these batches/Lots of Claire's or Beauty Plus products should stop using them," the FDA wrote.
The recall comes three months after other Claire's products were pulled from shelves amid asbestos concerns.
The JoJo Siwa set draws upon the popularity of JoJo Siwa, 16, who is popular with teenage girls, according to USA Today. She appeared on "Dance Moms" and has her own YouTube channel with about 10 million subscribers.
The FDA will continue to update its Safety Alert with new information as it becomes available. Consumers may subscribe to receive updates at the bottom of the Cosmetics Recalls and Alerts page. https://t.co/pBtrD2vRGg pic.twitter.com/4tfQt0ENOi

— U.S. FDA (@US_FDA) June 6, 2019
Siwa hasn't made a statement on the matter.
"Trace amounts of asbestos fibers" were found after testing the eye shadow, Claire's told USA Today.
This is the second FDA warning about asbestos in Claire's makeup this year.
https://t.co/hEJS213x5h

— USA TODAY (@USATODAY) June 10, 2019
In a statement, Claire's told USA Today that it previously "voluntarily recalled the JoJo Cosmetic Kit out of an abundance of caution."
"Claire's stands behind the safety of this item and all other Claire's cosmetic items, as such small trace amounts are considered acceptable under European and Canadian cosmetic safety regulations." the company told the paper. "In addition, last year Claire's moved to talc-free cosmetic manufacturing to prevent any further concerns about talc contamination. Claire's also supports increased FDA oversight of personal care products. We will provide a full refund to any customers who purchased the product."
It added that "the FDA test reports have mischaracterized fibers in the products as asbestos, in direct contradiction to established EPA and USP criterion for classifying asbestos fibers."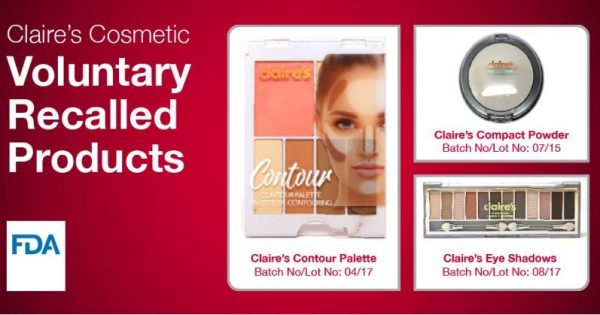 Consumers with questions about the recall can go to Claire's website.
Asbestos is used to refer to six naturally occurring silicate minerals, and they're composed of thin, fibrous crystals. According to Asbestos.com, exposure is linked to "several cancers and diseases, including mesothelioma and asbestosis."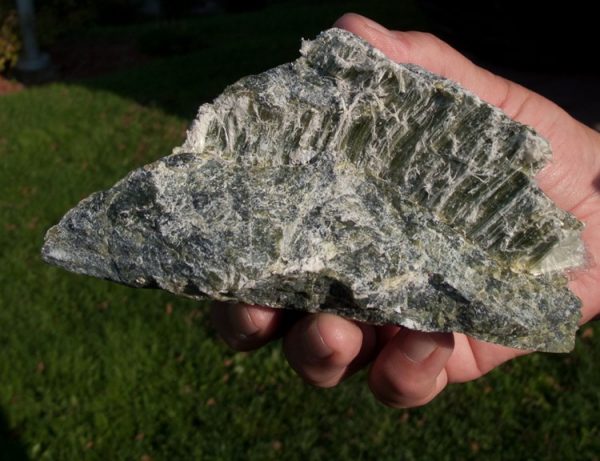 "Although asbestos strengthens and fireproofs materials, it is banned in many countries. Asbestos is not banned in the United States," it said, adding, "Pure asbestos is an effective insulator, and it can be used in cloth, paper, cement, plastic, and other materials to make them stronger. But when someone inhales or ingests asbestos dust, the mineral fibers can become forever trapped in their body."
The main exporters of asbestos are China, Russia, and Kazakhstan, the website says.
The Epoch Times reporter Jack Phillips and CCN Wire contributed to this report