The Group of Seven (G-7) foreign ministers on April 16 called for a "peaceful resolution of cross-Strait issues" between China and Taiwan as they gathered in Japan to discuss the situation in the Indo-Pacific region.
Japan hosted a three-day G-7 ministerial meeting on Sunday, which involved foreign ministers from the United Kingdom, Canada, France, Germany, Italy, the United States, and the European Union.
The ministers said the unity of G-7 nations is "extremely important" in dealing with the various challenges facing the Indo-Pacific region, including the threats posed by communist China and North Korea, according to Japan's foreign ministry.
Japanese Foreign Minister Yoshimasa Hayashi emphasized the need to "continue dialogue with China" while also "directly expressing our concerns" and urging China to "act as a responsible member of the international community."
The ministers opposed "any unilateral attempts to change the status quo by force" and affirmed "the importance of peace and stability across the Taiwan Strait" to the security of the international community.
On April 16, FM HAYASHI hosted a working dinner on the Indo-Pacific for approximately 140 minutes. The G7 Foreign Ministers are also scheduled to continue to discuss matters such as regional affairs, including the Indo-Pacific, on April 17.https://t.co/KQAx5gqrJc pic.twitter.com/wR4p2gal43

— MOFA of Japan (@MofaJapan_en) April 16, 2023
"With increasing competition in the region, it is more important than ever that we promote a free and open Indo-Pacific. It is critical to the UK, to our economy, our security and our values," British Foreign Secretary James Cleverly said in a statement.
They strongly condemned North Korea's series of missile launches, with Hayashi expressing "grave concern" over the "unprecedented frequency and manner" of the launches by North Korea.
On April 17, the ministers discussed Russia's ongoing war in Ukraine and reaffirmed their commitment to fully coordinate and enforce sanctions against Russia, as well as to provide strong support for Ukraine.
"They [ministers] concurred into reinforcing coordination to prevent and respond to evasion of sanctions as well as third-party weapon supply to Russia," Japan's foreign ministry stated.
French President's Remarks on Taiwan
The meeting took place on the heels of French President Emmanuel Macron receiving backlash for his comments that urged Europe to stay out of the conflict between the United States and China over Taiwan.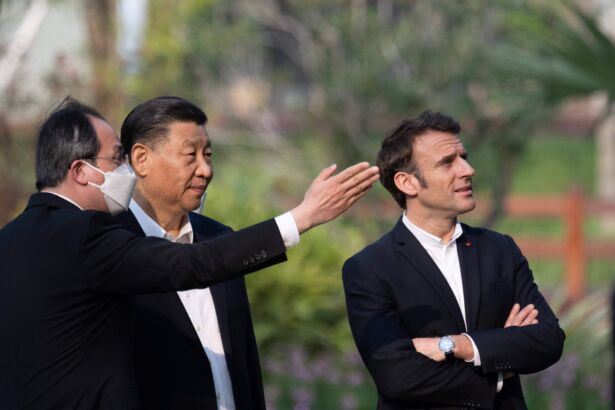 Macron made the remarks in an interview with Politico on April 9, just days after completing his three-day visit to Beijing. He said it would be the "worst thing" for Europe "to become followers" on the Taiwan issue and "take our cue from the U.S. agenda" focused on defending Taiwan.
The Inter-Parliamentary Alliance in China (IPAC), which comprises international legislators from 30 countries, issued a statement condemning his remarks and said that Macron "does not speak for Europe."
"With Beijing ramping up military exercises in the South China Sea and showing continuing support for Russian aggression in Ukraine, this is the worst possible moment to send a signal of indifference over Taiwan," IPAC said.
Rep. Mike Gallagher (R-Wis.), chair of the House Select Committee on China, criticized his remarks as "embarrassing" and "disgraceful," which "play right into the CCP's [Chinese Communist Party] strategy to divide America and Europe."
"That invites aggression; it actually does not perpetuate peace," Gallagher told Fox News on April 10.
US Deploys Warship to Taiwan Strait
Beijing views Taiwan as a renegade province that must be united with the mainland by all means necessary, even though Taiwan has never been ruled by the CCP and has its own democratic government.
Beijing staged a three-day military drill around the self-ruled island on April 8 after Taiwanese President Tsai Ing-wen met with U.S. House Speaker Kevin McCarthy (R-Calif.) in California.
While the CCP has announced the end of its military exercise around Taiwan, the Taiwanese defense ministry vowed to maintain its defense and continue to "keep a close watch" on the Chinese military.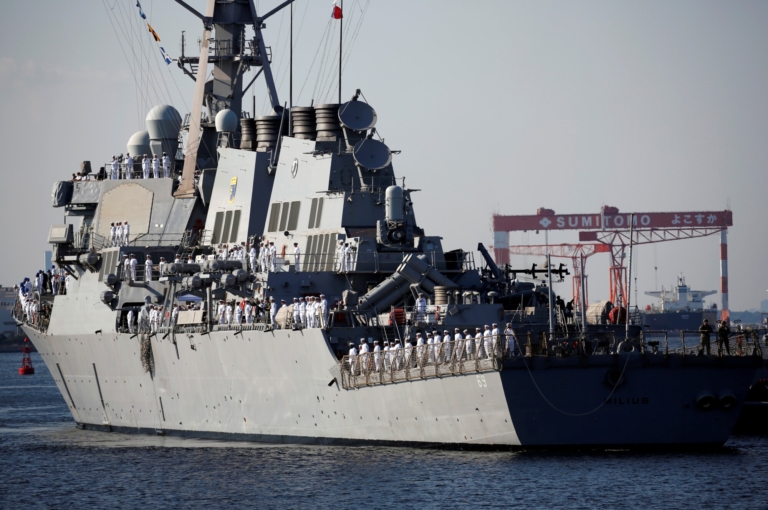 The United States deployed its guided-missile destroyer USS Milius to the Taiwan Strait on Sunday. The U.S. Navy's Seventh Fleet said the warship was conducting a routine transit where "high-seas freedom of navigation and overflight apply in accordance with international law."
Taiwan's military said it detected 18 Chinese aircraft and four naval vessels near the island on Sunday, with four aircraft spotted entering southwest and southeast of Taiwan's air defense identification zone (ADIZ).
In response, Taiwan scrambled aircraft to monitor the Chinese aircraft, mobilized naval vessels, and deployed land-based missile systems.
From The Epoch Times