Rep. Matt Gaetz (R-Fla.) on Wednesday declared the election of Rep. Mike Johnson (R-La.) as House speaker a sign of the strength of the "MAGA movement" in the GOP and the waning power of the "swamp."
After a three-week leadership void in the House, the GOP conference chose Mr. Johnson as their speaker nominee; he went on to win 220 votes in the first floor ballot on Wednesday.
Mr. Gaetz, who led the motion to oust Rep. Kevin McCarthy (R-Calif.), the former speaker, touted Mr. Johnson's victory as exemplary of the growing power of the "MAGA movement" on Capitol Hill.
"The swamp is on the run. MAGA is ascendant. If you don't think that moving from Kevin McCarthy to MAGA Mike Johnson shows the ascendance of this movement and where the power in the Republican Party truly lies, then you're not paying attention," Mr. Gaetz declared during an interview on Steve Bannon's "War Room" podcast on Wednesday.
The Floridian congressman shed light on the internal party deliberations that led to Mr. Johnon's election following the short-lived race of Rep. Tom Emmer (R-Minn.), who withdrew his name hours after receiving the GOP nomination on Tuesday.
Mr. Johnson was runner-up to Mr. Emmer, who was the third speaker nominee after Reps. Steve Scalise (R-La.) and Jim Jordan (R-Ohio) failed to garner the needed support.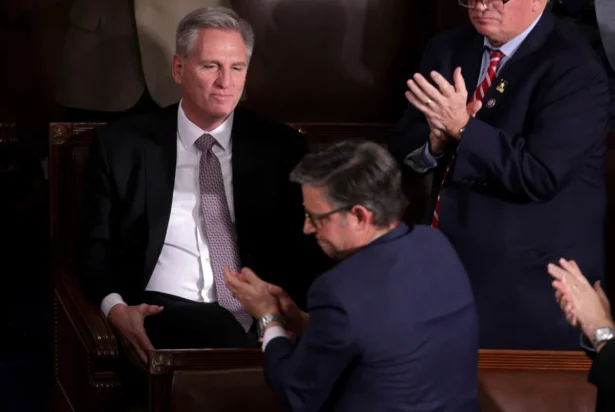 Mr. Gaetz said that following Mr. Emmer's withdrawal, Mr. McCarthy was the sole GOP member to object to a request by Rep. Marcus Molinaro (R-N.Y.), a freshman congressman, for unanimous consent to waive the rules and take a non-binding poll on whether Mr. Johnson "could be our speaker nominee."
Mr. McCarthy's objection, in Mr. Gaetz's view, was evidence that the former speaker "was worried that there was going to be this great, unifying moment" of rallying behind Mr. Johnson that would hurt Mr. McCarthy's chances of being reelected, so "he scuttled the unifying moment."
Mr. McCarthy had not put his name in the ring to run again for the speakership.
The Epoch Times contacted Mr. McCarthy's office for comment.
Gaetz Says He 'Wasn't the Force for Chaos'
Mr. Gaetz said that Mr. McCarthy sought write-in votes, nominating himself. However, he received only 33, according to Mr. Gaetz.
"So, they flame out terribly," Mr. Gaetz said. "Mike Johnson's gaining momentum. Ultimately, McCarthy gets 43 to vote for him on a secret ballot. But Mike Johnson gets a majority."
Mr. Johnson then requested a roll-call vote, said Mr. Gaetz. "So that those 43 would have to announce themselves as being for a candidate who wasn't even running, instead of a unifying force like Mike Johnson," he added.
"And when we called for the roll call, do you know how many people voted for Kevin McCarthy? Zero," said Mr. Gaetz.
Mr. Gaetz accused the former Californian speaker of attempting to sabotage the chances of the last four speaker nominees, including Mr. Scalise, Mr. Jordan, Mr. Emmer, and Mr. Johnson, while maneuvering in the shadows to be reelected himself.
"Everyone in the room knew at that moment that I wasn't the force for chaos; I wasn't causing disunity; that for the last three weeks, the reason the House of Representatives has been paralyzed is because, for his own selfish gain, Kevin McCarthy was sabotaging the candidacy of anyone else because he was plotting a return," Mr. Gaetz charged.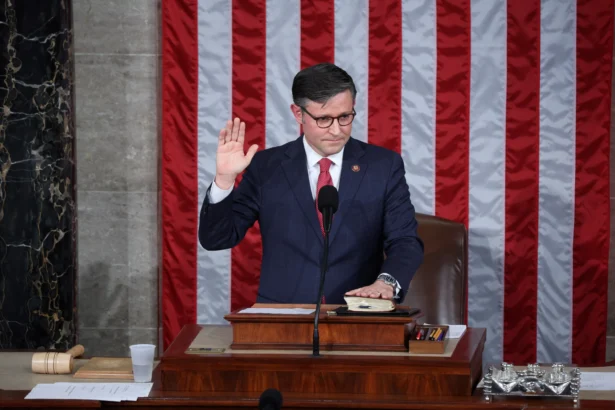 Mr. Johnson received a prolonged standing ovation from fellow Republicans upon his nomination by Conference Chair Elise Stefanik (R-N.Y.).
Mr. Gaetz hailed Mr. Johnson's election to the speakership as a victory over "the swamp," the term made popular by former President Donald Trump, the creator of the MAGA movement, which stands for Make American Great Again, his 2016 campaign slogan.
"They are crying, they are hand-wringing, they are bed-wetting over on K Street because we have an honorable, righteous man who is about to take this position. He's going to do great things for the country," Mr. Gaetz said, referring to "the swamp."
Mr. Gaetz, who has been "seat mates" with Mr. Johnson on the House Judiciary Committee for seven years, praised the newly-minted speaker.
"He is sharp. He will be as respected in the homes of our most meaningful, righteous, and patriotic donors as he will [be] at the rallies with our most enthusiastic and meaningful activists," Mr. Gaetz said.
Mr. Johnson's election was praised by the former speaker nominees, Mr. Emmer and Mr. Scalise.
"I know Mike will keep our majority united as we continue to deliver on the commitments we've made to our constituents," Mr. Emmer said.
Mr. Scalise praised Mr. Johnson's commitment "to things bigger than himself."
Mr. Johnson, 51, is an attorney and former radio host. He carried a Bible when he accepted the gavel on Wednesday.
In his first speech as speaker, he said the House is "ready to get to work again" to solve the problems at home and abroad affecting Americans.
"Our mission here is to serve you well, to restore the people's faith in this House, in this great and essential institution," he said.
From The Epoch Times