Microsoft co-founder Bill Gates doesn't believe his fellow multi-billionaire Elon Musk would be using his financial resources wisely by pursuing a vision to colonize Mars.
Musk owns several high-profile technology companies, among them spacecraft manufacturer SpaceX which he founded to one day get humans to Mars.
Gates told BBC that he hopes Musk will eventually join him in a more philanthropic approach to his wealth.
"Things like Tesla are having a positive impact even without being a form of philanthropy," Gates said in the interview published on Feb. 3.
"But at the end of the day [Musk will], other than going to Mars a few times, which might cost a little bit, I don't think he'll want to spend [his money] on himself. So yeah, I think someday he will want to join the rank of philanthropists using his ingenuity."
When asked by BBC's Amol Rajan if he thinks going to Mars is a good use of Musk's money, Gates said, "Not in my view."
Gates suggested the money could be better spent on getting people vaccinated.
"It's actually quite expensive to go to Mars," Gates said. "You can buy measles vaccines and save lives for $1,000 per life saved. And so it just kinds of grounds you, as in don't go to Mars."
Gates has done much of his charitable work through the Bill & Melinda Gates Foundation, a nonprofit he founded with his now ex-wife Melinda French-Gates. The foundation is involved in development projects in impoverished countries around the world.
Part of the Bill & Melinda Gates Foundation's health care focus has been to promote vaccination. Since July 2020, the foundation has also committed more than $2 billion specifically to the global response to COVID-19.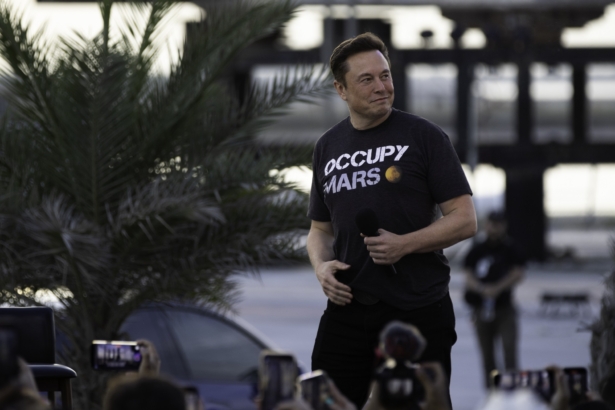 A Troubled Relationship
Musk has yet to specifically respond to Gates's latest comments in the BBC interview, but a day before it went online, SpaceX announced it had completed its 200th successful mission, deploying new Starlink satellites into orbit.
The company also shared video footage of a Falcon 9 reusable rocket booster landing on an autonomously operating deck barge ship known as A Shortfall of Gravitas.
Falcon 9's first stage has landed on the A Shortfall of Gravitas droneship pic.twitter.com/9a56rWumR1

— SpaceX (@SpaceX) February 2, 2023
The two billionaires have feuded in the past on a number of issues.
In April, Musk rebuffed a request from Gates to discuss ways to address climate change. Musk pointed out that Gates had $500 million in Tesla shorts, meaning Gates was betting on the value of the electric car stock to drop.
"Sorry, but I cannot take your philanthropy on climate change seriously when you have a massive short position against Tesla, the company doing the most to solve climate change," Musk replied to Gates's request.
In May, as Musk began negotiations to buy out Twitter, Gates suggested Musk's ownership of the social media platform could worsen the spread of misinformation online.
"How does he feel about something that says vaccines kill people or that Bill Gates is tracking people?" Gates asked in an interview with the Wall Street Journal. "It's not totally clear what he is going to do."
While Gates has frequently promoted the vaccines, Musk has opposed vaccine mandates.
After Musk acquired Twitter, he began releasing some of the company's internal communications. In one set of internal communications, it was revealed that the platform suppressed information about COVID-19 and opinions from medical experts that questioned the efficacy of vaccines.
On Dec. 28, Musk announced that Twitter's new policies would allow users to engage in "reasoned questioning of the science."