Global stock prices fell to one-week lows today, as declines by long-dated U.S. bond yields and a revival of trade concerns increased fears of a downturn in the United States.
U.S. markets are closed today to mourn the death of former President George H.W. Bush but the effect of the earlier losses on Wall Street was felt in Asia and Europe.
On Dec. 5, confusion stemming from China's silence on what was agreed to in the tariff truce meeting with the United States, along with the drop in U.S. stocks and bond yields, pushed Asian shares outside Japan down 1.4 percent — or 7.1 points lower to 494.79. In Europe, Stoxx 600 shares fell 1.16 percent — 16.15 points lower to 354.27.
Hong Kong's Hang Seng index declined 1.62 percent—440.76 points lower to 26,819.68, and the Shanghai markets fell 0.61 percent—16.15 lower to 62,649.81. Tokyo's Nikkei 225 lost .53 percent—116.72 points lower to 21,919.33. Seoul's Kospi gave up .62 percent—13.04 points lower to 2,101.31, and India's Sensex was 0.69 percent—249.90 points lower to 35,884.41.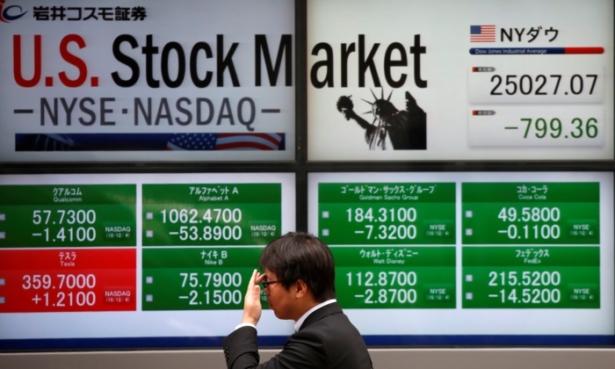 In Europe, London's FTSE 100 index shed 1.44 percent—100.92 points lower to 6,921.84, and German's DAX lost 1.19 percent—135.08 points lower to 11,200.24. France's CAC 40 retreated 1.36 percent—68.28 points lower to 4,944.37.
Markets are also bracing for more news on the Brexit front. British Prime Minister Theresa May suffered defeats yesterday, the first of five days of parliamentary debate over her plans to leave the European Union.
The pound rose off 17-month lows up 0.3 percent, amid optimism that Britain could opt to stay in the EU after all.
Jeremy Sandberg contributed to this report.