A GOP congressman announced May 31 that he will resign, a move that will reduce the party's majority in the House of Representatives.
Rep. Chris Stewart (R-Utah) said he would step down after arranging an "orderly transition."
"It has been one of the great honors of my life to serve the good people of Utah in Congress. My wife and I have made so many dear friends and memories throughout our journey. I can say with pride that I have been an effective leader for my beloved home state, and I'm honored to have played an important role in guiding our nation through some troubled times," Stewart said in a statement.
"But my wife's health concerns have made it necessary that I retire from Congress after an orderly transition can be ensured," he added.
The specific health problems were not detailed, and Stewart's office did not respond to a request for comment.
Stewart, 62, was first elected in 2012. He won reelection in 2022 with 63 percent of the vote.
Before entering Congress, Stewart was a pilot in the Air Force. After exiting the military, he became a businessman and an author, including a collaboration with Elizabeth Smart, who was kidnapped from her home in Salt Lake City and held captive for months before being rescued.
Colleagues wished Stewart well.
"Congressman Stewart has dutifully served our state and Utahns in the Second Congressional District for over a decade. A former Air Force pilot, Chris has consistently worked to safeguard the role Utah plays in our national defense. Ann and I are praying for the Stewart family," Sen. Mitt Romney (R-Utah) said in a statement.
"Utah is losing a dedicated public servant who went to work every day for his district and our nation, and he'll be sorely missed," added Rep. Burgess Owens (R-Utah).
Rep. Mario Diaz-Balart (R-Fla.) said Stewart "has a clear record of getting things done" and that "Congress is losing a great one."
Majority Will Shrink
Republicans flipped a number of seats in the 2022 midterms, gaining control of the House after being in the minority for two years.
The GOP currently holds 222 seats.
That will go down to 221 after Stewart does resign, which could make it more difficult to pass legislation.
Republicans expect to ultimately hold on to the seat, which is situated in a red district.
Democrats have 213 seats in the lower chamber and remain in control of the Senate.
Democrats hold 51 seats in the Senate. Republicans hold 49.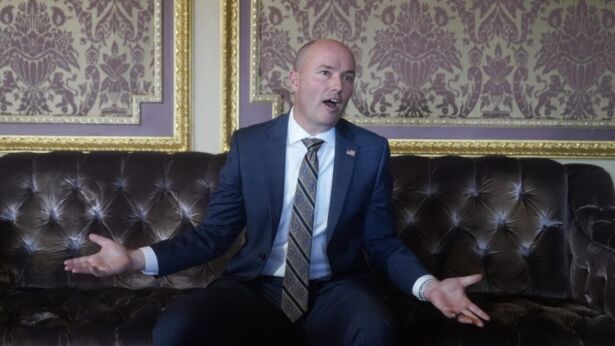 What's Next
Under a new election law in Utah, Republican Gov. Spencer Cox has to, within seven days of the seat becoming vacant, issue a schedule for a primary and general special congressional election for the vacancy.
The primary has to be held on the same date as a previously scheduled municipal general election, presidential primary election, regular primary election, or regular general election. The general election also has to align with one of those types of previously scheduled elections.
A municipal primary election is scheduled for Aug. 15 but the new law, enacted in 2020, does not enable scheduling a special primary with a municipal primary, Utah Lt. Governor Deidre Henderson confirmed.
The primary must be scheduled at least 91 days from the announcement of the schedule and the general must be scheduled at least 91 days after the primary.
Utah currently has a municipal general election scheduled for November and a presidential primary slated for March 2024.
State lawmakers do have the option of stepping in and allowing a special election outside of the parameters outlined in the law.
The last time a Utah member of Congress resigned, the law was not in effect. Former Rep. Jason Chaffetz (R-Utah) announced his resignation on May 19, 2017. A special primary was held on Aug. 15, 2017, and a special general was held on Nov. 7, 2017.
Cox cannot issue a schedule until after Stewart "has left the office" or "submits an irrevocable letter of resignation to the governor or to the speaker of the United States House of Representatives."
Candidates Eyeing Seat
If Stewart ran again, candidates were looking at challenging a sitting member or running for U.S. Senate, with a seat held by Sen. Mitt Romney (R-Utah) up for election.
Stewart's resignation has prompted many to mull jumping into the field for the seat he holds, which represents Utah's 2nd Congressional District.
"I know of at least 13 people who are looking at this and considering it," Rob Axson, the chair of the Utah Republican Party, told KUTV.
State Sen. Todd Weiler and former Utah House Speaker Greg Hughes are among the Republicans considering bids.
Potential Democrat candidates include state Sen. Kathleen Riebe and Kael Weston, a military veteran who ran for congressional seats in 2020 and 2022 but lost each time.
From The Epoch Times