Republicans' projected "Red Wave" was reduced to a ripple in congressional contests and subsumed by a blue undertow in state elections with Democrats winning most key gubernatorial races and gaining control of four state legislative bodies nationwide in the Nov. 8 midterm elections.
Before noon on Nov. 14, the GOP held a 212-204 lead in the U.S. House, six seats from clinching a majority. But 19 congressional races, including 10 in California, remained uncalled.
Most projections say Republicans will have anywhere from a 219-216 to 222-213 chamber advantage when the next two-year congressional session begins in January 2023.
Democrats, however, still have an outside shot of retaining control of the House by winning 14 of the remaining 19 uncalled races. They were leading in 12 on Nov. 14.
According to an AP VoteCast poll, 51.3 percent—or nearly 525 million—of 2022 midterm ballots tallied nationwide so far were cast by Republicans, who outpolled Democrats by more than 4.6 million voters.
That turnout advantage, however, did not translate into electoral wins with the GOP failing to gain a seat to snap a 50-50 U.S. Senate deadlock, nor adding 25-30 congressional seats in a projected Red Wave to capture an overwhelming U.S. House bloc.
The projected wave was reduced to a purple ripple by a surprisingly resilient blue wall as Democrat incumbents won contested congressional seats from New England to Nevada, ensuring tight margins "if"—downgraded from "when"—the GOP gains majority.
State House Democrats 'Dodged A Bullet'
At the state level, the Red Wave wasn't trimmed to a ripple but blunted flat by a blue undercurrent that saw embattled Democrat governors reelected in Wisconsin, Michigan, and Kansas, and Democrats taking GOP-occupied governorships in Maryland and Massachusetts while winning open posts in Pennsylvania and Oregon.
That blue undercurrent also swept through state legislature elections across in 46 states with Democrats flipping four chambers in what is the best midterm showing for a sitting president's party—and worst by a minority party—since 1932.
With results in Arizona and Alaska unsettled on Nov. 14, Democrats could add up to three more chambers to that list, although Republicans were on narrow tracks to win majorities in these legislatures, according to various projections.
"One of the strongest trends in all of American politics is that the party in the White House tanks it in midterms," National Conference of State Legislatures (NCSL) CEO Tim Storey said on Nov. 9 at the National Press Club in Washington. "That did not happen."
According to the NCSL, going into the Nov. 8 midterm elections Republicans controlled 62 legislative chambers—Nebraska's unicameral senate is officially nonpartisan, but GOP-controlled—to the Democrats' 37.
Republicans controlled both chambers in 30 states with 23 of them being trifectas, meaning the governor was also a Republican. Democrats had dual chamber majorities in 17 states with 14 trifectas.
As of Nov. 14, Republicans now control 58 legislative chambers to Democrats' 41. Four remain unresolved, two in Alaska and two in Arizona, where the GOP entered the midterms with a 16-14 Senate majority and a 31-29 House advantage.
The GOP now owns advantages in both chambers in 26 states and trifectas in 22 while Democrats have dual chamber majorities in 19 states and 17 trifectas.
All four of the legislative chambers that the GOP lost to Democrats during the midterms are in key battleground states—Minnesota, Pennsylvania, and Michigan.
In Minnesota, all 67 Senate seats and 134 House seats were on the ballot. Going into the midterms, the GOP controlled the Minnesota Senate 34-31 with one vacancy and one Independent, while Democrats held a 70-64 House majority.
With incumbent Democrat Tim Walz breezing to re-election on Nov. 8, Minnesota is now an all-blue trifecta state after steadfastly being among the ever-winnowing number of split-control states where one party controls at least one chamber or the governor's office.
In Pennsylvania, all 203 House seats were on the Nov. 8 ballot. Republicans held a 113-88 House advantage entering the midterms but, as of Nov. 14, after losing 13 previously GOP-held seats, Democrats had a 101-100 lead.
Chamber majority will be determined by results from two too-close-to-call races in Philadelphia suburbs where candidates are separated by several dozen votes. Final tallies may be days away. Democrats have not held a majority in the Pennsylvania House since 2008.
With Democrat Josh Shapiro winning the gubernatorial election and Republicans retaining control of state Senate, if Democrats win the Pennsylvania House, they would join Virginia as the only two states guaranteed to have split partisan control of their legislatures headed into 2023 sessions.
Virginia, Alaska, and Minnesota were the only three states where one party did not control both chambers after 2020's elections. Minnesota is now a Democrat trifecta state while Alaska is likely to become a GOP trifecta.
In Michigan, all 38 state Senate and all 110 House seats were on the ballot. Republicans had controlled both chambers since 2010, entering the midterms with a 22-16 Senate majority and 56-53 House advantage.
As of Nov. 14, Democrats have won the Senate with a 20-18 majority and the House with a 56-54 advantage, gaining control of both chambers for the first time since 1984.
With Gov. Gretchen Whitmer's reelection, Democrats now have a trifecta in the key battleground state of Michigan for the first time in 40 years.
The NCSL on Nov. 14 said it was still doing a "headcount" of wins and losses among the 6,279 state legislature races that were on Nov. 8 ballots. Republicans, collectively, entered the midterms with 3,978 state lawmakers constituting 52 percent of the seats nationwide.
"Republicans maintain a strong majority of state legislatures, so they are still in the driver's seat in state policy," Storey said. "But Democrats clearly dodged a bullet."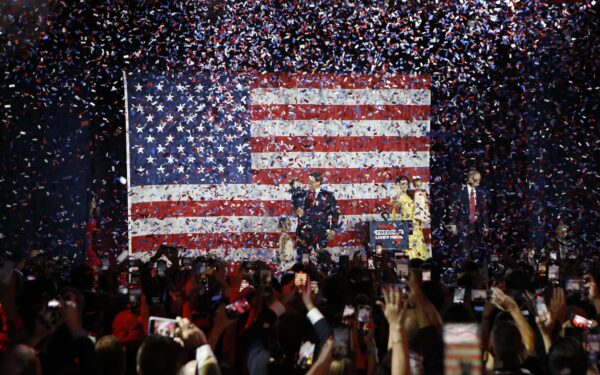 GOP Gains Red State Supermajorities
While the GOP may have lost four chambers, it may have actually gained in the number of party lawmakers elected with red states stacking Republican advantages into GOP supermajorities.
In West Virginia, for instance, Republicans entered the midterms with 78-22 House and 23-11 Senate majorities but will begin 2023 with 88-12 House and 30-4 Senate supermajorities.
In Ohio, Florida, and Texas, not only did incumbent Republican Govs. Mike DeWine, Ron DeSantis, and Greg Abbott all win new terms in landslides, but their GOP-controlled legislatures maintained supermajorities across all chambers.
The GOP also gained supermajorities in Iowa and South Carolina, but failed to so do so in North Carolina and Wisconsin where Republican majority lawmakers must contend with a Democrat governor.
In Nevada, it will be just the opposite, where Republican Gov. Joe Lombardo will have to negotiate with a Democrat-controlled legislature after his victory over incumbent Gov. Steve Sisolak.
From The Epoch Times