California Gov. Gavin Newsom is on the campaign trail, aiming to turn traditionally red states into opportunities for the Democratic Party, with the help of $10 million in funding from his war chest and a newly launched Campaign for Democracy political action committee.
Announced March 30, the cross-country effort will put Newsom and his blueprint for the nation on the national radar as the 2024 campaign is starting to kick into gear. While speculation grows that he is a possible contender for the presidency, Newsom is adamant that he has no interest at this time. The governor will be termed out of office after 2026.
In comments to a host of publications over the past year, Newsom has repeatedly said, "it's not the moment" for him, it's "not gonna happen," and he has "sub-zero interest," but that hasn't stopped rumors from circulating that the Golden State governor is positioning himself for a national campaign.
Democratic leaders remain loyal to President Joe Biden, though recent polls indicate lagging support for the administration from members of its own party. Disapproval ratings are estimated at 53.4 percent as of March 31, according to statistics website FiveThirtyEight operated by Nate Silver, and potential matchups between Biden and Donald Trump, or Ron DeSantis, are too close to call, based on recent national polls.
The Campaign for Democracy's messaging is focused on targeting Republican leadership and questioning the party's legitimacy and capacity to serve.
"Leading figures of the Republican Party continue operating with a total disregard for democratic norms and institutions, and their use of fear-mongering tactics to maintain control and foment division is leading to a dangerous erosion of our democracy," the committee wrote on its website.
The statement is placed under a section titled Existential Threats, featuring photos of former President Donald Trump, Florida Gov. Ron DeSantis, Texas Gov. Greg Abbott, and House Speaker Kevin McCarthy.
"Authoritarian leaders are so hell-bent on gaining power and keeping it that they're directly attacking our freedoms in state after state," Newsom said in a quote on the site.
Meanwhile, critics say Newsom's extensive use of emergency powers during the pandemic and history of issuing record numbers of executive orders have been a major concern for California.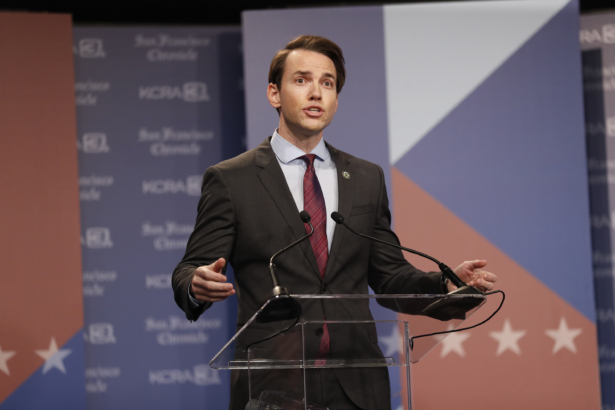 "Ah the Campaign for Democracy from the guy who brags about 'jamming' his democratically elected legislature, issues orders taking away civil liberties, closed schools, shuts down churches and small businesses, destroys livelihoods and violates the rights of parents," California Assembly Republican Leader James Gallagher, of Yuba City, wrote on Twitter March 30.
Gallagher and former Assemblyman and current Rep. Kevin Kiley (R-Calif.), successfully sued the governor's office in 2022, resulting in a permanent injunction granted by Superior Court Judge Sarah Heckman's declaration that Newsom's Executive Order N-67-20 mandating mail-in ballots be sent to every registered voter was unconstitutional. The judge ruled the governor does not have "the power or authority to amend statutory law or create new statutory law even during a state of emergency."
In efforts to tie the renowned Kennedy legacy with the Democratic party's current agenda, the new committee's website commemorates former Senator Robert Kennedy's eulogy of his brother, former President John F. Kennedy, where he recognizes the vital role the party played in the success of the family.
Robert F. Kennedy, Jr., son of the former Senator and nephew of JFK, recently teased a 2024 presidential run of his own, saying in remarks at St. Anselm College that the Democratic Party has abandoned its roots, and he's considering his options, noting that he "has passed the biggest hurdle, which is that my wife has green-lighted it."
Newsom's efforts to attract support from Republican states are not new, as last year he paid for billboards in seven states promoting California as an abortion sanctuary. Advertising campaigns targeted South Dakota, Indiana, Michigan, Ohio, South Carolina, Oklahoma, and Texas.
The newly announced Campaign for Democracy is expanding its sights, with Arkansas, Mississippi, Alabama, and Florida listed as the first stops on the tour.
From The Epoch Times