Arkansas Gov. Sarah Huckabee Sanders will deliver the Republicans' rebuttal to President Joe Biden's State of the Union address next week, announced House Speaker Kevin McCarthy (R-Calif.) and Senate Minority Leader Mitch McConnell (R-Ky.) on Thursday.
Biden is scheduled to deliver his address on the night of Tuesday, Feb. 7, in front of both houses of Congress. He's expected to tout what he says are his administration's accomplishments of his first two years in office.
In announcing that Sanders—a former White House press secretary under former President Donald Trump—will deliver the GOP response to Biden, Republicans again criticized the Biden administration's policies.
"Americans are still struggling from inflation, a border crisis, record crime, and a failing school system," McCarthy said in a statement. "As House Republicans work to fix these problems in Congress with our Commitment to America, Governor Sarah Huckabee Sanders is addressing them head-on with her conservative agenda outside of Washington."
And McConnell said that as "Biden keeps repeating old mistakes and failing Americans, a rising generation of Republican Governors are fighting for families, advancing new solutions, and winning," according to a statement issued Thursday. He described Sanders as a "powerful advocate" for what he described as "commonsense conservative principles that will put our country back on a better course."
Sanders was elected in November as the youngest Arkansas governor. She's also the daughter of former Republican Arkansas Gov. Mike Huckabee, who ran unsuccessfully for president multiple times.
In response, Sanders commented that she is "grateful for this opportunity" and added that there "new generation of leaders ready to defend our freedom against the radical left and expand access to quality education, jobs, and opportunity for all."
"We are ready to begin a new chapter in the story of America—to be written by a new generation of leaders ready to defend our freedom against the radical left and expand access to quality education, jobs, and opportunity for all," she added.
Last month, McCarthy formally invited Biden to deliver the address. The White House later confirmed that Biden accepted the invitation. It will be the first time Biden addressed a divided Congress as president and McCarthy's first State of the Union address as House speaker.
"We have received Speaker McCarthy's kind invitation, and the president has accepted it and looks forward to delivering the State of the Union address on Tuesday, Feb. 7, 2023," White House press secretary Jean-Pierre said in a statement.
While asking Biden to give the speech, McCarthy wrote that "the new year brings a new Congress, and with it, a responsibility to work towards an economy that is strong, a nation that is safe, a future that is built on freedom, and a government that is accountable."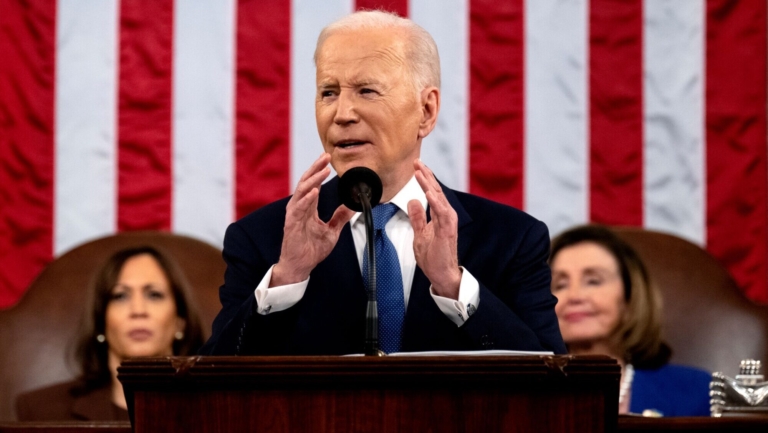 "The American people sent us to Washington to deliver a new direction for the country, to find common ground, and to debate their priorities," he added. "In that spirit, it is my solemn obligation to invite you to speak before a Joint Session of Congress on Tuesday, February 7, 2023 so that you may fulfill your duty under the Constitution to report on the state of the union. Your remarks will inform our efforts to address the priorities of the American people."
After Biden's State of the Union, Sanders will deliver her speech. The White House has not yet publicly commented on the Republicans' announcement Thursday.
In last year's speech, Biden made references to his administration's response to the COVID-19 pandemic, vaccines, at treatment for the virus. Because the address came just days after the start of the Ukraine–Russia conflict, Biden also heavily commented on the invasion.
About a week ago, in a possible preview of his State of the Union speech, Biden praised the current state of the U.S. economy and criticized Republicans during a Virginia town hall event.
"Unemployment is the lowest it's been in 50 years," Biden said. "We created nearly 11 million jobs, including 750,000 manufacturing jobs. The unemployment rate is near record lowest for black and Hispanic workers and the lowest ever recorded for people with disabilities." There, the president also claimed that "extreme MAGA Republicans are determined to be the party of chaos and catastrophe" during his speech.
From The Epoch Times