Gov. Greg Abbott (R-Texas) on Wednesday called for an investigation into Atmos Energy after customers in parts of Texas were left without gas to heat their homes during frigid temperatures over Christmas.
Abbott wrote to Texas Attorney General Ken Paxton and Railroad Commission Chair Christi Craddick, asking them to probe what he called Atmos Energy's failure to prepare for winter weather.
"Many customers of Atmos Energy in north and central Texas went without natural gas for an unacceptable time because of failures by Atmos to provide adequate residential and commercial gas service," Abbott wrote.
Further, the governor said the City of Grand Prairie was forced to open a warming center for residents and that customers reported they couldn't reach customer service representatives at the utility company.
"This is unacceptable. Atmos Energy, like all gas utility providers, has a duty to provide life-critical service to its customers," Abbott wrote.
Grand Prairie resident Suzette Lagray told local media on Dec. 23 that the lack of communication from Atmos was "pretty frustrating."
"At least [with] information, you can plan. Do I need to go out and buy space heaters or what?" Lagray said.
⚠️Stay alert to changing weather conditions in your area. Save and share these tips to conserve energy, keep warm, and stay safe during winter weather.

?️Energy Saving Tips: https://t.co/lBThvYsVa8
❄️Winter Safety Tips: https://t.co/DbqU6saYdT pic.twitter.com/yylvR3Wv5s

— atmosenergy (@atmosenergy) December 23, 2022
On Dec. 19, Atmos published a release warning customers to prepare for extremely cold weather, advising them to conserve gas, lower thermostats when away from home, and never use a gas oven or stovetop to heat the home.
'Unprepared'
In comments obtained by Texas Tribune, Atmos acknowledged the service interruption wasn't acceptable. The utility said part of its responsibility to customers "includes undertaking operational planning and preparation to provide such safe and reliable service all throughout the year."
"Despite those preparations, last week, we fell short for some of our customers who experienced interruptions in their natural gas service. That is not acceptable," the company said.
In his letter, Abbott said Atmos had opportunities to request assistance from the state but didn't.
"Prior to and during the recent winter weather system, State of Texas agencies worked around the clock to mobilize resources and assist utilities in any way possible. At no time did Atmos Energy request assistance," Abbott said.
"Even during coordination calls of the Texas Energy Reliability Council (TERC), Atmos Energy did not properly communicate the extent of its failure and made no requests for assistance, which is the whole purpose of the Council," he continued. "It is apparent that Atmos Energy acted irresponsibly and was unprepared for the event."
Abbott requested the agency's probe Atmos for these reasons. "Because we are just beginning the winter season, and because customers of Atmos deserve to have reliable natural gas service during this winter, there is an urgency to have [your agency's] investigation concluded in a matter of weeks," he wrote.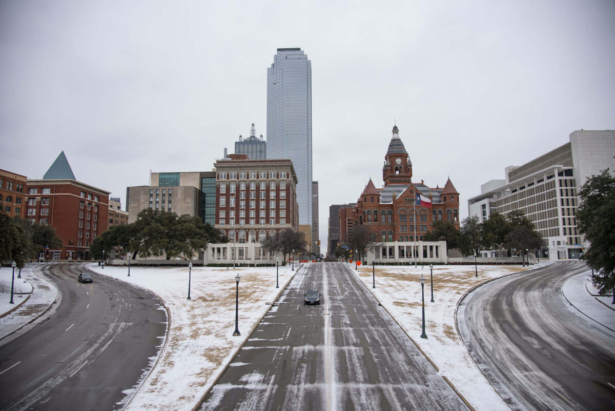 Cars drive through downtown in Dallas, United States, on Feb. 3, 2022. (Emil Lippe/Getty Images)
Frigid Christmas
Much of the United States experienced harsh winter weather over the Christmas period, with subzero temperatures, high winds, and heavy snow in multiple parts of the country. Over 50 deaths have been reported.
In the days before Christmas, the National Weather Service (NWS) issued winter storm warnings for millions of people across the United States, including Texas.
The storm's size was nearly unprecedented, stretching from the Great Lakes near Canada to the Rio Grande along the border with Mexico.
According to the NWS, approximately 60 percent of the U.S. population was subjected to some form of winter weather advisory or warning, and temperatures plummeted significantly below normal from east of the Rocky Mountains to the Appalachians.
This included subzero temperatures in southern states such as Florida. Freeze warnings were issued as far south as Tampa, Florida, and Carrizo Springs, Texas.
The weather saw more than 65,000 Texas customers go without power on Dec. 23.
The cold also saw Texas oil refineries reduce gasoline and diesel production due to equipment failures, and heating and power prices rose as a result of the outages. Oil and gas output from North Dakota to Texas was frozen, reducing supplies.
The winter weather was also blamed for travel disruptions, with Southwest Airlines canceling over 12,000 flights since late last week.
Reuters contributed to this report.
From The Epoch Times