Police said a gunman opened fire at a Walmart in Chesapeake, Virginia, late Tuesday, leaving several people wounded and seven dead.
Chesapeake Police have confirmed seven fatalities, including the gunman, according to a statement by the City of Chesapeake.
Police officer Leo Kosinski said in a briefing in the early hours of Wednesday that officers responded to a shooting at the Walmart on Sam's Circle at 10:12 p.m. local time, and that the shooting stopped when police arrived.
Kosinski said that, over the course of around 35 to 40 minutes, officers found multiple people dead and provided life-saving measures to the wounded.
He said he doesn't believe police fired any shots and that the shooting stopped when officers arrived. It remains unclear whether the gunman died of a self-inflicted gunshot.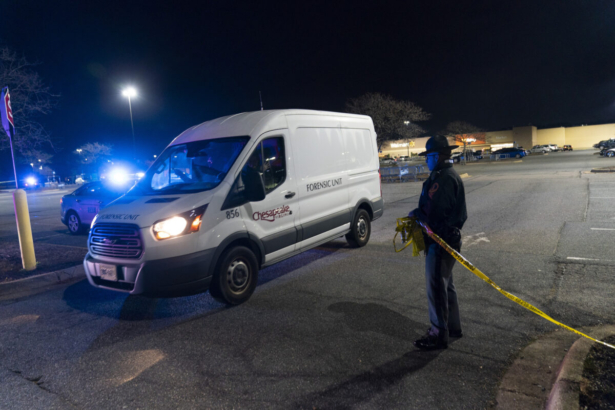 A man who said he's an employee at the Chesapeake Walmart posted a video on Twitter saying that the gunman was a manager at the store.
"I just left the break room, the manager come in there and started capping people up in there, started shooting. Sadly we lost a few of our associates," the man said, adding that the gunman later turned the gun on himself.
The Epoch Times has been unable to verify the accuracy of the video.
Walmart Inc. said in a post on social media that they're assisting police with the investigation.
"We are shocked at this tragic event at our Chesapeake, Virginia store," Walmart stated. "We're praying for those impacted, the community and our associates. We're working closely with law enforcement, and we are focused on supporting our associates."
Police have not released any information about the gunman but said they believed there was only one shooter involved.
Sen. Mark Warner (D-Va.) said in a statement on Twitter that he's "sickened" by the shooting and urged people to stay away from the scene.
"Sickened by reports of yet another mass shooting, this time at a Walmart in Chesapeake. I'll be monitoring developments closely," Warner said.
Virginia state Sen. Louise Lucas, a Democrat who represents a portion of Chesapeake, said in a statement on Twitter that she's "absolutely heartbroken that America's latest mass shooting took place in a Walmart in my district in Chesapeake, Virginia tonight."
The shooting brought back memories of a mass shooting at a Walmart in El Paso in 2019, when a gunman opened fire at the store, killing 22 people.
From The Epoch Times