Tough negotiations in Congress that on Saturday ended with Rep. Kevin McCarthy (R-Calif.) taking the gavel as House speaker have led to a series of compromises, including seven conservative bills that are guaranteed to be put to a vote.
McCarthy had to make numerous concessions to win over a holdout group of populist Republicans, including one that gives him a fragile grip on power by allowing just one member to move to vacate the speaker's chair.
The rocky road to the gavel—which saw 14 failed votes before the 15th finally saw McCarthy ascend to the House top job—led to a compromise on a rules package, which includes seven bills that the 20 holdout Republicans pushed for.
The House rules package is expected to be put to a vote on Jan. 9.
"This is what we've been fighting for," Rep. Matt Gaetz (R-Fla.), one of the Republicans who opposed McCarthy's bid for the speakership and pushed for concessions, said in a Sunday post on Twitter.
The rules package includes the following seven bills that are guaranteed to come up for a vote in the House under a subsection of the package that calls for separate consideration of the bills under a closed rule with one hour of debate.
1) A bill to cut some of the additional funding that was made available to the Internal Revenue Service (IRS).
2) A bill to authorize the secretary of Homeland Security to turn away people crossing the border illegally.
3) A bill that includes prohibiting the secretary of energy from sending petroleum products from the Strategic Petroleum Reserve to China.
4) A tough-on-crime bill that includes amending the Omnibus Crime Control and Safe Streets Act to direct the district attorney and prosecutor's office to report to the attorney general.
5) A bill to require a national instant crime background check system to notify U.S. Immigration and Customs Enforcement and other law enforcement agencies when information surfaces that a person present in the United States illegally may be trying to obtain a firearm.
6) A bill to prohibit taxpayer funded abortions.
7) A bill to amend Title 18, United States Code, to prohibit a health care practitioner from failing to exercise the proper degree of care in case of a child who survives an abortion or attempted abortion.
McCarthy said on Jan. 7, shortly after being elected as House Speaker, that the first bill he wants to see taken up and passed is the IRS-related one.
"When we come back, our very first bill will repeal the funding for 87,000 new IRS agents," McCarthy said. He didn't specify when the bill would be introduced on the House floor but said Republicans "believe government should be to help you, not go after you."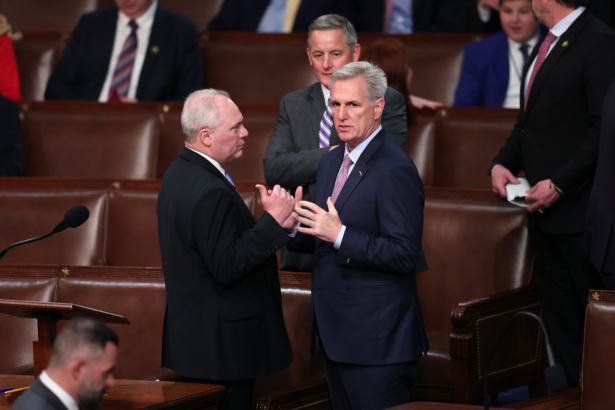 1st Legislation for Republican House
House Majority Leader Steve Scalise (R-La.) said in a recent letter that there's legislation that's "ready to go" that Republicans will bring to the House floor during the first two weeks of 2023.
The seven bills in the compromise House rules package largely mirror Scalise's list.
According to Scalise's letter, the first bill, dubbed the Family and Small Business Taxpayer Protection Act (pdf), aims to revoke some of the additional IRS funding that Democrats passed as part of their Inflation Reduction Act that the agency plans to use for tax enforcement.
With the first bill, Republicans are targeting what Scalise said was "tens of billions of dollars allocated to the IRS for 87,000 new IRS agents." That figure is in dispute, with the Biden administration saying much of the money would go to non-enforcement staff like customer service.
Another bill Scalise put in the schedule is the Strategic Production Response Act (pdf), which would prohibit non-emergency drawdowns of the Strategic Petroleum Reserve without a parallel plan to boost energy production on federal lands.
Republicans have been highly critical of President Joe Biden for ordering the release of oil from the strategic reserve, arguing that it was a ploy to win votes ahead of the midterms by trying to lower pump prices.
Biden, for his part, has insisted the release was meant to stabilize global oil markets amid Russia's invasion of Ukraine and the ensuing energy price shock, as well as trying to lower prices for Americans amid decades-high inflation, of which a major component is the cost of energy.
Scalise has scheduled another related bill, called Protecting America's Strategic Petroleum Reserve from China Act (pdf), which would restrict the energy secretary from selling oil from the strategic reserve to China.
Another bill is the Prosecutors Need to Prosecute Act (pdf), which would allow the public to see how many cases prosecutors are declining to prosecute, along with the number of criminals released onto the streets and the number of offenses committed by career criminals.
On border security, Scalise put forward a bill called the Border Safety and Security Act (pdf), which would give the Department of Homeland Security (DHS) the power to turn away people crossing the border illegally in order to gain "operational control" of the border.
Another bill, called the Illegal Alien NICS Alert Act (pdf) would require the National Instant Criminal Background Check system (NICS) to notify U.S. Immigration and Customs Enforcement and relevant local law enforcement if someone trying to buy a firearm is an illegal immigrant.
One bill, called the No Taxpayer Funding for Abortion and Abortion Insurance Full Disclosure Act (pdf), seeks to make the Hyde Amendment permanent and prohibit federal funding for abortions as well as funding for any insurance plans that include on-demand abortion.
Another bill, called Born-Alive Abortion Survivors Protection Act (pdf), would ensure that infants born alive after a failed abortion would receive the same legal protection and health care as a newborn.
McCarthy's Concessions
Besides the bills, McCarthy had to make numerous concessions to win over the holdout Republicans, including giving the Freedom Caucus members seats on the powerful House Rules Committee, taking a hard line on the debt limit, and reducing spending.
McCarthy was elected as the 55th House Speaker in the early hours of Jan. 7 by a vote of 216–212.
While it normally takes 218 votes—a majority of the House—to become speaker, that threshold can be reduced if members are absent or merely vote present.
It's precisely this maneuver that gave McCarthy his coveted win, as six Republicans voted "present" instead of "yea" in the final vote: Reps. Andy Biggs (R-Ariz.), Lauren Boebert (R-Colo.), Eli Crane (R-Ariz.), Matt Gaetz (R-Fla.), Bob Good (R-Va.), and Matt Rosendale (R-Mont.).
In a 20-minute speech following the vote, McCarthy laid out his priorities for the 118th Congress, including securing the southern border, combating "woke" indoctrination in American schools, and unleashing domestic energy production.
"We must get America back on track," he said. "We'll hold the swamp accountable."
From The Epoch Times