Retailer Kohl's may be facing a Target-style boycott as social media users highlighted the company's "pride month" clothing for children.
Among the items that Kohl's is selling are LGBT-related onesies for infants and a rainbow-colored tutu for children, according to its website. Some of the items, for example, included a "Love Is Love" banner, as well as towels, bibs, candles, shorts, and pillows with the slogan.
Some users posted other merchandise such as a "Baby Sonoma Community Pride Bodysuit set" designed for 3-month, 6-month, and 9-month-old children. One of the designs includes the rainbow flag that includes the transgender colors.
This week, conservative influencer Benny Johnson wrote on Twitter to ask why Kohl's was selling "Pride Merch" for 3-month-olds. In response, other users called for people to boycott Kohl's in the midst of a backlash against Target, Bud Light, the North Face, and other firms accused of promoting a pro-LGBT agenda.
And the heavily followed Twitter account, "End Wokeness," made similar statements online, writing that "Kohl's is pushing LGBTQ Pride for literal babies" and that it "looks like Kohl's didn't learn a thing from Bud Lite and Target."
"In case you need clothes for your Gay or Trans 3 month old, Kohl's has you covered," commentator ALX, another popular Twitter user, wrote in a post that included a screenshot of the onesie. "Yes this is real."
Other Boycott Updates
The Kohl's uproar comes nearly two months after conservatives started a boycott against Bud Light after it appeared to invite transgender activist Dylan Mulvaney to promote the product on Instagram. The company produced a beer can with Mulvaney's face, which Mulvaney promoted on social media in early April with the hashtag "#budlightpartner."
Since then, Bud Light's sales have dropped considerably, and reports recently indicated Anheuser-Busch's market value and stock has dropped by about $15 billion. Meanwhile, some analysts noted that unlike a number of other boycotts, the one targeting Bud Light appears to be working because people can easily switch to rival light beers.
Jared Dinges, an analyst at JPMorgan Chase said in a note to clients last week that Bud Light sales were down 23 percent as of the week ending May 6. And he noted that in the near term, a number of American consumers simply won't drink the beer.
"We believe there is a subset of American consumers who will not drink a Bud Light for the foreseeable future," Dinges wrote, according to reports. "We believe a 12 percent to 13 percent volume decline on an annualized basis would be a reasonable assumption."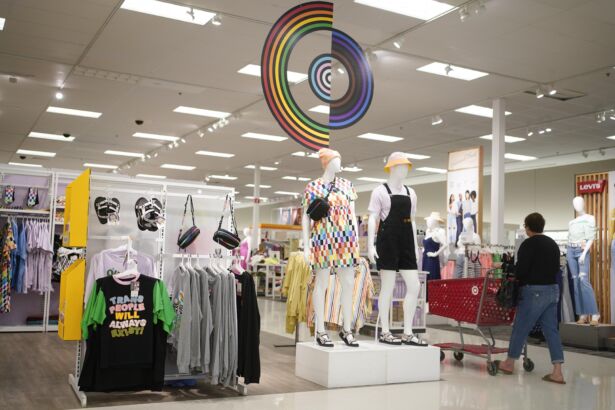 But Michel Doukeris, Anheuser-Busch's chief executive, told the Financial Times that he is blaming "misinformation" and "confusion" for the boycott. In an attempt to distance the brand from Mulvaney, Doukeris said that only one can of the beer was produced with Mulvaney's likeness on it.
As for Target, the Minneapolis-based chain store has seen its stock drop more than 10 percentage points since around May 17. Data shows the firm's stock closed at $160.96 per share on that date, but it's fallen to $138.93 as of Friday, May 26.
In the meantime, Target confirmed that it pulled some of its "pride" items which also included onesies for infants as well as items that instruct children on how to use transgender pronouns.
"Since introducing this year's collection, we've experienced threats impacting our team members' sense of safety and well-being while at work," the retail giant said, without elaborating on the specific threats. "Given these volatile circumstances, we are making adjustments to our plans, including removing items that have been at the center of the most significant confrontational behavior."
While some observers, including Sen. Ted Cruz (R-Texas), said that the Target boycott might not work, Kohl's is in a precarious situation. Over the past year, Kohl's Corporation has seen its stock drop by more than 50 percent due to a decline in consumer spending and other problems.
In June 2022, the company's stock rose to around $46 per share. But as of May 26, the company was trading at around $20 per share.
During a recent call with analysts, Kohl's CEO Tom Kingsbury and CFO Jill Timm said that the company is trying to win back some customers. Kingsbury said that due to macroeconomic issues such as persistent inflation, "the middle-income customer is being squeezed" and said that Kohl's can attract those shoppers again, although that came before the recent backlash.
The company's leadership, meanwhile, said earlier this month that it was able to post a profit during the most recent quarter amid widespread downfall in the retail market. A number of big box stores and retailers like Walmart, Sears, and Walgreens have opted to shut down their locations across the country in recent years, while home goods chain Bed Bath & Beyond filed for bankruptcy earlier this year.
The Epoch Times contacted Kohl's for comment on Monday. So far, the Wisconsin-based retailer hasn't issued a public comment on the growing backlash.
From The Epoch Times