A California high school might remove murals of America's first president because they supposedly "traumatize" students there.
The murals were painted at George Washington High School in San Francisco in 1936, the year the school opened.
They're part of a 13-panel fresco by Russian-born painter Victor Arnautoff in the lobby of the school. One of the two murals in question shows Washington among his slaves at Mount Vernon, his farm outside Washington, while another shows him directing white men with guns over the body of a Native American.
Arnautoff meant the murals to present a "counter-narrative" to the country's origin story, according to Robert Cherny, a professor emeritus at San Francisco State University who wrote a biography about the communist.
Offensive or important? Debate flares anew over SF school mural depicting slavery and colonial brutality.

via @jilltucker & @gwendolynawu: https://t.co/nTRbG1LryF pic.twitter.com/zhZJOWDUQ3

— San Francisco Chronicle (@sfchronicle) April 8, 2019
"He put those ghastly gray pioneers literally walking over the dead body of an Indian to demonstrate that the settlement of the West was an act of conquest that involved the slaughter of Native Americans," Cherny said at a 2018 board of education meeting, according to the Richmond District Blog. "That was a very bold effort on his part to counter the kinds of textbooks that students were seeing."
San Francisco Supervisor Matt Haney said that he reignited discussion about possibly removing the murals a few years ago when he was a board member.
"You shouldn't have to look up and see depictions of your ancestors either being killed or enslaved, that's not the kind of supportive school environment that all of our children and their families deserve," Haney told KGO.
A working group was formed to hear from the public and that group eventually voted to remove the murals. School officials indicated they're willing to destroy them.
"I support the decision of the working group and I'm waiting to see what the plan of action is going to be," said Stevon Cook, the school board president.
"I think the images are really harmful," he added to the San Francisco Chronicle. "But I do understand the sensitivity about it being art. It's a difficult position to be in."
But he said that the mural needs to go—either moved, if possible or painted over. Once the superintendent reports back on the cost and options later this month, the school board will take a final vote.
A San Francisco mural has become the latest high-profile target of progressive history censors, writes Fergus M. Bordewich. https://t.co/63TcbeEKcw

— WSJ Editorial Page (@WSJopinion) April 29, 2019
Some students at the school said they agree with the decision.
"It's rude and disrespectful to people's cultures," Briana King, 16, a junior, said.
Senior Emily Leung, 17, said the murals show Washington harming Native Americans and African-Americans. She wants them replaced. "I have no idea what, but I want something with no racism," Leung said.
Other students voiced concerns about removing the images, saying they teach Americans about the history of the country.
A number of scholars have also weighed in, criticizing the decision to move or remove the murals.
Professor Robert Cherny: Erasing racist murals at SF's Washington High School would erase history https://t.co/rdoPBSueAd via @nytimes #SFSU pic.twitter.com/qijYC4pRxE

— SF State Arts (@SFStateLCA) April 12, 2019
Gary Brechin, a scholar who studies the New Deal, noted that people wanted to remove murals by Anton Refregier, another Russian, in the '40s and '50s but they were ultimately spared.
"It is because San Franciscans of both parties rose up in defense of the murals, that Refregier's works narrowly escaped destruction. Today they are regarded as masterpieces of New Deal art. San Francisco schools use them to teach about history and racial diversity, as well as conflict—themes that were hardly popular when Refregier painted them," he wrote.
"Arnautoff's murals, like Refregier's, offer such an opportunity to teach the power of art to encourage critical thinking and to challenge conventional wisdom," Brechin continued.
Fergus Bordewich, a historian, wrote "Those who condemn the murals have misunderstood it, seeing only what they sought to find," also noting Arnautoff's goal of "provok[ing] a nuanced evaluation" of Washington's legacy.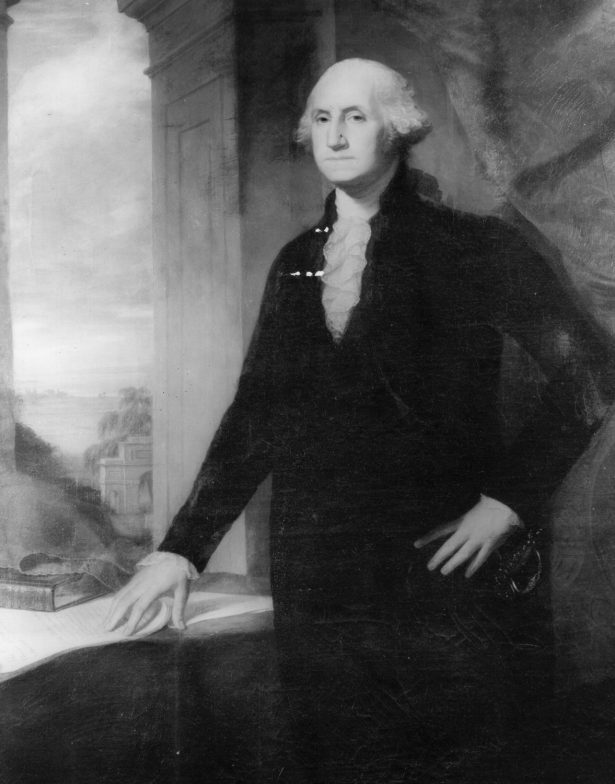 "They've also got their history seriously wrong. Washington did own slaves—124 men, women, and children—and oversaw many more who belonged to his wife's family. But by his later years he had evolved into a proto-abolitionist, a remarkable ethical journey for a man of his time, place, and class," he added. "Washington came to believe that blacks were neither biologically inferior to whites nor ordained to servitude by the Bible."
In addition to freeing every slave he owned in his will, Washington believed that Native Americans "should be fairly compensated for land already seized and that all future cessions of native territory should be negotiated legally," he added.
The Chronicle editorial board also wrote in support of keeping the murals.
"If the details are upsetting, so is American history as the mural unflinchingly shows. There's no better place to teach this lesson than a high school that should welcome critical reactions," it wrote.