New York Gov. Kathy Hochul announced Tuesday $75 million in grants for local police departments and community centers in response to a surge in hate crimes amid the ongoing Israel–Hamas conflict.
Ms. Hochul said in a public address on Oct. 31 that she would deploy "all available state resources" to prevent the escalation of "hate and bias incidents" in the city and ensure the safety of New Yorkers.
"My top priority is to protect the safety and well-being of all New Yorkers," the Democrat politician said.
"As governor, I reaffirm that there is zero tolerance in New York for antisemitism, Islamophobia, or hate of any kind, and it's critical we deploy every possible state resource to keep New Yorkers safe."
The funding includes $50 million for local law enforcement agencies to modernize their operations, enabling them to purchase technology like plate readers, surveillance cameras, dispatch systems, and gunshot detection devices to help them prevent hate crimes more effectively.
The remaining $25 million will go toward enhancing security at houses of worship, community centers, and other locations that may be susceptible to hate crimes. Ms. Hochul said this funding will support exterior security improvements and strengthen cybersecurity at the selected sites.
Ms. Hochul also appointed Judge Jonathan Lippman to launch a review of anti-Semitism and anti-discrimination policies at the City University of New York (CUNY). This review will provide recommended actions for the CUNY's board of trustees to ensure Jewish students' safety.
Ms. Hochul, who traveled to Israel on Oct. 17 on a "solidarity mission," stated in her remarks that Jewish people in New York are experiencing "the greatest increase in antisemitic hate crimes in decades."
New York has the largest percentage of Jews among all the U.S. states, with 21 percent of the nation's 7.6 million Jewish people residing there as of 2020, according to the American Jewish Population Project at Brandeis University.
"And I must ask, where are their allies now? For you can vigorously oppose Israel's response following the attack on their people but still be vigorously opposed to terrorism, Hamas, antisemitism, and hate in all of its forms," Ms. Hochul said.
She further emphasized that "every single New Yorker has a right to feel safe and to be safe as they go about their daily lives, and we must accept nothing less."
Spike in Hate Crimes
Her announcement came after Cornell University issued a statement on Oct. 29 that there have been "horrendous" anti-Semitic threats directed against its Jewish community on campus. The police are investigating the matter and maintaining a presence on campus, it stated.
Hate crimes in New York have reportedly spiked in the aftermath of the Israel–Hamas conflict, which began after Hamas launched an unprecedented attack on Israel on Oct. 7.
The New York Police Department (NYPD) said that at least 51 hate crimes were reported in the week preceding Oct. 24, of which 30 cases were anti-Semitic, according to New York Daily News.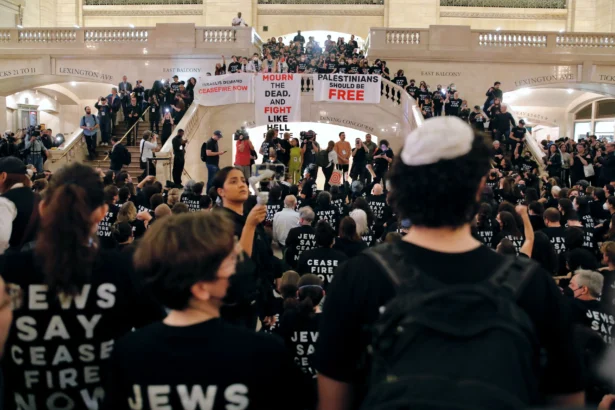 On Oct. 27, hundreds of demonstrators occupied the Grand Central Terminal in New York City to call for a ceasefire in the conflict, leading to the temporary closure of the terminal.
The rally was organized by Jewish Voice for Peace (JVP), which describes itself as "organizing toward Palestinian liberation and Judaism beyond Zionism."
Images on social media show the station's concourse filled with demonstrators wearing black shirts with "Jews say cease fire now" while chanting: "No more weapons. No more war. Ceasefire is what we're calling for."
The demonstration eventually led to arrests by the police of an unknown number of people. Footage circulating on social media shows the NYPD taking away lines of demonstrators.
Israel declared a state of war after Hamas launched the attack on Oct. 7 that killed more than 1,400 people in Israel, including 32 Americans. Hamas took over 200 hostages from Israel during its terror attack, which it is now using as bargaining chips in negotiations.
Israel has vowed to permanently dismantle Hamas and secure its borders, and has carried out airstrikes on Hamas targets in Gaza. The Hamas-run Gaza Health Ministry said the death toll in Gaza has passed 8,000 on Oct. 29.
Josee Ng and The Associated Press contributed to this report.
From The Epoch Times