The number of COVID-19 variant cases has reportedly been on the rise in China, alongside an increase in the number of other viral infections, leading to the overcrowding of hospitals.
Chinese social media has been peppered with references about being "second or third time positive" with COVID-19 as netizens tell of their experiences in catching the virus again, mostly attributed to the new variant EG.5 (Eris).
According to China's National Bureau for Disease Control and Prevention, the proportion of EG.5 has increased from 0.6 percent in April to 71.6 percent in August, forming a "dominant epidemic" in most provinces.
Among those infected is Li Mei (a pseudonym) from Fushun City, Liaoning Province, who shared with The Epoch Times on Sept. 10 about her experience of catching the virus.
Ms. Li, who works at a state-owned enterprise, felt short of breath when she went upstairs on Aug. 8 after returning from work and then asked her husband to take her to the hospital for oxygen.
At the city's third hospital, the CT scan of Ms. Li's lungs surprised her, and she said that they showed that a third of her lungs had become "white lungs."
"This is the first time I feel death is so close to me. I am lucky to have survived," she said, adding that she did not expect to have white lungs without a fever.
Ms. Li stayed in the hospital for half a month due to her poor immunity, spending 4,000 yuan (about $550). She also bought high-priced imported drugs through her connections, spending over 8,000 yuan (about $1,100).
She said she did not spend much in comparison to other patients who spent hundreds of thousands of yuan, with some passing away despite spending money.
According to Ms. Li, imported drugs (Pfizer) could not be bought at the market and were only available in provincial hospitals. She ended up buying them through a relative who works in the provincial hospital's respiratory department.
She also bought the immune-boosting drug γ-globulin (a mixture of human immunoglobulins). At the epidemic's peak, γ-globulin cost tens of thousands of yuan a piece, while the current price is 650 yuan (about $89) each.
Ms. Li said that the hospital was full of patients and the ICU was overcrowded when she stayed there. She knew of two people who had died of COVID-19, one of whom was a man in his 30s.
She said an elderly person was transferred back and forth between provincial and municipal hospitals and finally returned to the hospital she stayed in, yet the hospital refused to accept, unwilling to increase the hospital's death rate.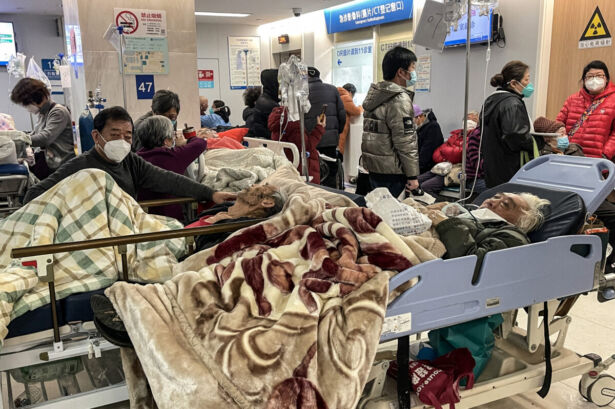 Pneumonia in Children
According to the official website of Kaiping city in Guangdong Province, the recent incidence of mycoplasma pneumonia in Guangdong, Fujian, and other southern provinces has increased significantly year-on-year.
Mycoplasma pneumonia is an acute pulmonary infection, with most patients being children. A lung lavage procedure—also called bronchoalveolar washing—is required in severe cases.
Liu Rong (a pseudonym), who was hospitalized with her 4-year-old son at Tongji Hospital in Wuhan, told The Epoch Times on Sept. 11 that her son's situation was not very serious, while other children with severe cases needed to have a lung lavage.
"There are so many patients now that we have to wait several days for a bed to become available," she said.
The website of a hospital in Suzhou City also said that from July to August, the hospital's pediatric ward was full, with most hospitalized children infecting mycoplasma pneumonia, especially lobar pneumonia.
"In the past, mycoplasma infection was high in the autumn and winter, but this year, it came in advance in the summer, and it came in full fury, significantly increasing year-on-year," the website said.
"The characteristics of this epidemic of mycoplasma pneumonia are different from those of previous years—the course of the disease is long, the progress is fast, and most are lobular pneumonia," it said.
Fang Hua (pseudonym) from Henan Province said her 3-year-old son had a fever on Aug. 10, later diagnosed as lobar pneumonia. After staying in a county hospital for eight days with no improvement and a lasting fever, he was transferred to the ICU of Sanmenxia People's Hospital and hospitalized there until Sept. 2.
The boy underwent three lung lavage procedures to address his fever, which cost over 2,000 yuan (about $280) each time.
"There are a lot of pneumonia [cases] in our hospital, and many of them are lobar pneumonia, which is difficult to treat," she told The Epoch Times on Sept. 9.
"Doing lung lavage is traumatic, but you have to do it. If you don't do it, the child can't get better. There's no other way."
The doctor also told Ms. Fang that her child's immunity was low and asked her to find a channel to buy γ-globulin, on which she spent over 3,000 yuan (about $411).
Later, the doctor said that the domestically-produced medicine had no effect on her child anymore and they must use imported medicine.
Ms. Fang used all her connections yet still failed to get imported medicine. She said that if she wanted to use imported medicine, the child must be transferred to a provincial hospital.
Considering the high medical costs, she had to give up, but fortunately, her boy is getting better.
During the child's hospitalization, Ms. Fang herself contracted pneumonia. To save the cost, she did not stay in the hospital and only had an infusion for seven days in the outpatient.
"There is no way," she exclaimed. "If it costs more, so be it, as long as the child is fine."
Adenovirus Epidemic in Guangzhou
Adenovirus is a common pathogenic virus that can be transmitted through droplets, direct contact with oral and nasal secretions of patients, or contact with food or water contaminated with the virus.
Children and the elderly are most likely to be infected with the virus. Schools, hospitals, and other large congregations are common areas where adenovirus can spread. Adenovirus can cause respiratory symptoms such as coughing, runny nose, and sore throat.
Huang Jie, who is accompanying her child hospitalized in the General Hospital of Guangzhou, said her 3-year-old son had a fever of 40 degrees a few days ago and a severe cough and had been hospitalized for five days.
Her own physical condition is not good either, with a fever and cough.
"It's high-incidence season for adenovirus now. The beds are all full," she said.
Monkeypox First Diagnosed in Women
According to a Sept. 8 announcement of the Chinese Center for Disease Control and Prevention, monkeypox virus infections in August exceeded 500, and female cases appeared for the first time.
China has reported 501 new confirmed cases of monkeypox in 25 provinces (autonomous regions and municipalities), including Beijing, Shanghai, Guangdong, Zhejiang, Henan, and Chongqing.
According to the announcement, 98.9 percent of the cases were male, and 92.5 percent were identified as men who have sex with men.
Five of the cases were female, and all had heterosexual sexual contact within 21 days before the onset of the disease.
Widespread Dengue Outbreak
Dengue is a viral infection that spreads from mosquitoes to people and is more common in tropical and subtropical climates. Most people who contract dengue fever do not have symptoms. For those with symptoms, the most common ones are high fever, headache, body aches, nausea, and rashes.
Most patients get better within 1-2 weeks, but some may develop severe dengue, which can be fatal.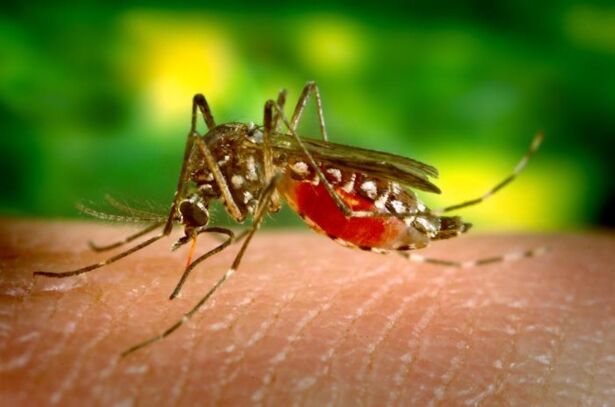 On Sept. 5, the Hainan Provincial Center for Disease Control and Prevention warned that several cases of dengue fever have been found in China. The Patriotic Health Office of Haikou, the province's capital, announced on Sept. 12 that the city decided to carry out three rounds of mosquito control operations from Sept. 12-29.
Medical workers in Jinghong City, Yunnan Province, told The Epoch Times on Sept. 1 that the hospital was overcrowded with 100 to 200 people a day due to dengue fever.
Healthcare workers stressed that dengue fever must be treated in the hospital, as it is more serious than COVID-19, and there have been death cases.
"I know of deaths ranging from 60 to 2 years old. Two elderly people and one child," Wang Kai (pseudonym), a resident of Xishuangbanna who contacted dengue himself, told The Epoch Times on Sept. 1.
Mr. Wang experienced half a month of dengue fever symptoms, including fever, headache, vomiting, diarrhea, rashes, itching, and sequelae.