Rep. James McGovern (D-Mass.) and six other House Democrats are calling for an immediate ceasefire in Israel and Gaza.
"We remain outraged by the horrific terror attacks carried out by Hamas against Israeli civilians. We are also deeply alarmed by the rising civilian death toll in both Israel and Gaza, including nearly 1,400 Israelis and 3,000 Palestinians," said the group of seven lawmakers, in a statement released on Oct. 17.
"This is a moment that calls for moral and strategic clarity. That is why we believe that the United States must help achieve an immediate ceasefire, or at minimum, a temporary cessation of all hostilities that stops the threats to civilians in Israel and Gaza."
In addition to Mr. McGovern, the six Democrats who signed the statement are Reps. Pramila Jayapal (D-Wash.), Greg Casar (D-Texas), Barbara Lee (D-Calif.), Joaquin Castro (D-Texas), Veronica Escobar (D-Texas), and Jesús "Chuy" García (D-Ill.).
Ms. Jayapal is the chair of the Congressional Progressive Caucus. Mr. McGovern is co-chair of the House's Tom Lantos Human Rights Commission.
Their call came one day before President Joe Biden traveled to Israel and met with Israeli Prime Minister Benjamin Netanyahu. President Biden is scheduled to address the nation at 8 p.m. ET on Thursday to discuss the U.S. response to Hamas's terrorist act on Israel.
"Let us be clear: our call for a ceasefire should not be mistaken as a lack of support for the protection of the people of Israel," the group added. "To the contrary, it is because of our dedication to the safety of both Israelis and Palestinians that we seek a path forward without further escalating the toll of civilian dead and injured."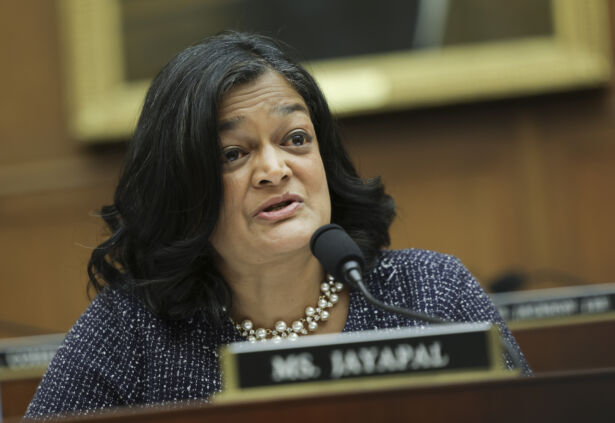 Tension is escalating across the Middle East after a deadly attack against a hospital in Gaza City on Oct. 17, reportedly killing hundreds of civilians. Israeli military and the Hamas terror group have traded blame for the attack, but mounting evidence points to a misfired rocket by the Palestinian Islamic Jihad terrorist group.
The group added, "A cessation of hostilities will allow for the negotiation of the immediate and safe return of all hostages, including Americans, and the delivery of essential humanitarian aid under international auspices."
On Tuesday, the White House said at least 31 Americans have died since Oct. 7, the day Hamas terrorists launched an attack on Israel. Meanwhile, 13 Americans are unaccounted for.
"Hamas can and must be stopped and the security of Israel must be guaranteed without the killing of thousands more Palestinian and Israeli civilians. There is a different path. In this devastating time, the United States must lead the way forward," the group concluded.
Earlier this week, Ms. Jayapal, Mr. Casar, Ms. Lee, Mr. García, and other House Democrats filed a resolution (H.Res.786) urging President Biden to call for an immediate deescalation and a ceasefire in Israel and Gaza.
Separately, a bipartisan group of more than 110 House lawmakers, including more than 60 Democrats, issued a letter asking President Biden to take a stronger stance on Iran amid the conflict between Israel and Hamas. Their request also included imposing maximum sanctions on Iran and ending Iran's oil trade with China.
On Wednesday, the Biden administration announced new sanctions on 10 key Hamas leaders and those affiliated with the Palestinian Islamic group's financial network across Gaza, Sudan, Turkey, Algeria, and Qatar.
Also on Oct. 17, a bipartisan group of more than 45 senators—including Sens. Joni Ernst (R-Iowa) and Cory Booker (D-N.J.), co-chairs of the Abraham Accords Caucus—sent President Biden a letter asking him to "do everything" in his power to rescue American hostages taken by Hamas.
"We urge you to encourage our allies and partners in the region to place pressure on Hamas to allow the International Committee of the Red Cross to have access to the hostages while the United States and Israel work to secure their release," the letter says.
From The Epoch Times