House Republicans are pressuring Department of Homeland Security (DHS) Secretary Alejandro Mayorkas over threats the Chinese Communist Party (CCP) poses to U.S. port infrastructure.
The lawmakers have demanded Mayorkas provide information on what his department and the Biden administration are doing to prevent the CCP from using the technology it develops and produces, which is used in cargo cranes and other shipping infrastructure in American seaports, to spy on and orchestrate sabotage against the United States.
Two chairs of House committees, and four chairs of House subcommittees, signed and sent a letter, dated May 10, insisting that Mayorkas immediately provide the information which House Committee on Homeland Security members requested in a letter sent to him on April 23.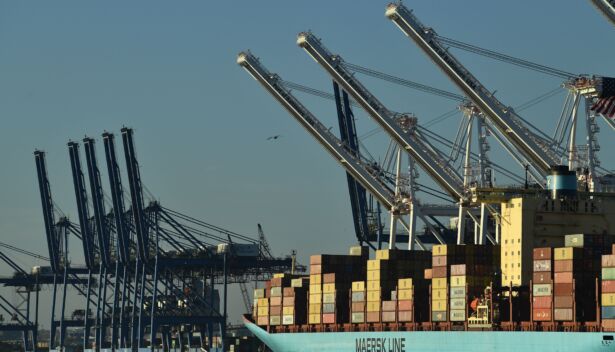 The legislators wrote that they are "conducting oversight of the presence of Chinese software and operational technology in U.S. port infrastructure. This includes software used for cranes, terminal industrial control systems, power systems, and telecommunications equipment."
A story published in The Epoch Times on May 11 reported on a bill introduced the previous day by Representatives Carlos A. Giménez (R-Fla.) and John Garamendi (D-Calif.) that focused on inspecting and monitoring port cranes made in China to ensure that they do not contain technology used to spy, create societal disorder, inflict physical damage, and disrupt the function of seaports, which are critically important to the U.S. supply chain.
Shanghai Zhenhua Heavy Industries (ZPMC), a Chinese company, makes about 80 percent of the cranes used in American seaports. Chinese-made cranes are in operation at ports that the U.S. military uses.
"We remain concerned about the security risks associated with the widespread use of Chinese-manufactured cranes that threaten to undermine our national security, particularly those made by Shanghai Zhenhua Heavy Industries (ZPMC), a Chinese state-owned business whose governing shareholder is China Communications Construction Company," wrote the legislators in their letter to Mayorkas.
"We request additional information on the prevalence of such equipment and technology at U.S. ports and DHS actions to address the potential national security threats posed by the Chinese Communist Party's (CCP) use of this technology in U.S. port infrastructure."
House GOP signatories of the May 10 letter were Mark Green (Tenn.), chairman of the House Committee on Homeland Security; Select Committee on China Chairman Mike Gallagher (Wis.); Carlos Gimenez (Fla.), chairman of the Subcommittee on Transportation and Maritime Security; Andrew Garbarino (N.Y.), chairman of the Subcommittee on Cybersecurity and Infrastructure Protection; Dan Bishop (N.C.), chairman of the Subcommittee on Oversight, Investigations, and Accountability; Counterterrorism, Law Enforcement, and Intelligence Chairman August Pfluger (Texas).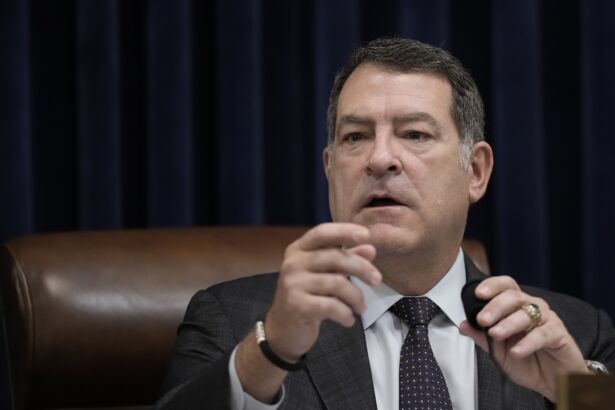 The letter said that the dominant presence of ZPMC cranes in U.S. ports while noting that ZPMC holds 70 percent of the global port crane market, presents a "significant risk to U.S. homeland security".
Those "security risks include cyberattacks, espionage, and supply chain vulnerabilities due to the shared software and interconnectivity among ZPMC cranes operating at our nation's ports."
Members of Congress from both sides of the aisle are paying increasing attention to and working to counter the growing actions and ability of the CCP to use technology and media it develops, and which American consumers and businesses purchase, to conduct surveillance on the U.S.
US Stepping Up Vigilance, Scrutiny
The Epoch Times reported on May 12 on the U.S. House Select Committee on Strategic Competition Between the United States and the Chinese Communist Party sending a letter to the CEO of TikTok, stating its concerns about how the company uses its widely popular social media video app to stifle freedom of speech and to spy. The letter also requested information from TikTok on its data-gathering practices.
At the end of February, the White House issued a directive that required all executive agencies to remove the TikTok app from any government device.
On March 15, in a reaction to the Chinese spy balloon that traveled across America and which the U.S. military shot down off the coast of South Carolina on Feb. 4, Sens. Mark Budd (R-N.C.) and Mark Kelly (D-Ariz.) filed legislation that would help the government better track and identify high-altitude balloons that are in U.S. airspace.
In December 2022, the Biden administration banned the sale and import of telecom equipment made by Chinese companies Huawei Technologies and ZTE.
From The Epoch Times