House Republicans issued a criminal referral against former Trump lawyer Michael Cohen for his testimony in the former president's New York fraud trial.
The letter, which was sent by House Intelligence Chairman Mike Turner (R-Ohio) and Rep. Elise Stefanik (R-N.Y.), said that Mr. Cohen committed perjury and "knowingly made false statements" before a congressional panel several years ago.
"That Mr. Cohen was willing to openly and brazenly state at trial that he lied to Congress on this specific issue is startling," the referral letter stated. "His willingness to make such a statement alone should necessitate an investigation."
The letter asks Attorney General Merrick Garland to investigate Mr. Cohen after he told a court several days ago that he lied about his handling of former President Donald Trump's business dealings in sworn testimony in front of a House panel. He said that he made false claims under oath when said that neither President Trump nor a former Trump Organization chief financial officer told him to inflate numbers on the former president's personal financial statements.
During questioning during the trial, Trump lawyer Alina Habba asked Mr. Cohen: "So you lied under oath in February of 2019? Is that your testimony?" He responded, "Yes."
"Mr. Cohen, were you being honest in front of the Permanent Select Committee when you testified on Feb. 28, 2019?" Ms. Habba also asked. Mr. Cohen replied, "No."
Following the cross-examination last month, Mr. Cohen attempted to pin the blame on President Trump. "He did not specifically state, 'Michael, go inflate the numbers,'" Mr. Cohen testified. "Donald Trump speaks like a mob boss, and what he does is he tells you what he wants without specifically telling you."
Because Mr. Cohen's testimony in February 2019 to Congress "is contradicted by his reported recent testimony" in the courtroom, his "prior conviction for lying to Congress merits a heightened suspicion that he has yet again testified falsely before Congress," the Republicans' letter said.
"We therefore request that the Department investigate whether any of Mr. Cohen's testimony warrants another charge for the violation of 18 U.S.C. §§ 1001 or 1621," it stated.
In a comment to the New York Post, Mr. Cohen said that he is "not concerned at all" about the Republican letter, alleging they are "mischaracterizing what transpired."
It is rare for public figures to be prosecuted for lying to Congress. A number of high-profile public officials have never faced charges for untruthful testimony. For example, former Director of National Intelligence James Clapper testified in 2013 that federal officials did not mass-collect data on Americans, coming before whistleblower Edward Snowden released data showing widespread harvesting of data on behalf of the U.S. National Security Agency.
"The Biden Justice Department must take off its partisan blinders and investigate disgraced fraudster and disbarred attorney Michael Cohen, a felon previously convicted for lying to Congress, who just admitted to lying again to Congress," Mrs. Stefanik said in a statement.
Last week, she also filed an ethics complaint against the New York judge in the case, Arthur Engoron, for what she termed was "inappropriate bias and judicial intemperance."
The lawmaker added, "Americans are sick and tired of the blatant corruption by radical Leftist judges in NY. All New Yorkers must speak out against the dangerous weaponized lawfare against President Trump."
Trial Goes On
New York State Attorney General Letitia James' office sued the Trump family business in a civil case. The judge already issued a ruling, saying that he believes the company over-inflated the value of some of its property and defrauded investors, while he ordered certain portions of the business in New York to be dissolved. An appeals court blocked the order as the trial plays out.
Trump's lawyers contend that the state failed to meet "any legal standard" to prove the remaining allegations at issue in the trial: conspiracy, insurance fraud, and falsifying business records.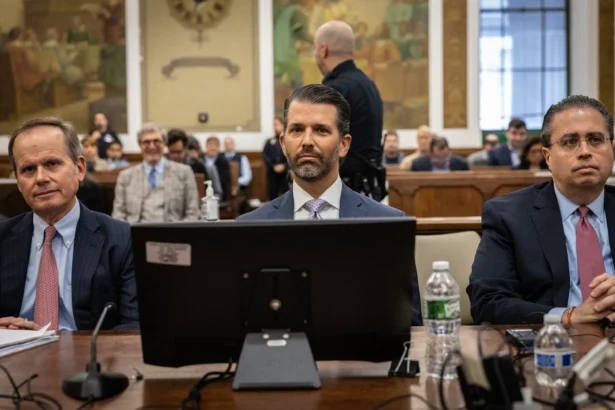 This week, the Trump Organization's attorneys mounted their defense of the company in the trial. The defendants deny any wrongdoing, and the former president and current Republican front-runner insisted in fiery testimony last week that his company is "the opposite of fraud."
"He's an artist with real estate. He sees the things other people don't," Donald Trump Jr. testified Monday.
During his first round of testimony earlier this month, the son said that he never worked on the annual financial statements at the heart of James' lawsuit. He said he relied on the company's longtime finance chief and outside accountants to verify their accuracy.
When he became president in 2017, Donald Trump handed day-to-day management of his company to Eric and Donald Trump Jr. and named Trump Jr. as a trustee of a trust he established to hold his assets while in office.
The Associated Press contributed to this report.
From The Epoch Times